Discover more from PRNDL by Jordan Golson
Irreverent, opinionated, entertaining car reviews and tech writing, right in your inbox.
Over 1,000 subscribers
2020 Hyundai Palisade Review
A three-row rolling fortress
ASHEVILLE, North Carolina — Americans are all about choice. Burger King or McDonald's. Red Sox or Yankees. UNC or NC State. Coke or Pepsi. But every once in a while, a new choice comes along and threatens the status quo. Invariably, this is good news. More choice means more competition, and more competition means better stuff for us.
And regardless of whether it's Chick-Fil-A coming to free us from the tyranny of Big Burger or a ludicrously talented women's soccer team giving a divided country something wonderful to unite behind, there are always new challengers for our attention and our dollars.
This is also true in the automotive world, where there is no shortage of options. Take the midsize SUV segment for example: there's the Volkswagen Atlas, the Toyota Highlander, the Honda Pilot, the Ford Explorer, the Subaru Ascent and several others. So there's no shortage of choice but, as ever, there's always room to improve.
This brings us to the new Hyundai Palisade. The name, Hyundai's marketing people told us, means fortress. It makes for a good name for a three-row SUV meant to be sold to safety-conscious Americans.
It's rare that I'll drive a new car and walk away so impressed that I'll simply say "that's the one to buy." But here we are. The Palisade checks all the boxes.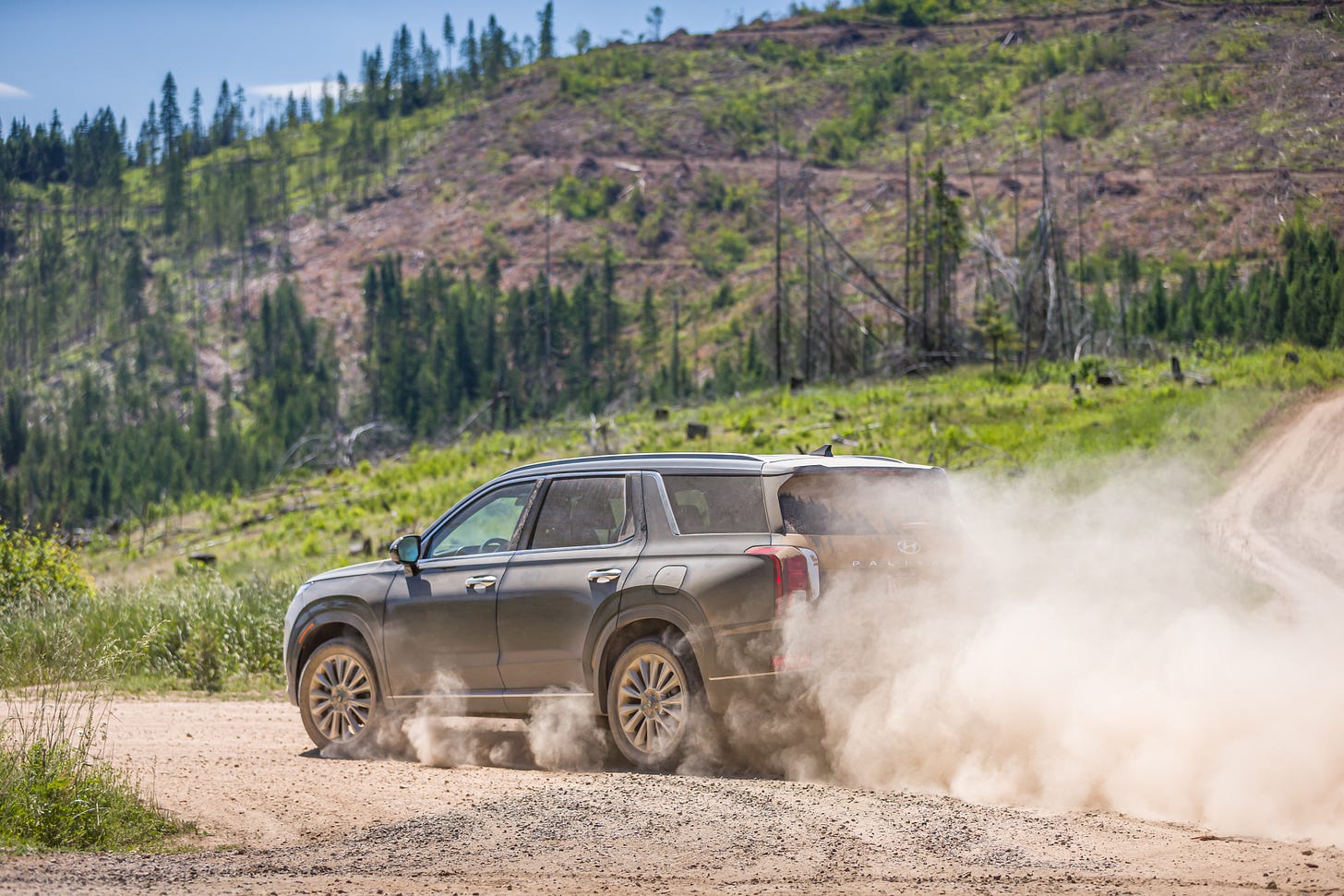 Exterior styling is excellent. The front has presence, with unique styling including what Hyundai calls "alligator eye" daytime running lamps and a very impressive front grill. It reminds me somewhat of a cross between an Audi and a Range Rover in a good way. It feels luxurious, and when we parked it in front of the Grand Bohemian Hotel in Asheville, it looked right at home in between a Porsche and a Tesla.
The interior is luxurious and comfortable as well, particularly in the top-tier Limited trim that I drove. It clocks in at $47,000 fully loaded, though aside from the three main trim levels, Hyundai doesn't give many option boxes to tick. There is a full safety suite with all the right acronyms (adaptive cruise control, lane keep assist, automatic emergency braking, etc.), a giant sunroof, and high-quality touch materials and one of the softest roof linings I've felt in a car under $100,000.
There are a deeply impressive 16 cupholders in the eight-passenger version: two in the center console (with a trick feature that makes them hideaway so you can store more stuff in the spacious bin), one in each of the front doors, three each in the rear doors, two in the fold down armrest in the second row, and two more on each side in the third row. To be sure, the Subaru Ascent, another competitor in this segment, has a mind-boggling 19 cupholders, but 16 is still pretty good. There are also seven USB ports scattered about the cabin so everyone can plug in their gadgets.
Speaking of gadgets, one of the coolest features are the digital side view mirrors. Activate the turn signal and cameras in the side mirror will send a video signal to the dash screen to show you a clear view of your blind spot. It's not a replacement for the physical mirrors, but it's a clever use of tech that is already on-board (for the 360-degree surround camera).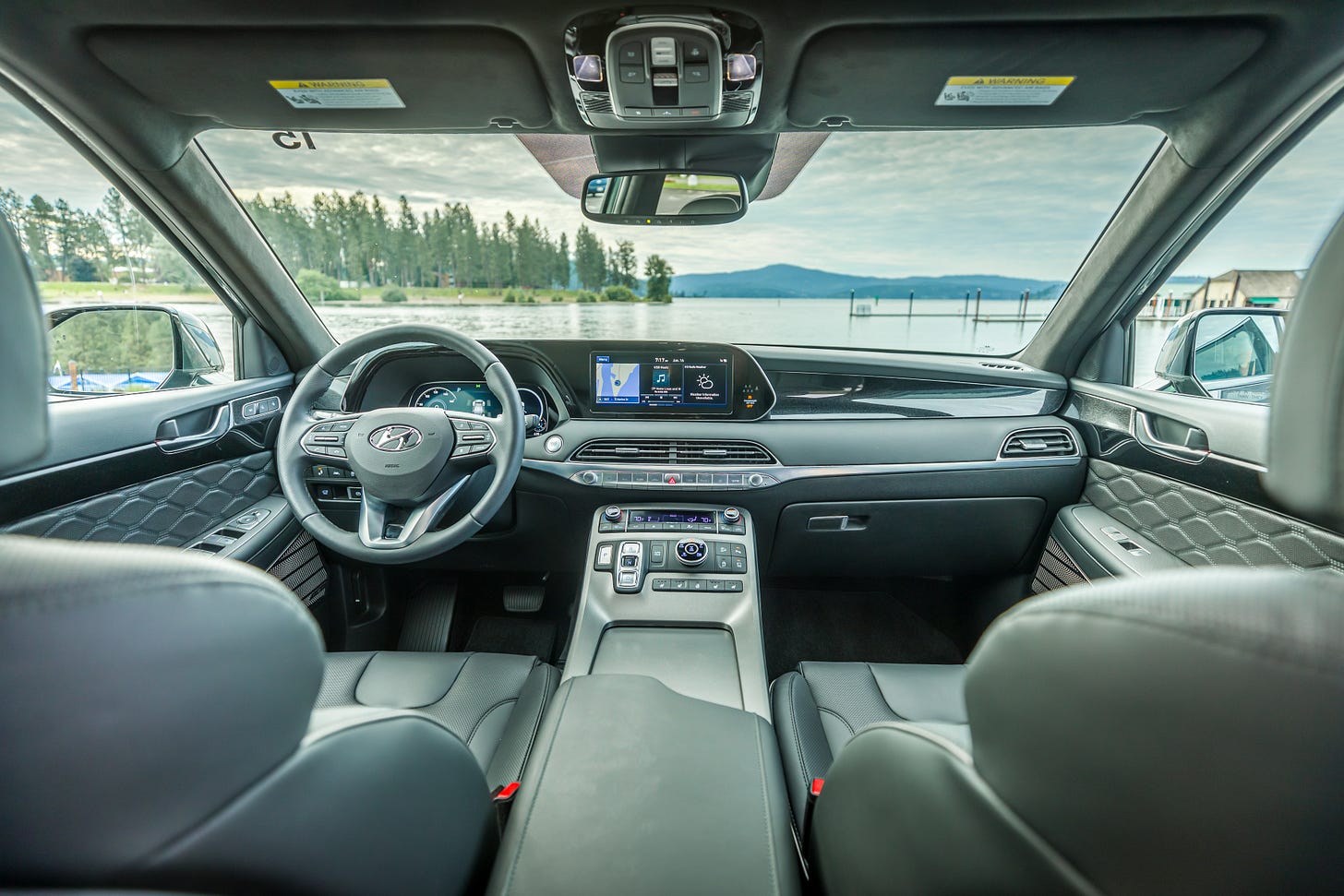 The in-laws will be impressed by the ventilated and heated second row, especially if you opt for the optional captain's chairs. The enormous infotainment screen is gorgeous and responsive, though it's a bit puzzling that Hyundai doesn't offer a Wi-Fi Hotspot option in a family hauler when most of the competitors have it.
The Palisade competes handily on every level. Sure, it isn't perfect — I wish the engine had a little more power, and it's a bit tricky to get into the third row if you're over the age of 10, but these are mere nitpicks.
The real killer feature of the Palisade is its price. The base model starts just over $31,000 and rises to the Limited trim at $47,000, and they all feel like a good deal. The Limited version ends up several thousand dollars cheaper than a comparable Ford Explorer, which is also brand new this year. Regardless of budget, if you're on the market for a three-row SUV, the Palisade deserves a place at or near the top of your shopping list.