Discover more from PRNDL by Jordan Golson
Irreverent, opinionated, entertaining car reviews and tech writing, right in your inbox.
Over 1,000 subscribers
2019 Ford F-250 Super Duty Review
HAUL ALL THE THINGS
BOSTON — Traveling can be stressful. Middle seats, painfully dry air, the Transportation Security Administration; Mix it all together and you can end up with a pretty rough day. And that's before you take into account delays, cancellations, and missed connections. It was that last one that had me standing on the side-step of my Ford F-250 Super Duty while I slowly rolled through the entrance of Central Parking at Boston's Logan Airport, looking at the rapidly diminishing gap between the top of the truck and the ceiling.
It closed to about three inches and stayed there, with the radio antenna — which, coincidentally (or not), acts as a telltale about whether you're about to crunch your $74,110 truck into the ceiling — scraping against the roof.
I had an early morning meeting in Houston and my flight out of Manchester, New Hampshire (the last of the night) was delayed, which meant I would miss my connection. So American Airlines rebooked me on a United flight out of the same airport, which also ended up being delayed. So as a last ditch effort, I drove to Logan which, unlike Manchester, has only indoor, garage parking. In a Ford F-250 Super Duty that is almost seven feet tall. And the garage height limit is 6-feet 10-inches.
In what was almost certainly the most perilous parking job I've ever done (perhaps second to when I parked a Bentley Flying Spur in a minuscule Zurich underground garage), I stuffed my Super Duty, which I think grew three sizes during my drive into a tiny space and hustled into the airport to make my flight.
The Ford F-250 Super Duty is not designed for airport parking garages. It's not designed for narrow colonial-era streets. It's not designed for any of that. It's designed to haul five people and tens of thousands of pounds of their stuff in comfort and luxury.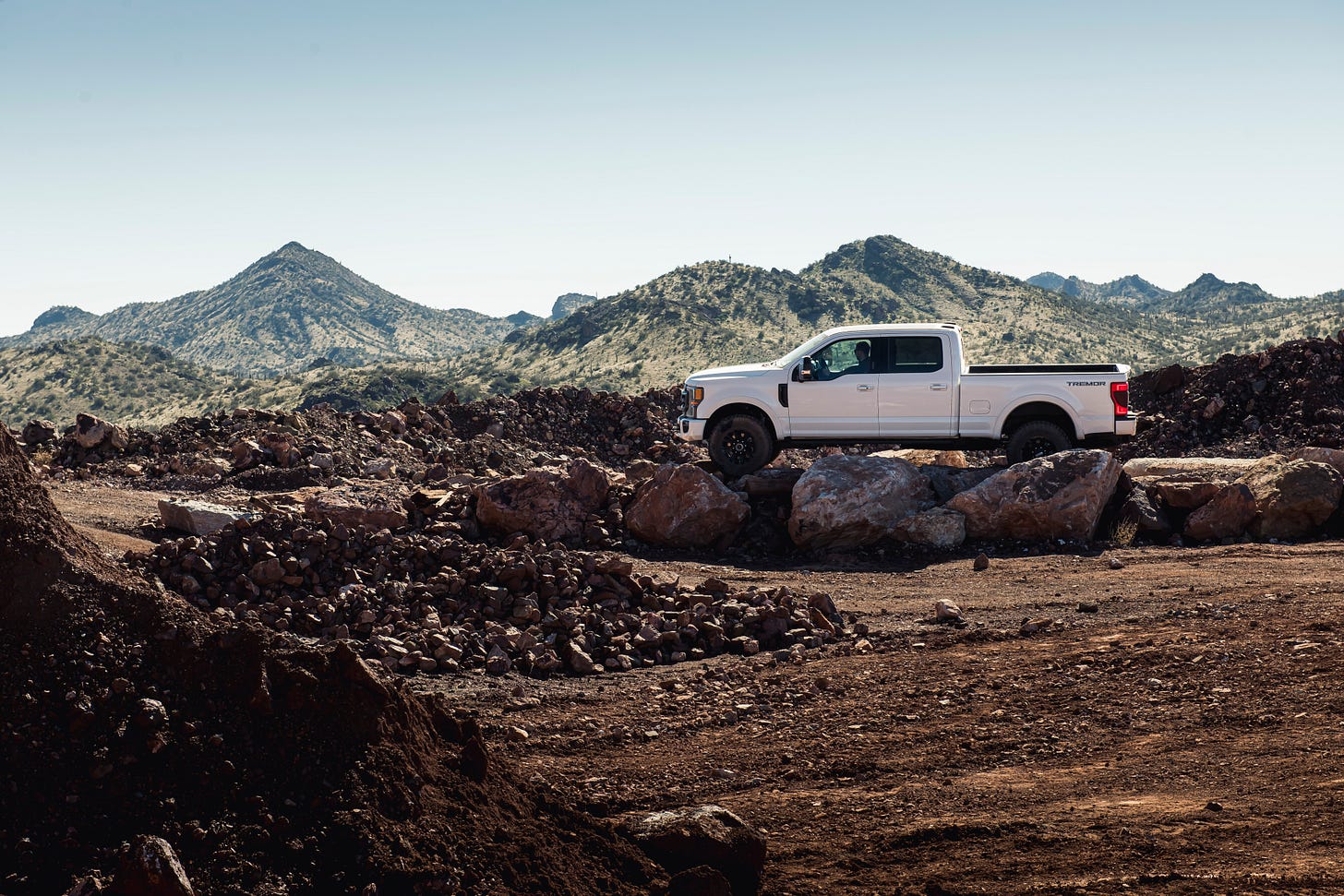 My test unit was a Lariat, the middle trim level basically, and it still clocked in north of $74,000 once we added the $9,120 6.7-liter PowerStroke diesel engine with 450 horsepower and 935 pound-feet of torque, a $3,295 sport package that added lots of black trim pieces and gorgeous black wheels, a $1,970 tow technology bundle, and a $3,355 luxury pack that added even more stuff (including ventilated front seats, which are a godsend on a hot North Carolina day).
Opting for the King Ranch, Platinum, or Limited trims has the final sticker price closing in on $90,000 in exchange for even more luxury features (massaging seats, anyone?), more leather, more chrome, and more more.
Towing capabilities vary depending on the exact spec you purchase, but it easily exceeds 15,000 pounds. If you need more, there are F-350 and F-450 versions, including with dually rear wheels, that can push the total towing north of 30,000 pounds with nearly identical cabs. Capability is the name of the game here, and the Super Duty has it in spades.
The best feature by far, is the cupholder. Really. It's patented as the Multiple Container Holder Assembly (US patent 8,939,491) and it converts what appears to be a two-barrelled cupholder plus a cavernous bin for stuff into a FOUR-barrelled cupholder by sliding over a hidden lid. It's ingeniously clever and, since many of these pickups will be bought for people who work for a living and may be expected to retrieve the morning coffee for a job site full of thirsty workers, the more cupholders the better.
In total, the Super Duty Crew Cab sports TEN cupholders — in a cabin that seats five. There's nothing more Murica than that. There's also room for a gun rack. And at least four places I can think of to securely store a pistol.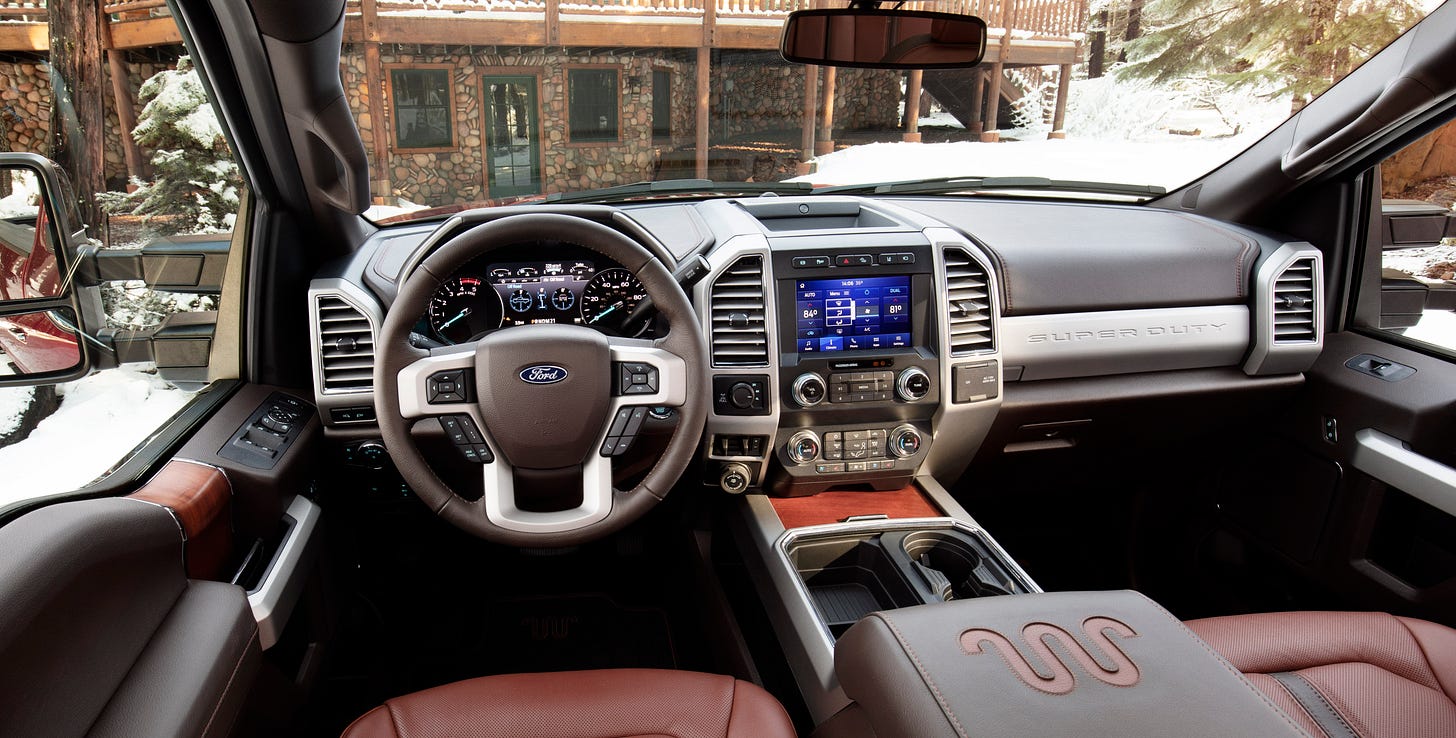 On the window sticker, where every other car displays EPA-mandated fuel economy numbers, the Super Duty says in block letters: FUEL ECONOMY RATINGS NOT REQUIRED ON THIS VEHICLE. But actually, my fuel consumption wasn't terrible: just shy of 19 MPG in mostly highway driving without towing or hauling much of anything.
The 360-degree surround camera is one of the best I've used, and was invaluable when parking in that garage. The power-extendable towing mirrors are terrific. The keyfob allows you to lock the doors while the truck is running, which is nice if you're leaving your dog inside while you run into the store.
And it can haul absolutely everything you might ever want to haul. Which is, after all, the whole point.