Discover more from PRNDL by Jordan Golson
Irreverent, opinionated, entertaining car reviews and tech writing, right in your inbox.
Over 1,000 subscribers
2019 Lexus ES 300h Review
The best fuel economy of any luxury vehicle without a plug
BOSTON — Thanks to technology (and government regulations), cars are more fuel efficient than ever. The 2020 Chevy Silverado diesel — a full-size truck — manages an astonishing 33 mpg on the highway. The venerable Honda Civic sports 42 mph highway, which is excellent for a non-hybrid.
And then there's the litany of full-electric, plug-in hybrid, and regular hybrid vehicles on the market. I trace widespread acceptance of these technological powerhouses back almost 20 years to the much-maligned Toyota Prius. Sure, the early Prii were slow and ugly and easy to make fun of, but the technology was legit and Toyota has had two decades to refine it.
Which brings us to the Lexus ES 300h. It's a mid-size luxury cruiser that is perhaps the best commuter car you can buy today, not just because it's supremely quiet and comfortable — but because it has the best fuel economy of any luxury vehicle without a plug: a frankly astonishing 43/45/44 mpg city/highway/combined (EPA estimated).
Though I always take EPA estimates with a grain of salt — your real-world experience will vary considerably depending on your local terrain, traffic, and how heavy your foot is — over 400 miles of real world driving I managed just a tick over 43 mpg, almost dead on with what was predicted.
And much like Sammy Hagar, I wasn't running at 55 mph the whole time either: I locked the (adaptive!) cruise on 77 mph for almost all of the high-speed stuff.
The ES 300h is a direct descendant of the early Prius. It starts at $41,310, while my "Ultra Lux" version priced out to $54,405. That included a $1,900 safety suite (parking assist w/auto braking and some other things), $3,000 upgraded Mark Levinson audio system, and $1,515 triple-beam LED headlights that illuminated the road well.
It's powered by a 176-horsepower 2.5-liter four-cylinder engine, plus an extra 39-horsepower from the electric motor. The ES is a big car, and with the tiny engine it's certainly not fast — but Lexus says it gets from 0-60 mph in just over eight seconds, so the hybrid engine is helping things along. And, as an added bonus, it runs on regular fuel. It's only available in front-wheel drive.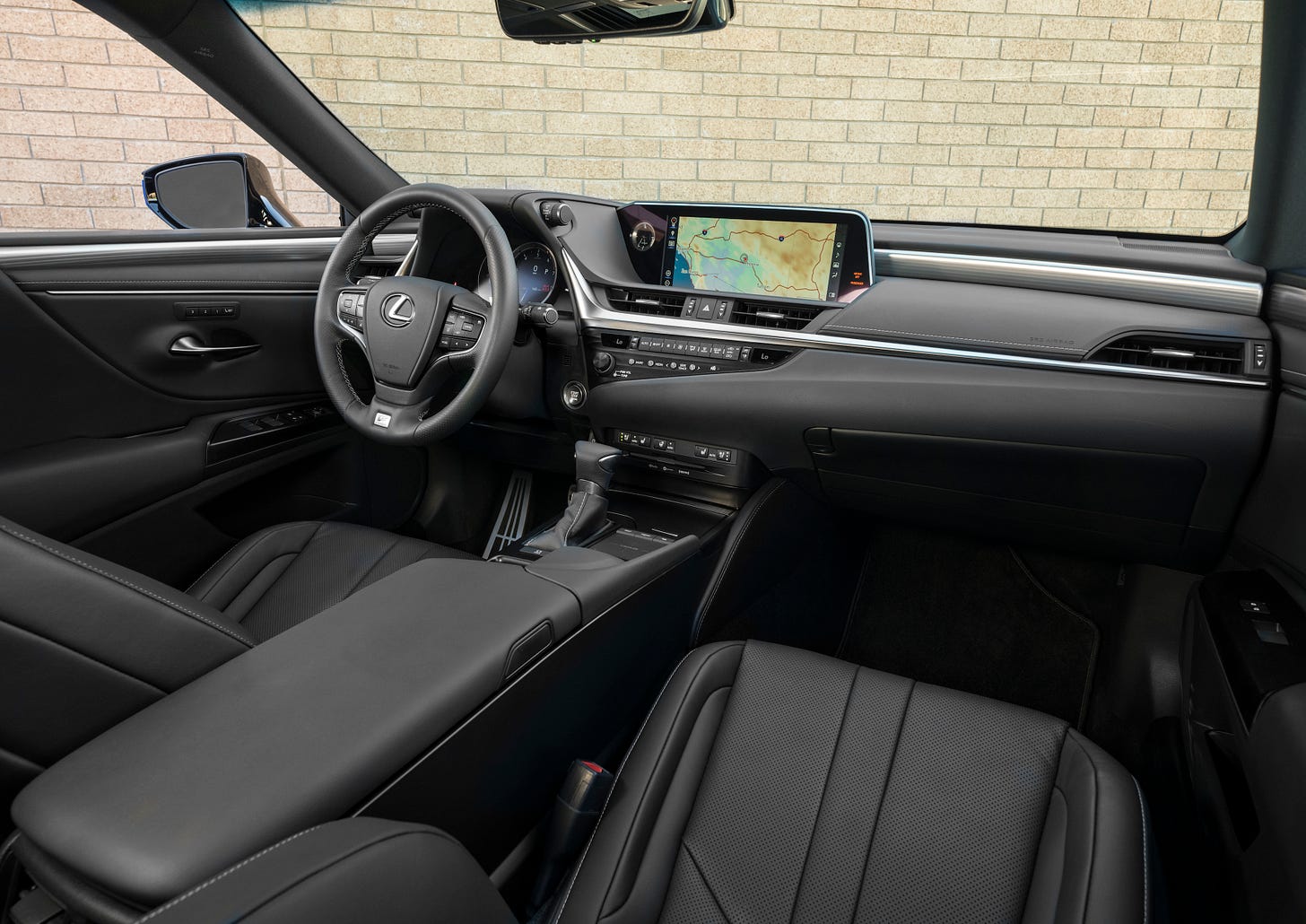 I've driven a lot of Lexus vehicles over the past few years and it occurred to me that I really liked all of them. They certainly have their quirks. Lexus is one of the final carmakers to add support for Apple CarPlay, though Android fans still don't have Android Auto. The trackpad used to control the infotainment system is absolutely terrible and even though the screen is just within reach, it's not touch-capable. That said, the screen is enormous and gorgeous, at least when your iPhone is plugged in.
But without fail, every Lexus I've driven has been extremely comfortable, quiet, capable, and luxurious. Aside from my complaint about the trackpad, I really don't have anything else to complain about. This is pretty rare for a single car, never mind an entire car brand. The signature Lexus hourglass front grill is even growing on me.
My favorite feature, which every carmaker should immediately add to their entire lineup, links the seat heater and cooler to the automatic multi-zone climate control. Get in the car on a hot day and the seat coolers turn on automatically. A bit of a chill on a late October morning brings the seat heaters on, until the car warms up a bit and it turns them off again. It's absolutely brilliant, and makes me wonder why I've been wasting my time turning my seat heaters on manually for all these years. Like an animal.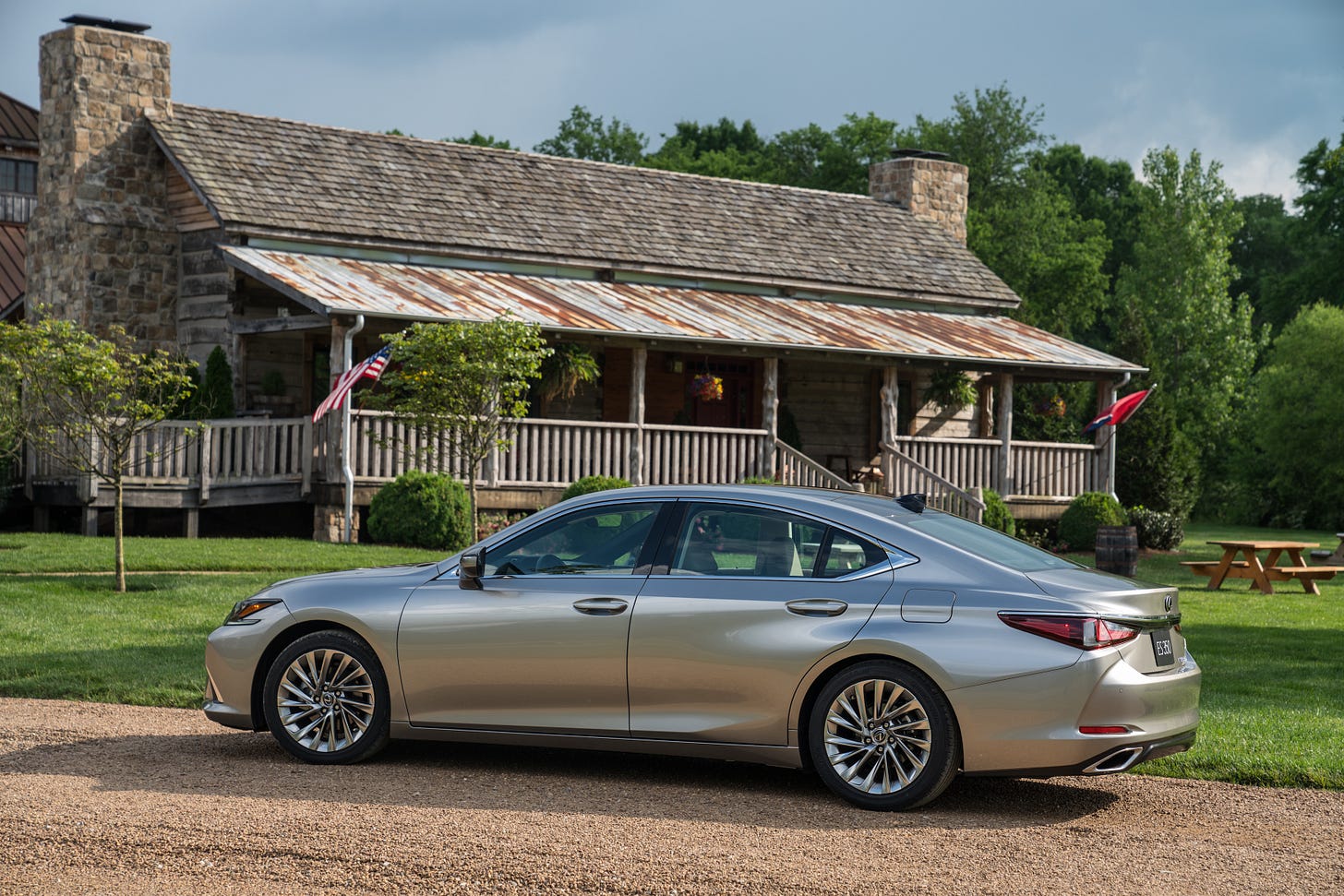 It's rare that I find myself running out of words to talk about a vehicle. The seats are comfortable, the styling is pleasing from just about any angle, the sound system is terrific, it's quiet in traffic and at highway speeds, the adaptive cruise and lane-centering systems are solid, it's fast enough and able to cruise at 80 mph without any kind of struggle and if you get spirited on a curvy backroad it's able to hold its own.
It sums up very simply. If you're looking for a luxury sedan, you can't go wrong with the Lexus ES. If you're putting a ton of miles on your car, the ES 300h is the one to buy. But, if you're the type who wants to complain about your car all the time, maybe look elsewhere.