Discover more from PRNDL by Jordan Golson
Irreverent, opinionated, entertaining car reviews and tech writing, right in your inbox.
Over 1,000 subscribers
2020 Volvo XC90 T8 Review
Living large while going green
BOSTON — I'll just come out and say it up front: I really like the Volvo XC90. I've written about a lot of Volvos, and liked all of them (and not just because Volvo's current lineup is sort of the same excellent car in a bunch of different sizes and shapes). I own a 2016 Volvo wagon.
Recently, I found myself in a rainstorm in Volvo's flagship SUV. My tester was an $86,990 XC90 Inscription T8. It's basically the nicest, largest Volvo you can buy.
Same as the XC60 Polestar I tried a few weeks back, the T8 is the interesting part here though. It combines Volvo's 2-liter super- and turbo-charged internal combustion engine with a 11.6 kWh battery to generate a combined 400 horsepower and 472 lb-ft of torque. It also creates a wonky but workable all-wheel drive system, with the engine turning the front wheels and the electric motor pushing the rear.
As an added bonus (or the main reason to buy it, depending on your perspective), the big SUV can run for around twenty miles on electric power alone. Depending on where you're driving, gas-only fuel economy is in the mid-20's because of the hybrid system's assistance.
And this is the beauty of a plug-in hybrid like this. If you want, you can religiously plug in when you pull into your garage at home — residential charging stations can be had for around $600 plus the cost of installation and permits, if required — and top up the battery so you always have twenty clean, emission-free miles ready to go. If you do most of your hauling around town (it is a Volvo after all, I went to Trader Joe's when I had it), you might even do most of your driving on electricity. Twenty miles is actually quite a long way when you're going to the grocery store or dropping the kids at soccer practice.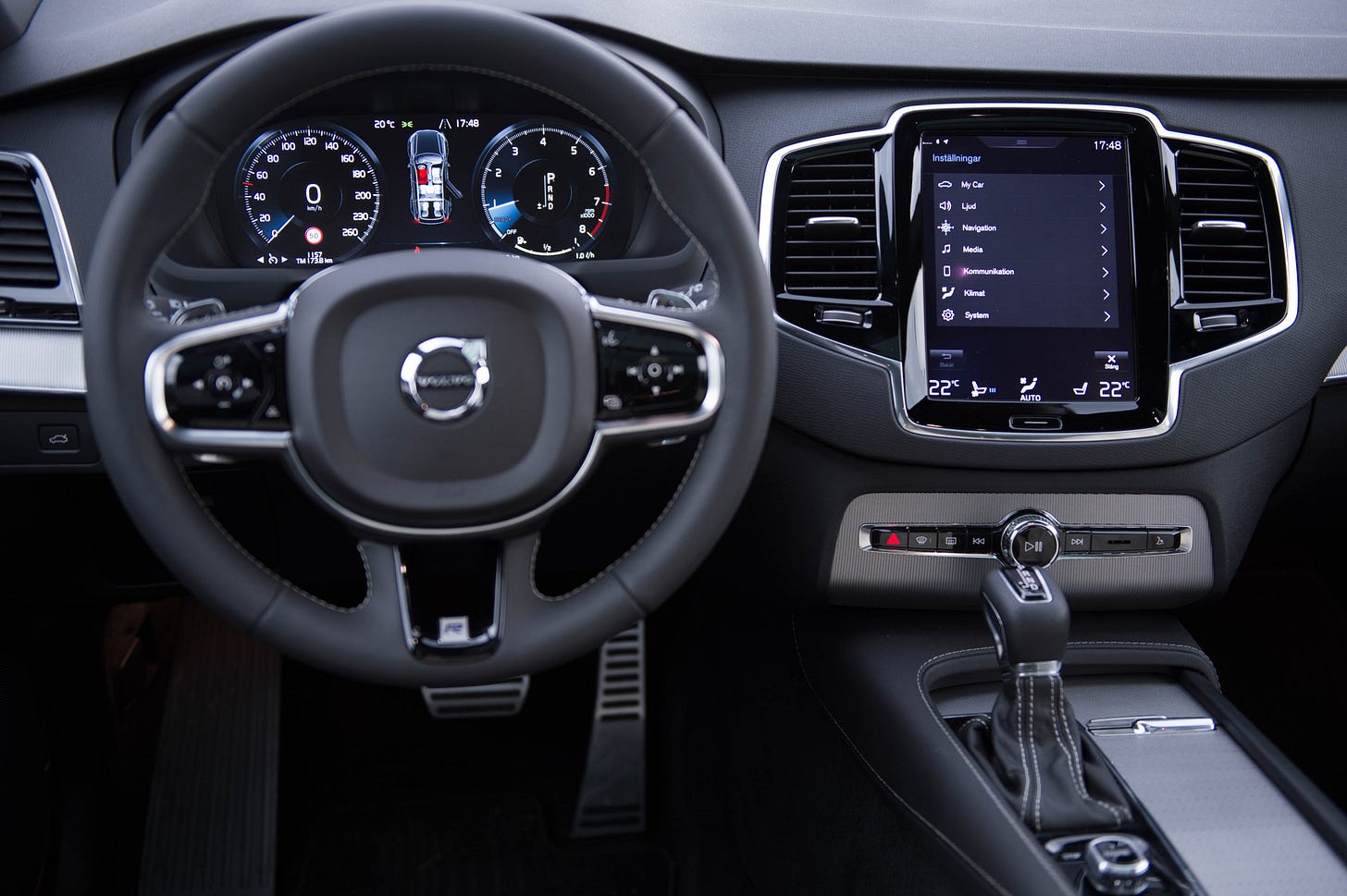 But if you want, you can completely ignore the plug and drive it like a regular hybrid. When you brake, the electric motor regenerates power to charge the battery. When you set off from a red light, the electricity gets you going, helping save gasoline during the most inefficient cycles. It also lets the car shut off under coasting or at a red light, without the downsides of annoying auto-shut off features.
For full disclosure, if you aren't going to plug in the car, it's probably not worth buying. Those picking up a $90,000 SUV probably aren't too worried about a few thousand dollars, but you can get most of the same experience with the XC90 T6 Inscription which is exactly the same car, but without the battery and electric motor. And it's $5,000 cheaper — (actually $10,000 at the dealership, but there's a $5,000 federal tax break on the hybrid).
But if you are willing to install the charger and plug it in, pick up the T8 and be a bit greener and enjoy riding on a cushion of smugness past your neighbors in their dirty, gas-guzzling SUVs.
Plug-in aside, the lightly-refreshed 2020 XC90 has a few new features that are worth noting. First up is the second-row captain's chairs, which are exquisitely comfortable and leave a spacious "walkway" in-between for smaller humans to climb into the third-row. It's actually serviceable in the back for adults, though I wouldn't want to go much further than a 15-minute ride to a restaurant or something like that.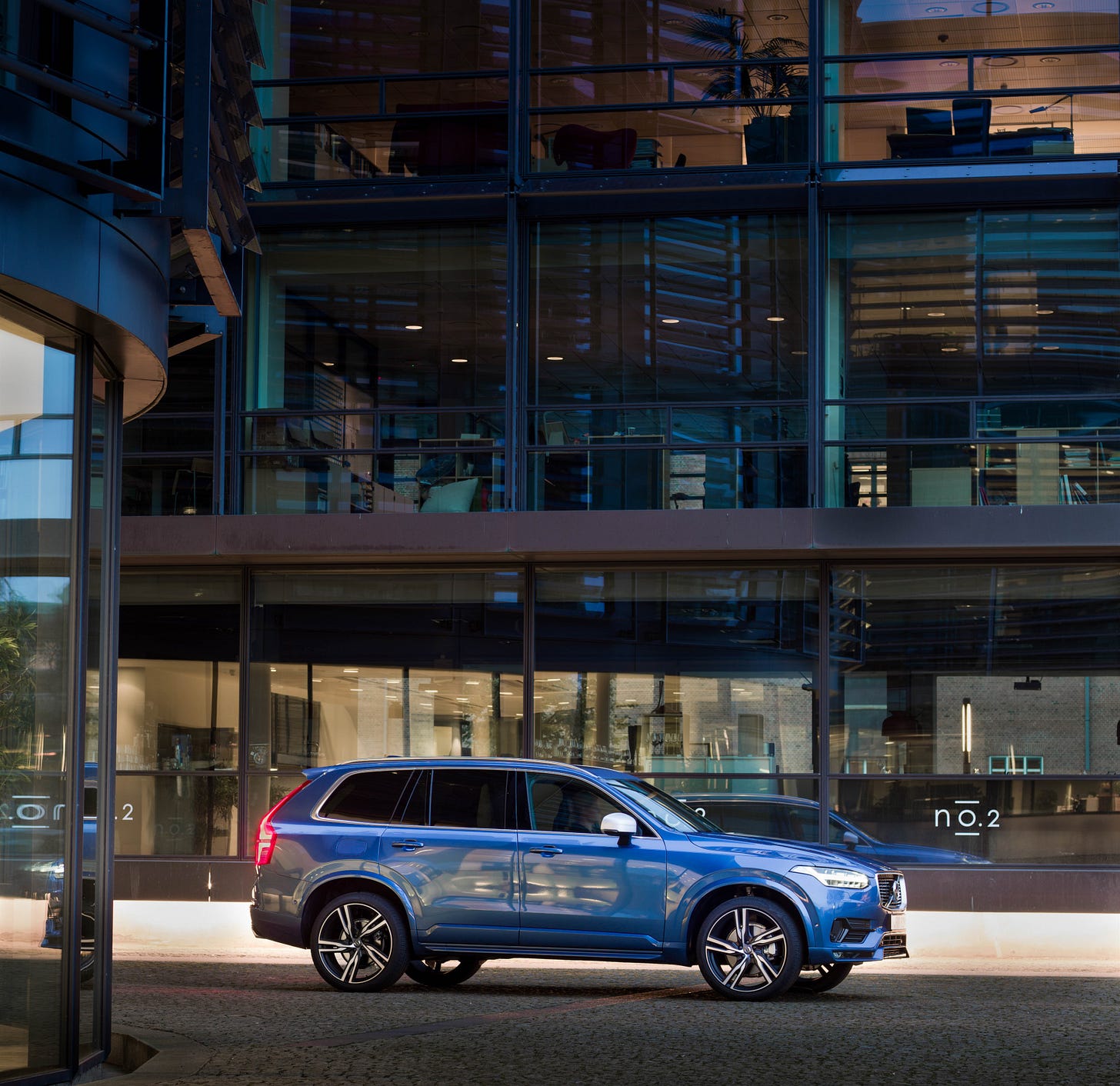 Cargo space in the rear is quite limited with the third row up, so you won't be making any six-passenger airport runs unless folks pack extremely lightly. Put the third-row down and you have acres of space to fill with stuff.
There are some nitpicks too. The second-row seats are missing an inboard armrest, which is weird. Volvo says it's to keep access to the third row easy, but your passengers would use that armrest a lot more than you'll use the third-row.
The shifter is tricky to get used to, requiring double-taps forward and back to shift from park into reverse or drive. If you own it, it's fine. If you are borrowing it, expect to go into neutral by accident a lot.
The giant touch screen is gorgeous, but it's irritating to find some functions, and the space can seem pretty wasted. There are changes coming in the future on that though, so perhaps Volvo is aware of the shortcomings.
Still, if you're in the market for a giant, three-row, extraordinarily comfortable and beautiful luxury SUV, you can't go wrong with the 2020 Volvo XC90 Inscription.