Discover more from PRNDL by Jordan Golson
Irreverent, opinionated, entertaining car reviews and tech writing, right in your inbox.
Over 1,000 subscribers
2020 Volvo XC40 Review
The automotive equivalent of Swedish meatballs
BOSTON — I love Ikea. Swedish meatballs and furniture with a dash of über-capitalism and mass consumption swirled in for good measure. Where else can you get a bookcase and a hot dog and be out for $20?
Of course, North Carolina's only Ikea (it's in Charlotte) is shut for coronavirus-reasons, but thanks to my Volvo XC40 review car this week, I got to bring a little bit of Sweden home with me. I know the XC40 is Swedish because there's a little Swedish flag sewn into the side of the passenger seat, like it's waving at you with a Scandinavian version of Southern hospitality.
There aren't many countries that could get away with putting a flag on their car. Great Britain, for sure. The BMW-owned Mini brand sells boatloads of cars with the Union Jack emblazoned on the roof or the door mirrors. An American flag is appropriate adornment for any enormous pickup, though I can't think of any brands that actually put the stars and stripes on a vehicle from the factory.
Could you imagine a German flag adorning a Mercedes? Or the Japanese flag on a Toyota? The idea is preposterous. But Volvo has wholeheartedly embraced the Swedish flag, though in a restrained, Swedish way. Everyone likes the Swedes. They're the Canadians of Europe.
The XC40 is Volvo's entry-level vehicle here in the states. There are a few different flavors depending on what your tastes are. There are three trim levels: the base Momentum, the sporty R-Design, and the luxury-focused Inscription. My tester was the R-Design, with unique design elements like gloss black trim, fancy leather, and some of the best wheels on the market. Volvo has been killing it with its wheels lately.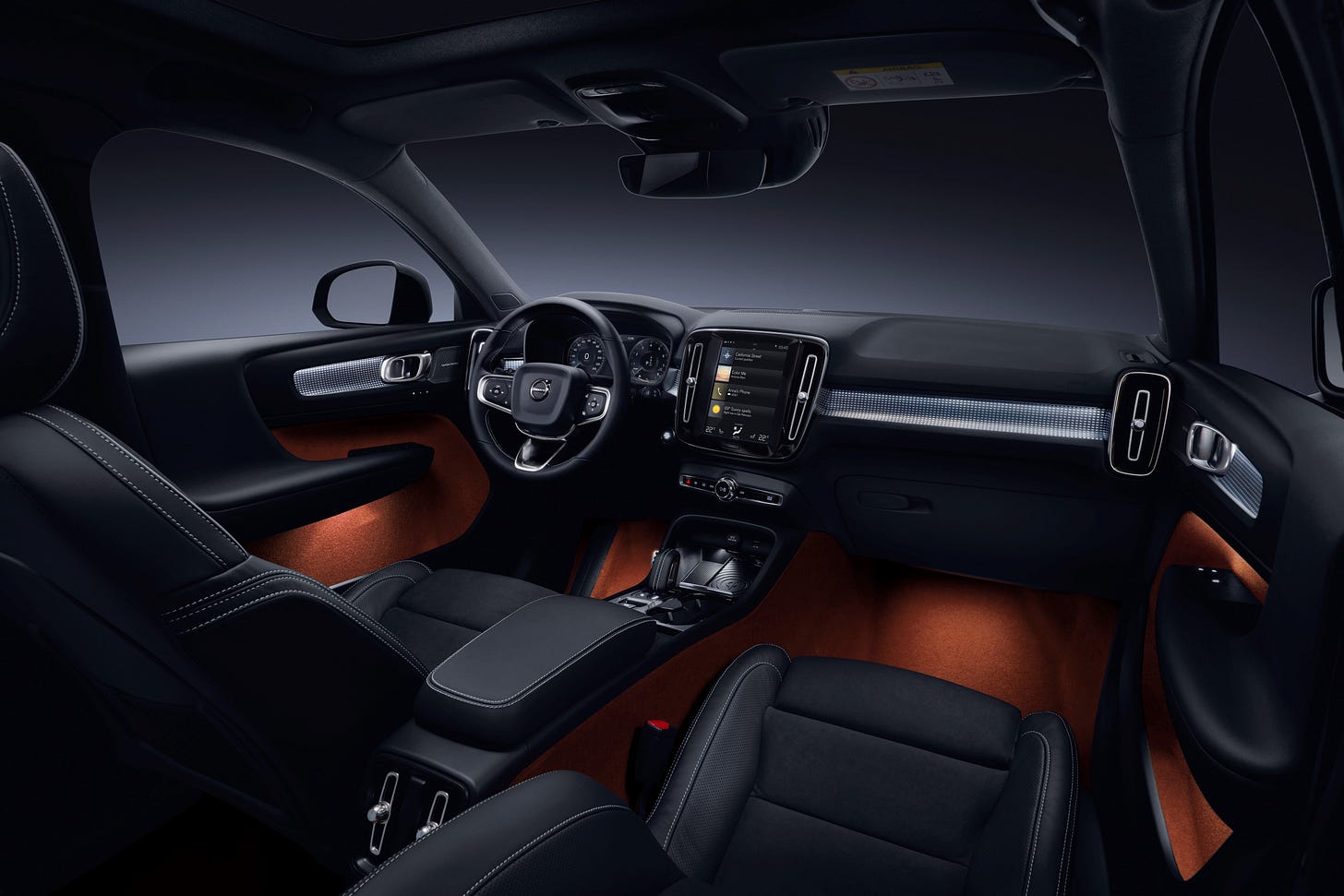 Once you pick your trim, there aren't too many other choices to make. Pick between a front-wheel drive variant (the T4 FWD) or an all-wheel drive version with an upgraded, turbocharged engine (T5 AWD).
Then you're off to your interior and exterior colors, and a selection of option packages: go for the heated front seats and steering wheel ($750), the Advanced Package ($1,400) with the Pilot Assist advanced driver assistance system plus 360-degree camera and swiveling headlights, and the upgraded audio system for $800 if you desire.
My R-Design test unit landed at a whopping $46,195 with nearly every option-box checked. You can save a decent chunk of change (a few thousand bucks, at least) by opting for the European Delivery option, where Volvo flies you and a guest out to their headquarters in Gothenburg, Sweden to take delivery.
Then you can road trip around Europe for a week or two before dropping your car off and jetting home. Then your car gets shipped over to the U.S. and you'll have a grand adventure to tell your friends about.
I've written glowing reviews of many of Volvo's cars in these pages over the past year or two, so I won't belabor the point any longer. The XC40 is terrific. It's comfortable and sporty and handles well and is unbelievably safe (Volvo is happy to show you crash test videos to prove it).
The fuel economy isn't the greatest, especially in the city, though you can get the EPA-estimated 30 mpg on the highway if you don't put your foot down too hard. I wish the fuel tank was bigger, though, as it only gets a bit over 300 miles in normal use.
I also wish the touch screen wasn't vertical. When this infotainment system first rolled out in 2015, it was better than almost everything else on the market. But after five years, it's starting to be a bit dated and CarPlay is limited to the bottom of the screen with lots of wasted space around it. The good news is there's a new system, based on Google's Android operating system, coming soon. In the meantime, it gets the job done.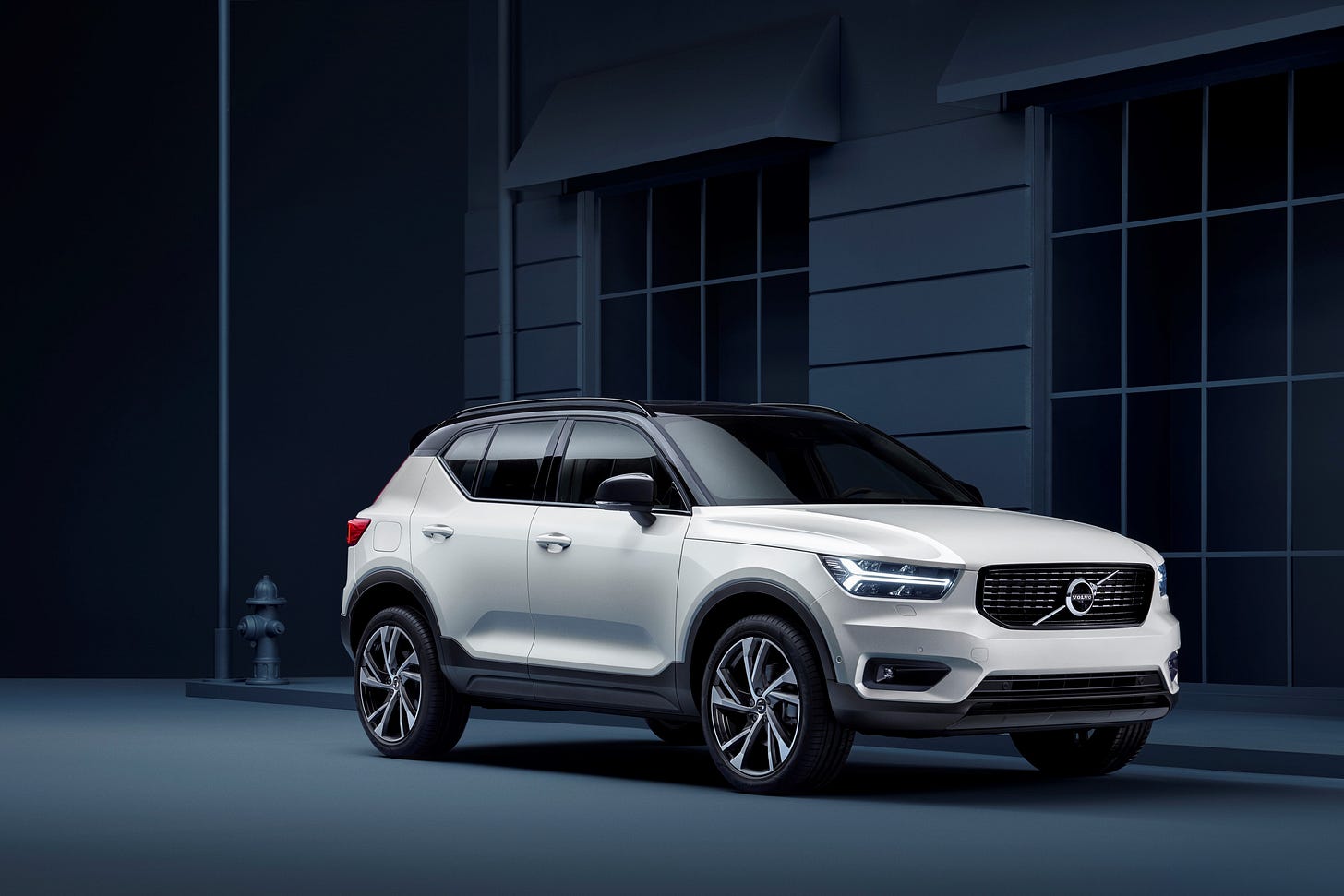 I loved my test car's stylish white paint scheme with black roof, and received several comments on it from passers-by over the course of the week. It survived a trip to Costco with aplomb, with the rear seats folding down (and back up!) easily. There is storage everywhere, including an ingenious little trash can just fore of the center console that every car should have.
With fantastic safety, clever design, and Swedish swagger, the XC40 is my favorite small SUV. Give it a try and I bet, like Ikea's 10-pound bag of Swedish Meatballs at checkout, you'll be hard-pressed not to take it home.