Discover more from PRNDL by Jordan Golson
Irreverent, opinionated, entertaining car reviews and tech writing, right in your inbox.
Over 1,000 subscribers
2020 Volvo V60 Cross Country Review
It's a wagon so it's better
LULEÅ, Sweden — I own a 2016 Volvo V60 wagon. It's almost automotive journalist cliche to own a European wagon, but I don't care. It's practical, the cargo space is excellent, it handles well, and it looks good. There's a reason car writers love them. And now there's a new one.
To test it, Volvo flew me out to Luleå, Sweden where it lined up a dozen 2020 V60 Cross Country wagons for the assembled journalists to test on a literal frozen ocean and snow-covered Swedish backroads.
I drove the new Volvo S60 — the sedan version of this car — last year and wrote about it in these pages and absolutely loved it. In some ways, I want to just take that review and add "BUT NOW IT'S A WAGON SO IT IS BETTER" at the end and then resubmit it to the editors.
That would be accurate, but there are still things to discuss. First up is the enormous panoramic sunroof. It extends from the front — the normal place for the sunroof to be — back over the heads of the rear seat passengers. It's massive and fantastic and envelopes the cabin in light, making the rear seats a much more pleasant place to sit. Making the best of available light is particularly important in Luleå, where the daylight drops perilously close to naught in mid-December.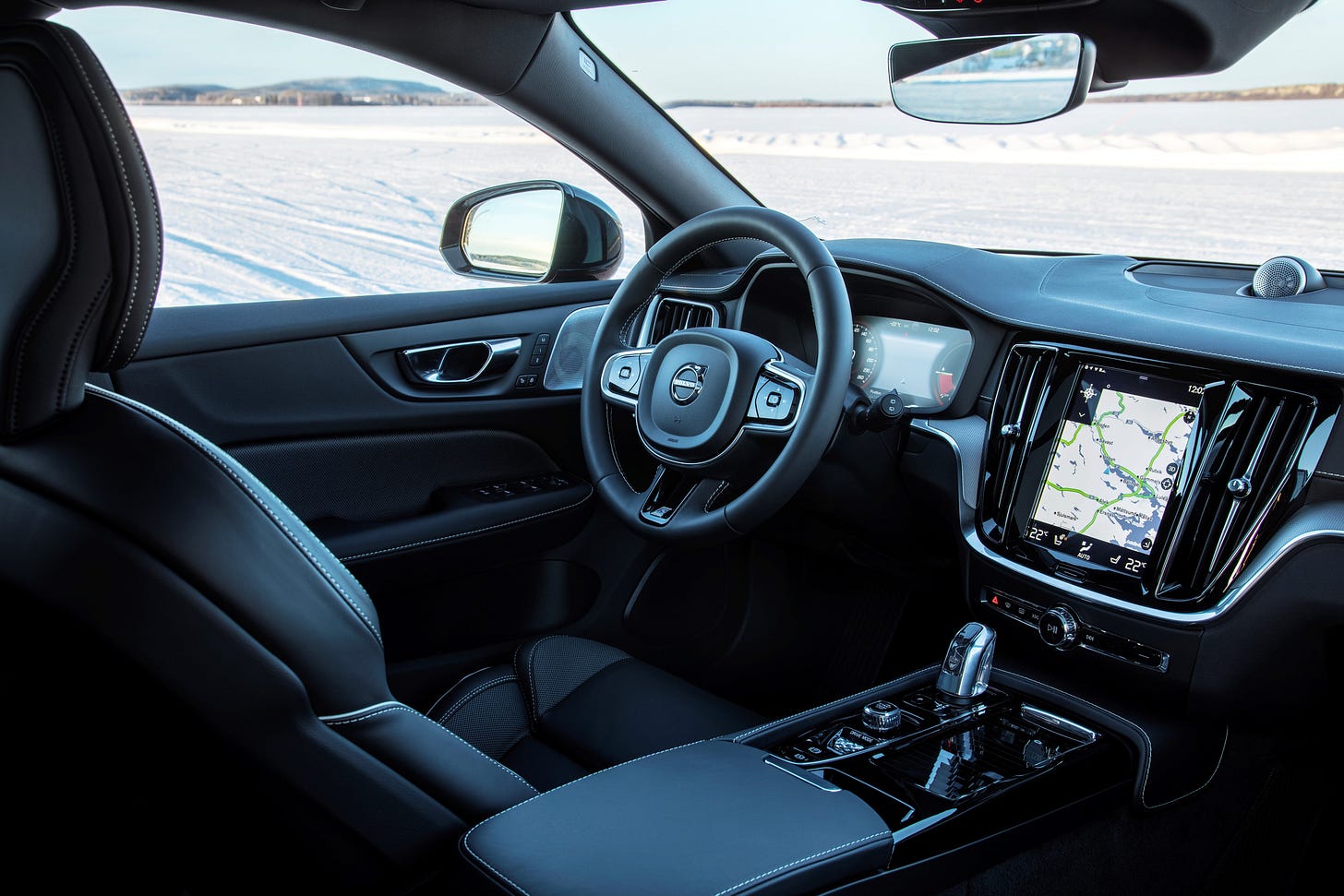 The rest of the interior is near-identical to the S60, with Volvo's standard most-comfortable-seats-you-can-get-in-a-car, premium leather and touchpoints everywhere, and a very attractive frameless rear-view mirror that frequently gets overlooked.
The Swedish-assembled V60 Cross Country comes in but one trim level, making choices easy. It has a 250-horsepower, 258 lb-ft turbocharged four-cylinder engine connected to a smooth-shifting eight-speed automatic and all-wheel drive. It's the same engine used in other Volvos and it remains excellent here.
The Cross Country, a nameplate that's been around for more than two decades and continues to be popular amongst a certain segment of the population, gains a couple of features over the standard V60. It's lifted 2.4-inches to almost crossover levels of clearance, complete with protective plastic cladding around the wheel arches and along the bottom of the bodywork, a softer suspension tune, as well as a special off-road mode that includes hill-descent control. It's no Jeep Wrangler Rubicon, but it can handle anything your typical Volvo owner might throw at it.
In Sweden in January, the only bare pavement to be found was at the airport, so our cars were fitted with Finnish-made Nokian Hakkapeliitta 9 studded winter tires. As a result, it was a little tricky to discern where the performance of the car ended and where the tires began, but working in concert, they were a joy to handle. Packed snow at -18 degrees Fahrenheit was close enough to normal pavement that I hardly had to change my driving behavior except on stopping distance.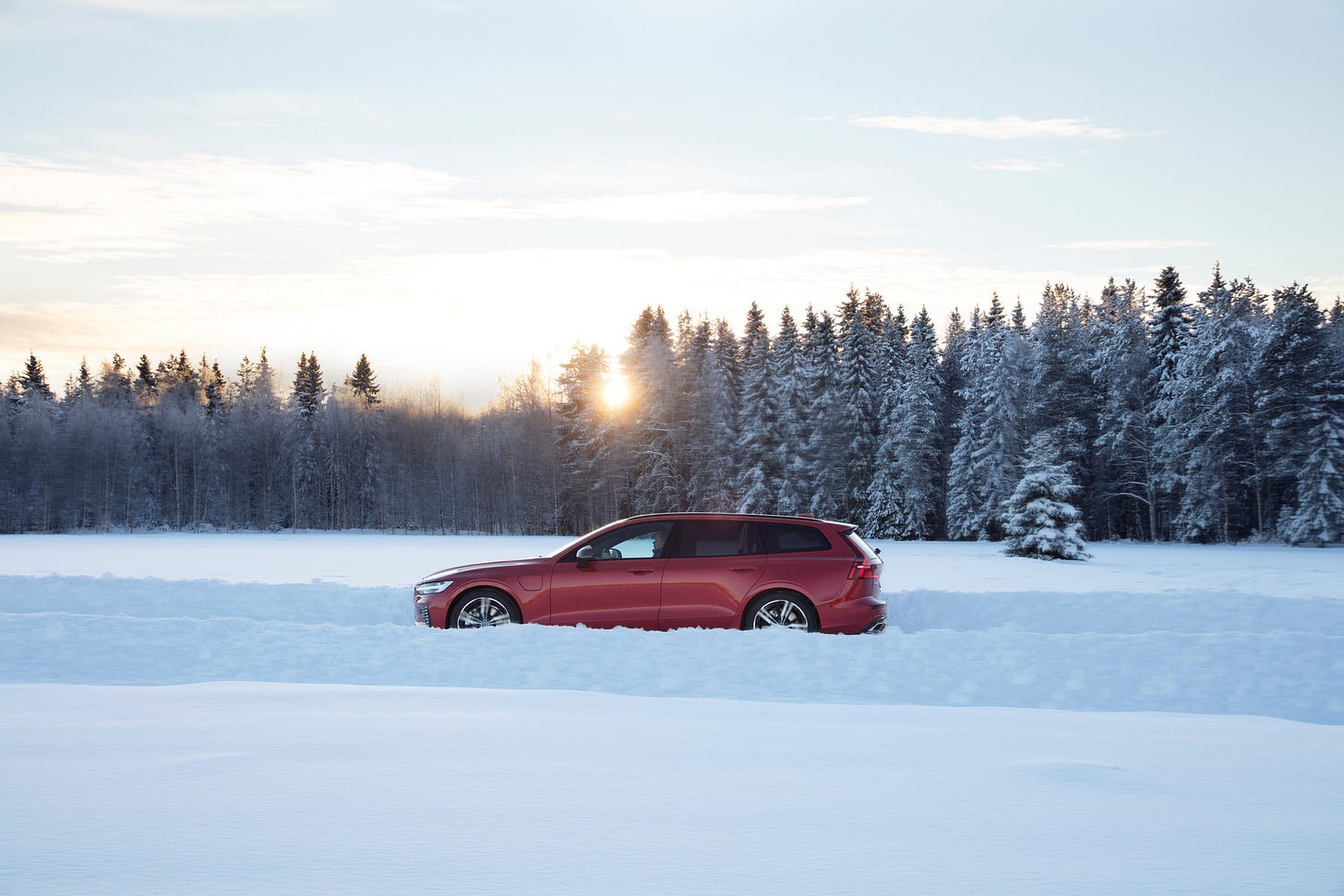 The V60 Cross Country was confident and composed, and though the suspension is cushier than the standard V60, it's far from soft. We didn't see a pothole our entire journey through Sweden, so it's possible that the engineers of the car don't realize the condition of American roads. In my V60, I feel every bump and jolt, but I suspect the Cross Country would be a lot more forgiving.
Driving on the frozen Baltic Sea (30-inch thick sea ice!) was a treat, but the ice course the Swedes had laid out wasn't particularly illuminating, though it was a hell of a lot of fun.
Perhaps the most illuminating part of the drive was after the sun went down at 3:30PM local time. Then I got to try out Volvo's Euro-spec automatic headlights. By default, they run at high-beam at all times, but then can automatically dim the left-side beam to avoid blinding oncoming traffic while leaving the right-side on high to help keep an eye out for moose at the side of the road.
They work phenomenally well, as the more the road is illuminated at night, the lesser your risk for a crash. The tech is similar to that offered by other European manufacturers like Audi and Mercedes, but outdated regulations in the US prevent the lights from being offered. This may be changing soon, and the sooner the better.
Pricing has yet to be disclosed, but expect it to run in the low-to-mid $40,000 range.