Discover more from PRNDL by Jordan Golson
Irreverent, opinionated, entertaining car reviews and tech writing, right in your inbox.
Over 1,000 subscribers
2020 Toyota Avalon Review
Lexus-lite
BOSTON — As I write this, the country is beginning to shut down. Folks are being urged to stay home and only go out when immediately necessary. And I think about my mother, who is older and has some risk factors for the coronavirus. She lived, until very recently, in Boston and took public transportation or Uber or Lyft rides everywhere.
And those are good ways to get around, in normal times. But in more uncertain times, like those we have now with a pandemic bearing down — we naturally crave privacy and a safe space for ourselves. That's where the personal automobile comes in. I've always been skeptical of those predicting we would all give up our cars in favor of shared transportation.
Our car, particularly during our commute, is one of the few places that folks can get real solitude. No family, no co-workers, just a driver and whatever podcast or music or awful drive-time DJ we want to listen to.
A few years ago, I talked to an executive at Rolls-Royce about whether they were concerned about autonomous cars and ride-sharing. He said that they were more excited than ever, because wealthy folks would always want to have their own space. Rolls-Royce cars might drive themselves, but the experience will become like a private jet, both wildly expensive and luxurious. 
Though in the past week or so most of the backups and delays we associate with a nasty commute have disappeared. But we will always want some solitude and luxury. And that's what my test car this week delivered.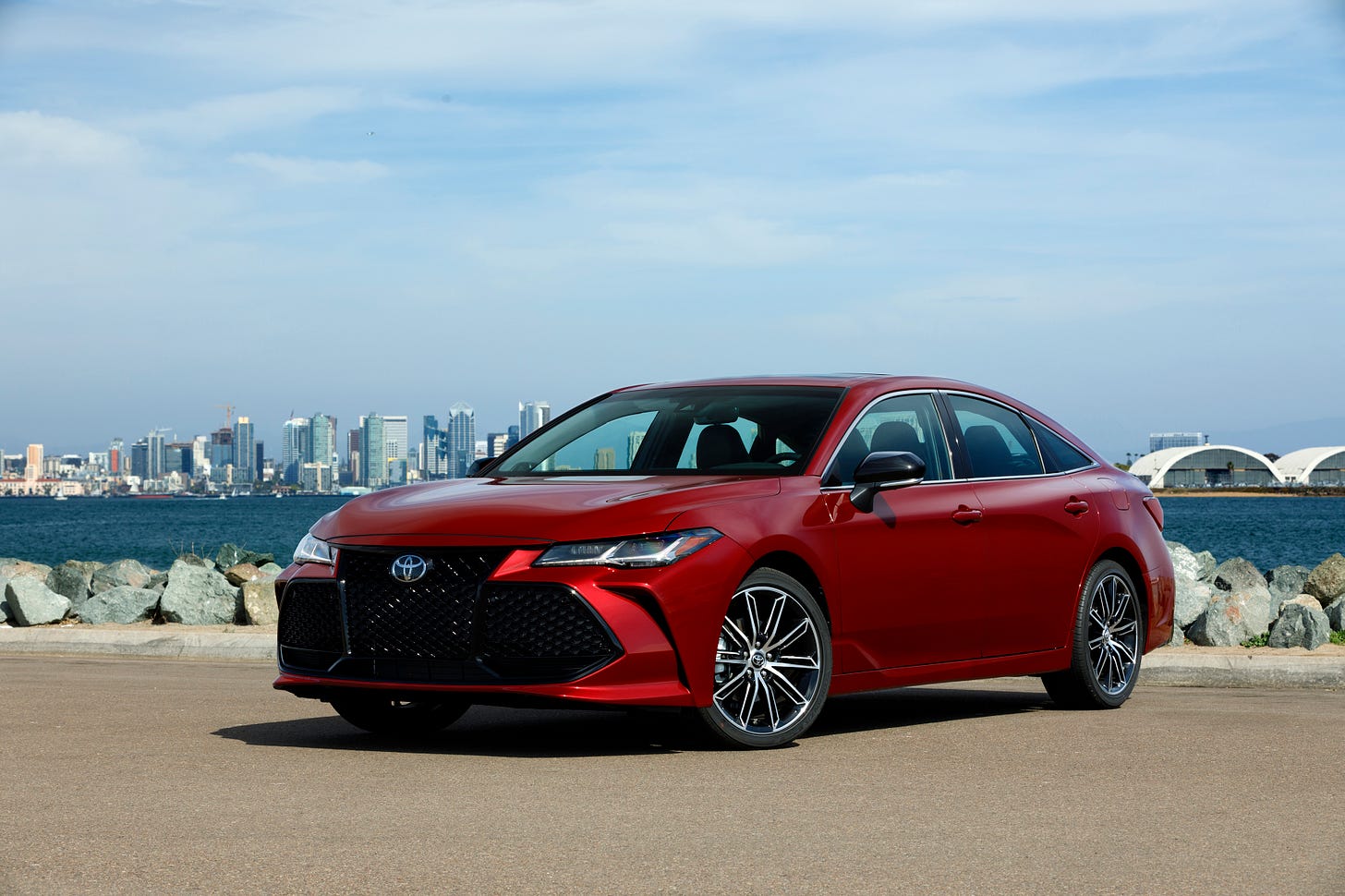 The 2020 Toyota Avalon is the company's flagship vehicle in the US. It shares a platform with the smaller Camry, as well as the Lexus ES (which I drove last year and loved). My test car was the Avalon Hybrid, which gets a deeply impressive 43 EPA-estimated MPG across all three city/highway/combined.
My mid-tier XSE test car weighed in at $42,684, a little less than 12 grand less than the Lexus ES hybrid that reported similar fuel economy. My Avalon had a $1,720 premium audio system, $425 for a special paint color (Ruby Flare Pearl!) that was lovely, and a $259 carpet mat package.
The Avalon isn't the most exciting looking car, but that's the Toyota way. But it's attractive and understated and wouldn't look out of place at Walmart or at the Ritz-Carlton. It's built in America, at Toyota's Georgetown, Kentucky plant.
I suspect the people who buy the Toyota Avalon could go into the Lexus dealer and buy the ES without an issue. Instead, they decide to save ten thousand dollars and give up a bunch of luxury features.
There are plenty of hard plastic touch points because it's a Toyota. The dashboard and steering wheel aren't as nice to touch as the Lexus. There isn't a power closing trunk lid. It doesn't have cooled seats. It's not quite as quiet. 
But there's plenty of legroom in front and back. There's a cavernous space to put your phone under the infotainment and climate control buttons. You can't tell when the engine turns off and back on because Toyota's hybrid system is the best around.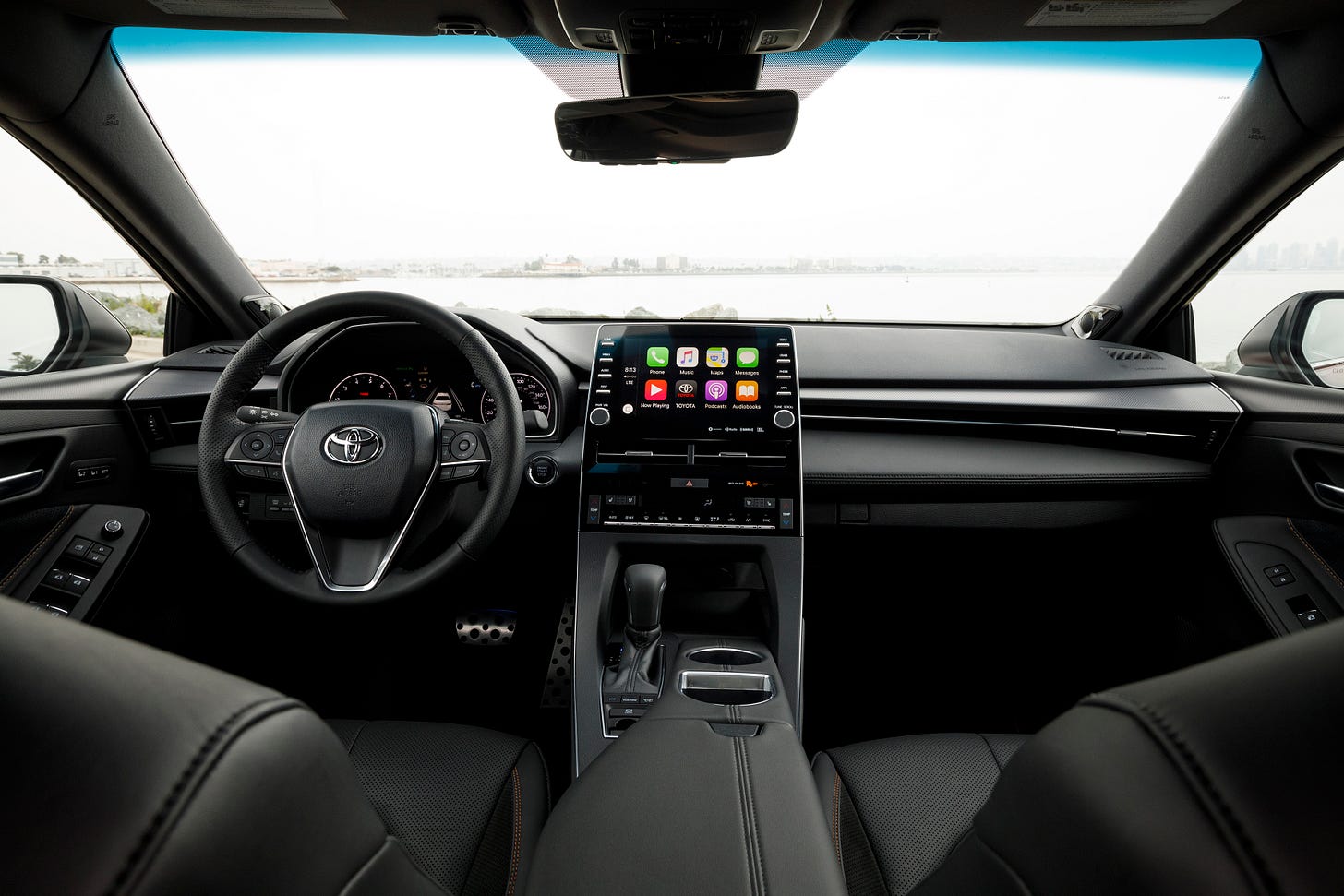 The infotainment screen is large and sits high, making it easy to see your navigation without taking your eyes too far from the road because it doesn't have a heads-up display like the Lexus has. 
It's just not as refined as the comparable Lexus. But, you can take the $10,000 you saved and put it towards an awesome vacation (or years of fuel and car insurance). If you put the Lexus ES and the Toyota Avalon (with $10,000 in cash stacked on the hood) next to each other, I'd have a hard time recommending the Lexus, to be honest. As much as I love the Lexus, especially the ultra quiet interior (and the fancy Lexus badge), the Avalon is nearly as good.
We know who will buy this car though. The Avalon is going to skew to an older crowd who has always had sedans. Younger folks, especially those with kids, are going to lean towards Rav4 and Highlander SUVs. But for — let's be honest — old folks who like sedans, the Avalon is a top-notch option.