Discover more from PRNDL by Jordan Golson
Irreverent, opinionated, entertaining car reviews and tech writing, right in your inbox.
Over 1,000 subscribers
2020 Toyota 4Runner Review
Sometimes a grizzled vet is just what you need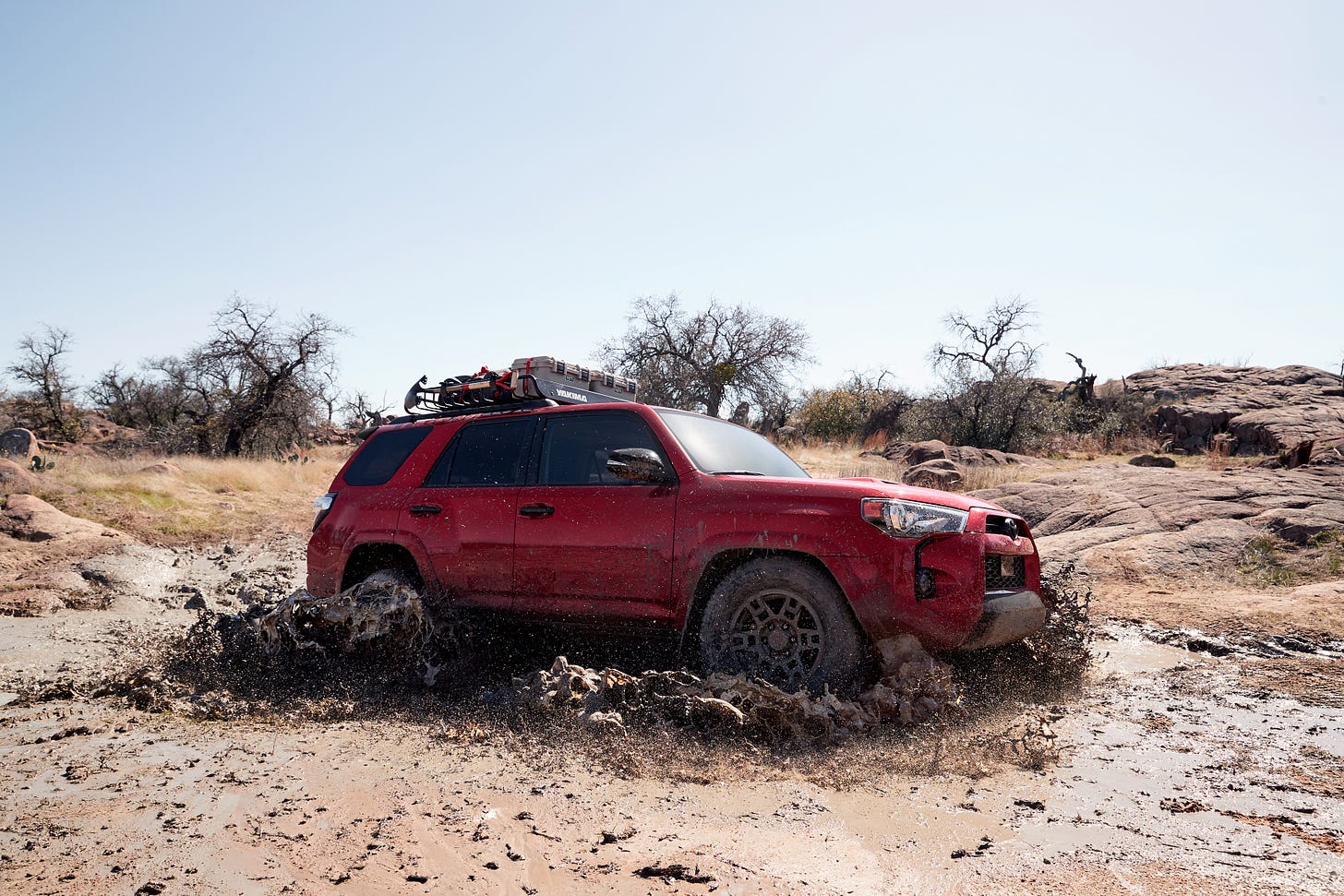 BOSTON — An increasing number of cars are coming with that new, future-proof oval-shaped USB-C plug. While this might be annoying to folks who are still carrying around tons of the old, rectangular USB-A plugs, the new C is the plug of the future.
The adoption of new technologies is nothing but a good thing for a car that's going to last 10 to 15 years, and any sort of future-proofing that carmakers can do is beneficial to new car buyers.
Since USB-C is backwards compatible with older devices (you might need a new $15 cable, which isn't a big deal compared to the cost of a new car), and provides a number of benefits (you'll never try to fit the plug in upside down and it might charge your devices faster), there's no downside.
New tech is usually great. Some cars are even getting wireless CarPlay now, which means you don't need to plug it in to get your phone screen up on the dash.
Then there's the 2020 Toyota 4Runner, which is about as far from high-tech as you can get on a new car lot these days.
This car is just about ten years old, but it still sells, and it's still outrageously capable. I probably shouldn't like it as much as I do, but it has an unexplainable charm like a big friendly dog that nonetheless misbehaves and slobbers everywhere.
It has a big 4-liter V6 engine making 270 horsepower and 278 lb-ft of torque, all while sucking down massive amounts of fuel. The EPA estimates 17 mpg, but I could barely manage 15. But that's ok. See, the 4Runner has a window in the tailgate that goes down. I like that. It means that my hypothetical big, friendly, slobbering dog can stick his head out the back and slobber at tailgating BMWs.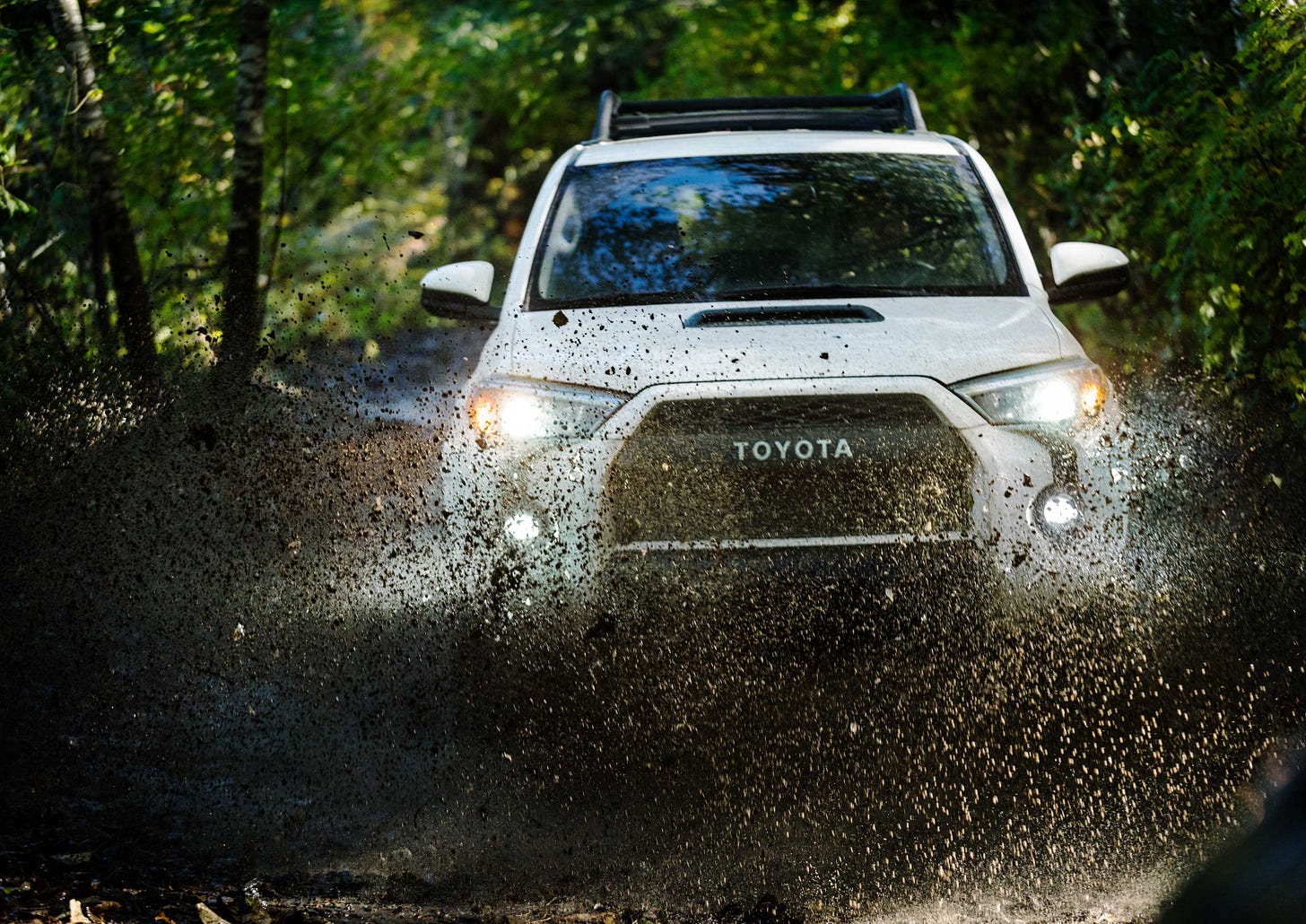 And they'll be tailgating a lot because this truck isn't particularly fast. But that's ok, because it can go absolutely anywhere thanks to a full-time four-wheel-drive system and a locking center-diff. If you opt for the TRDPro, you can get a bunch of even fancier off-road tech.
The 4Runner Nightshade Edition that I tested also included black 20-inch wheels, black mirrors, roof rails, external badging, rocket panels and door handles. And black chrome bumper and rocker accents. And a black steering wheel and interior accents. And all of that blackness was on a brilliantly white car. It sounds absurd, but it looked amazing.
And all of that for $52,070! I hear what you're saying: "That's a lot of money!" And... you'd be right. It is a lot of money. For a particularly old car that doesn't get great fuel economy and struggles a bit with safety, too. It scores four stars on overall safety, and the Passenger frontal crash rating is just three stars. Ouch. But that's ok. Folks don't buy this car for the safety or the fuel economy.
They buy it because it's big and rugged and tough, and because it looks good, even though it's old. And the 2020 version does get some nice tech updates that are worth calling out.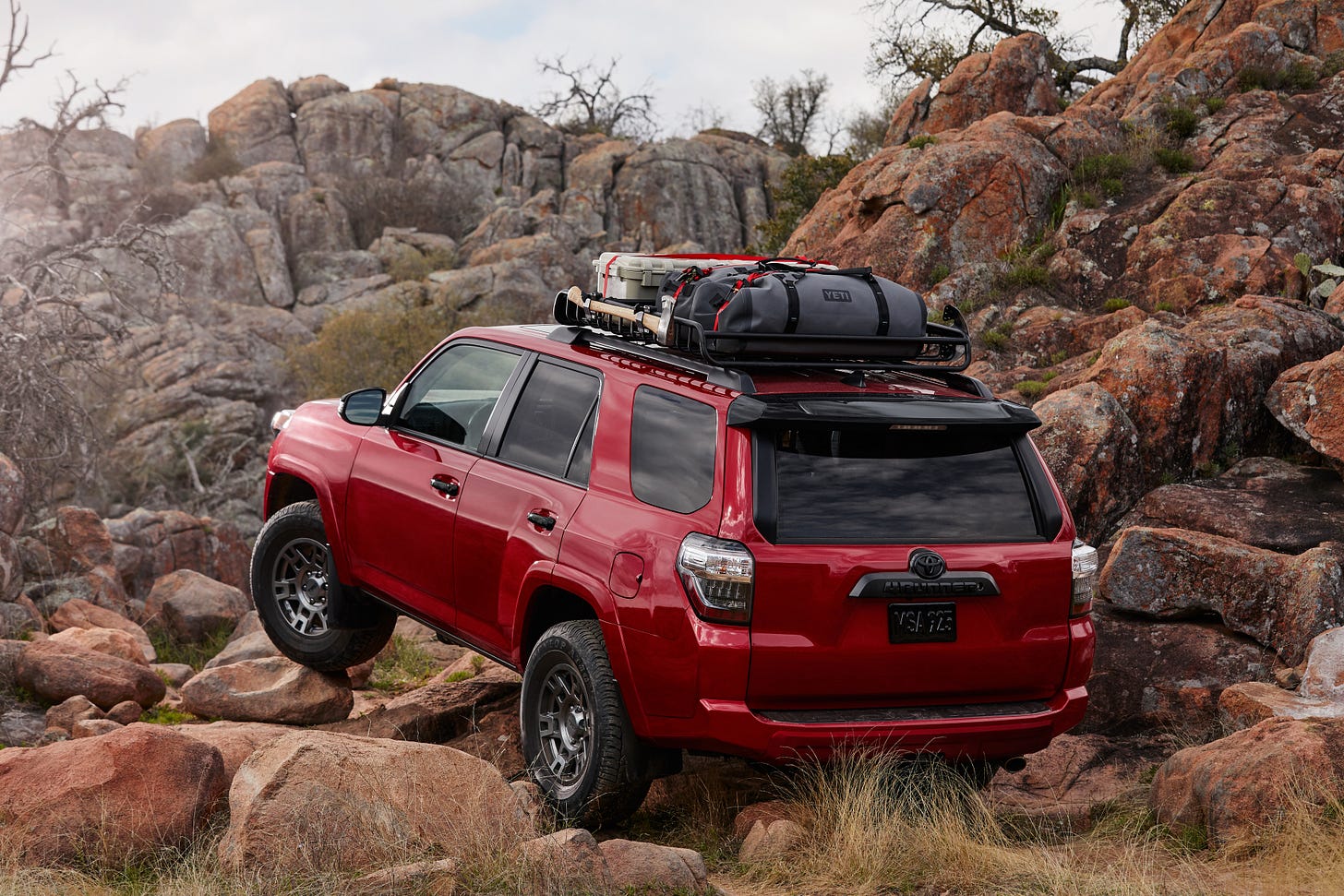 There's the full Toyota Safety Sense suite, including automatic emergency braking with pedestrian detection, adaptive cruise control, lane departure alert, and automatic high beams. Then the (admittedly terrible) stereo gains CarPlay and Android Auto, which makes your day-to-day life a lot better because the built-in infotainment system is not good.
Then there's the other big issue with the 4Runner: It's not really "planted" to the road. In fact, it has more rolls more than a bread basket, and this is part of why it has a three-star rollover rating. The nose dips when you brake. It's top-heavy. But.
But, I love it. It doesn't pretend to be something it's not. The 4Runner is the opposite of Fake News. It stands up and says "yeah, I'm an old SUV with some nice tech updates and I'll get you home no matter the weather or the terrain, as long as there are enough gas stations on the way."
It sure would be nice if it had a USB-C port or two, though.