Discover more from PRNDL by Jordan Golson
Irreverent, opinionated, entertaining car reviews and tech writing, right in your inbox.
Over 1,000 subscribers
2020 Mazda3 Hatchback Review
One of the best small cars (finally) picks up all-wheel drive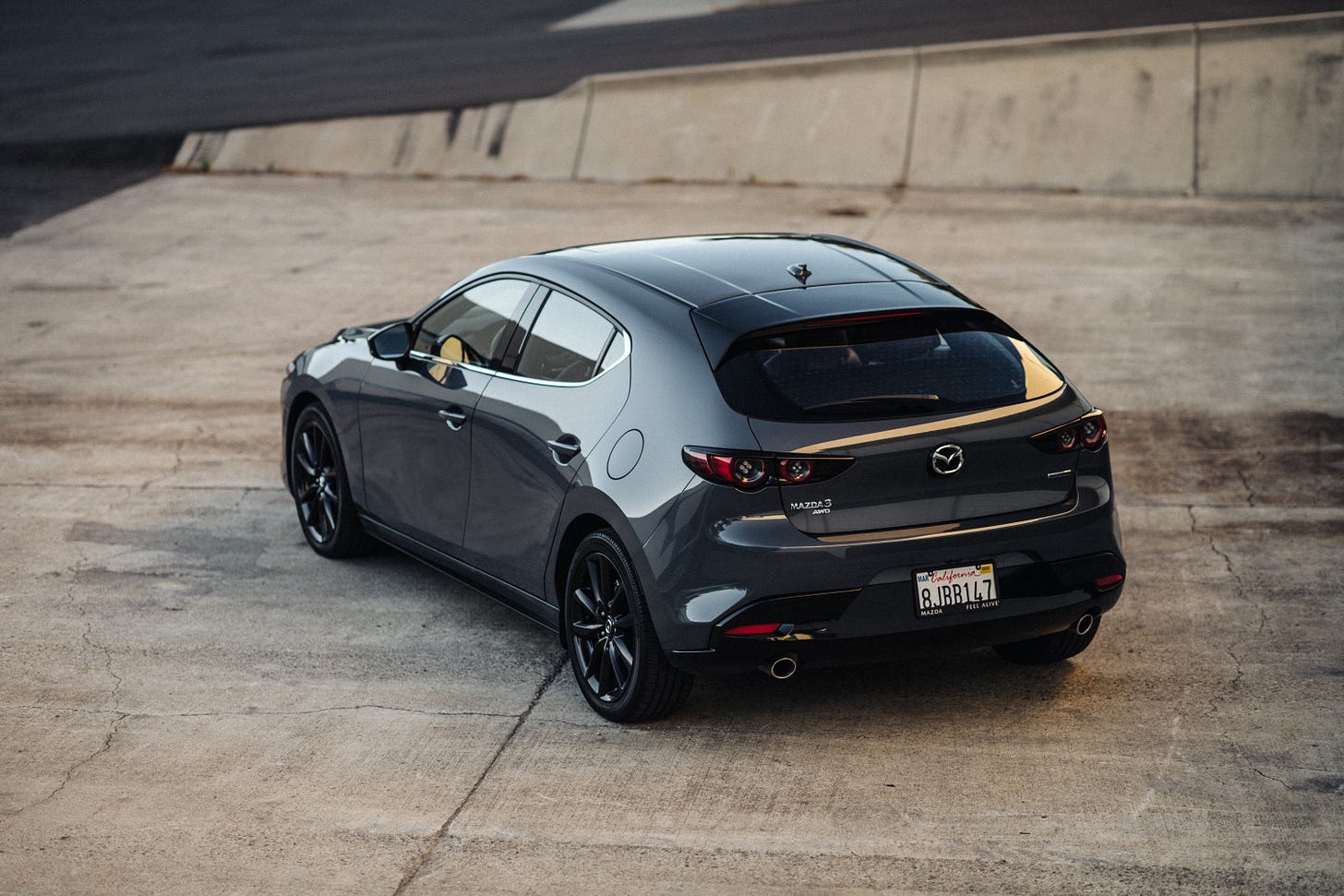 BOSTON — Everyone remembers their first new car. The excitement of getting that car with just a handful of miles on the clock, knowing that no other rear-ends but yours had graced the driver's seat. Driving a new car off the lot is like embarking on a journey full of possibilities—blah blah blah.
OK, I may have fallen down a rabbit hole of feel-good nostalgia that would be too much for even the best "I-bought-my-kid-a-safe-car" Subaru commercial, but my point about new cars remains. My first was a 2011 Mazda3 hatchback.
It was dark grey, with a six-speed manual transmission, a slick purple-and-orange color scheme across the illuminated dash and infotainment, a load of storage space in the trunk and a zippy 2.5-liter four-cylinder engine. It served me well for years with nary a mechanical issue, before I sold it to a friend who has had more trouble-free years.
That Mazda3 hatch was the perfect car for a newly married guy with no kids. It was fun and sporty, but also eminently practical. It was perfect for Costco runs and moving across the country, as well as countless road trips and — when I was a volunteer firefighter — countless emergency runs as well. All in, if you include my friend that I sold it to, the car has long outlasted my marriage. There's some joke to be made there about why men (and women) love their cars.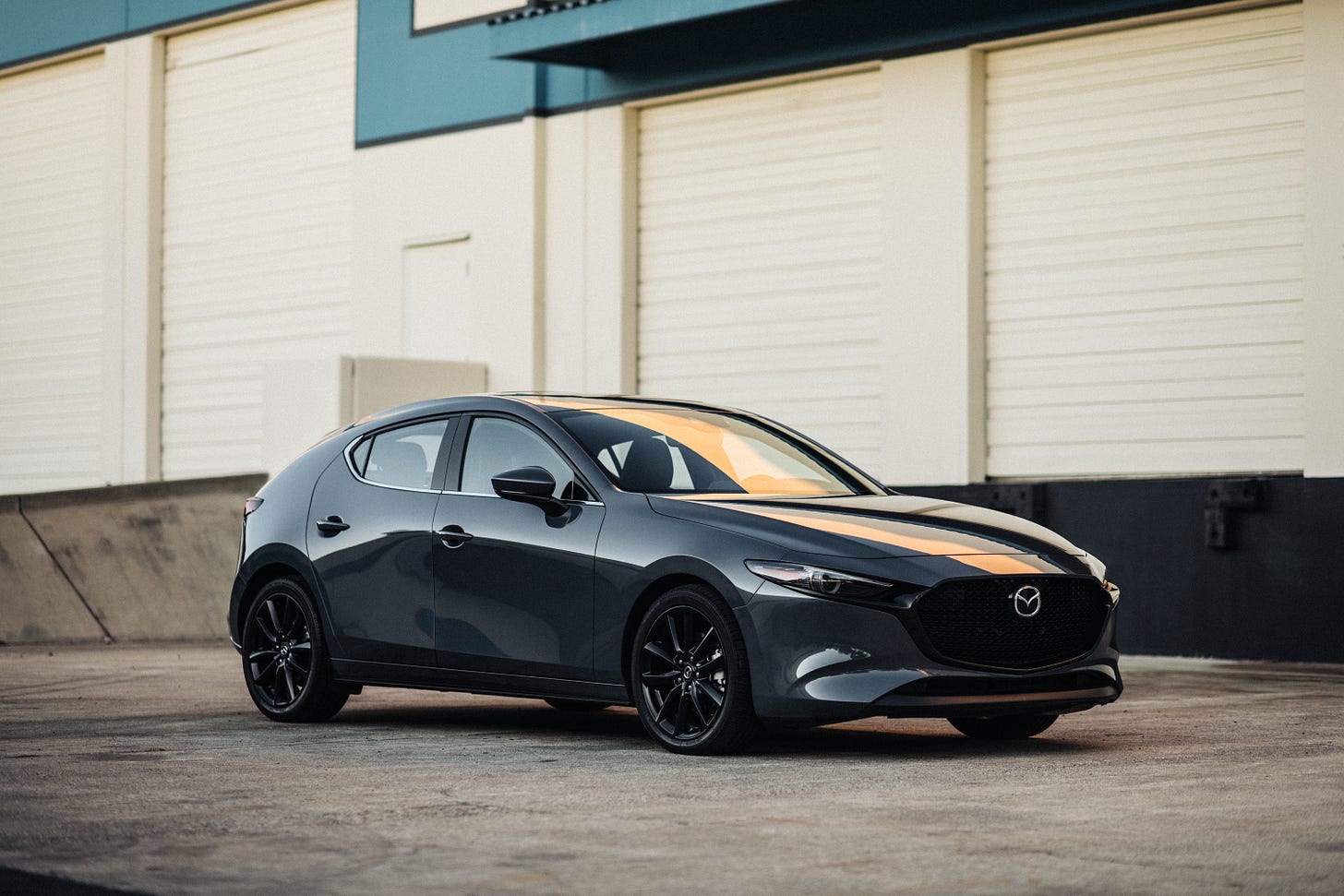 Of course, the reason I'm telling you this story is because of my test car this week: the 2020 Mazda3 Hatchback. It's been almost a decade, but this has a lot of the same DNA as the car I loved so much back in 2011.
It still has a zippy 2.5-liter four-cylinder engine, albeit a more fuel-efficient and powerful version, producing 186 horsepower and 186 lb-ft of torque. It's still fun and sporty, with plenty of cargo space and comfy seats — but it's also much, much more luxurious than the car I remember.
Part of that is ten years of development across the industry, with features like adaptive cruise control and Apple CarPlay and Android Auto becoming near-standard. Push-button start and rear backup cameras are everywhere now too (with the latter required by law in new cars, now).
But there's other stuff too, including LED head and taillights, automatic high beams, rain-sensing windshield wipers, blind-spot monitoring and rear cross traffic alert, and lane keep assist.
All that is awesome, but there's one big thing that I really wished I'd had when I bought my car in New England (and then drove to Colorado) all those years ago: all-wheel drive.
My Mazda3 was perfect in almost every way with the exception of it being front-wheel drive only. For most people, having all-wheel drive is unnecessary almost all of the time. But for those briefest of moments when you really need it — you'll really wish you had it.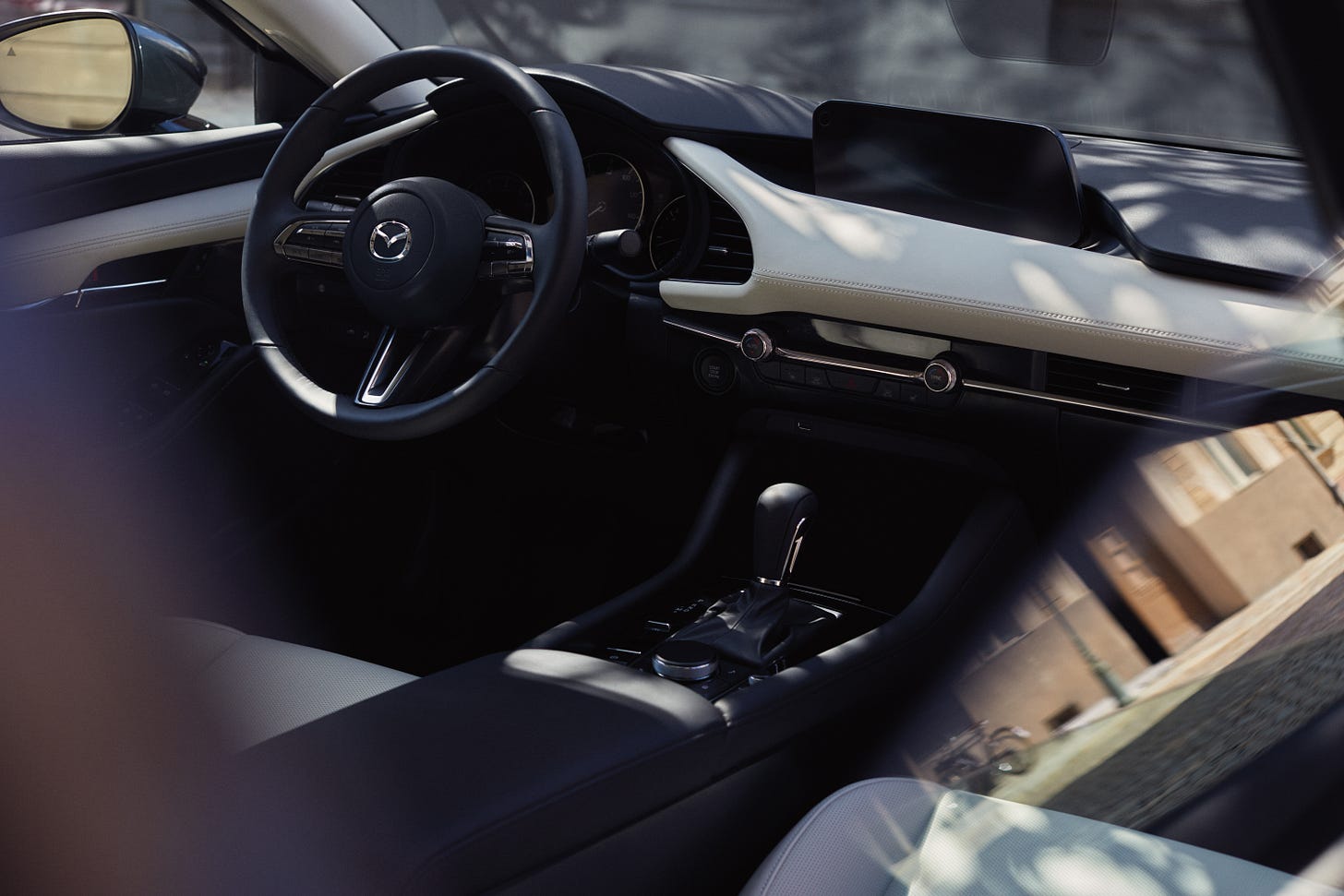 But now the Mazda3 includes all-wheel drive and I even got to test it out back in March when, fortuitously, we got a few inches of late-season snow during my road test. On the deserted, unplowed streets in my neighborhood, I was able to put the Mazda3 AWD through its paces. I can confirm that it is all-wheel drive and it works as you'd expect. If you live somewhere that the weather isn't perfect year-round, or you just want a little added traction, it's worth consideration.
Now, lest you think that I have nothing to complain about, there is one thing that really annoyed me. Remember I mentioned how I would take my Mazda3 to Costco and fire calls? My 2011 version had a flat load rear floor. That is, when you opened the tailgate, the cargo floor was level with the rear bumper, making loading and unloading a snap. You could even sit in the rear cargo area and hang your legs out if you wanted to tailgate or just relax.
But the 2020 version has a huge lip there, and not only does it make the cargo area less useful, it means that you really can't sit and hang your legs out the back. I don't know why Mazda's designers choose to do this, but it's not nearly as good as the old way.
Still, that's my only major quibble. If you're on the market for your first new car, it's hard to do better than the 2020 Mazda 3 Hatchback.