Discover more from PRNDL by Jordan Golson
Irreverent, opinionated, entertaining car reviews and tech writing, right in your inbox.
Over 1,000 subscribers
2020 Mazda CX-30 Review
My mom should buy this car
BOSTON — My mother is getting ready to buy her first new car in more than a decade. She recently retired and bought a house out in the country, which means she can't take public transportation everywhere like she did for the prior 38 years she lived in the city.
She had cars during those four decades of course. I remember riding around in a 80's-era Honda Civic hatchback when I was little, and she later had vehicles as varied as a Jeep Wrangler and a Chrysler Town & Country minivan — but it's been the better half of a decade since she owned a vehicle and now it's my job as her son and a Professional Automotive Journalist to help her buy something new. 
Her first suggestion was a used Range Rover. Unless you want to make best friends with your mechanic (and put his kid through med school), that's going to be a pass. I suggested a 1992 Volvo 240 wagon with 245,000 miles on it (in beige!) but she kiboshed that on the same mechanic-related grounds.
Mom lives in New Hampshire, where it snows, so all-wheel drive is a necessity (as is a solid set of winter tires, probably Nokian Hakkapeliitta or, more likely, Bridgestone Blizzak). I'm long out of the house so she doesn't need a ton of room in the car — just enough space for the occasional Costco run and the more-frequent quilting-antiquing-whatever-retired-people-do runs.
Like everyone these days, she wants a higher seating position and the improved visibility that goes along with it. That, plus the need for AWD, means SUV or crossover. 
There are about a million choices that meet those criteria, some of which I've reviewed here before: the Hyundai Kona, for example, or the Kia Seltos, or the Toyota RAV4. Or, not coincidentally, my test car this week: the 2020 Mazda CX-30. 
It's a subcompact crossover slotting between the CX-3 and the CX-5, and yes, the name is a bit weird. Mazda sells a CX-4 in some other countries, so we get the odd name. Whatever.
Think of the CX-30 as an upscale companion to the CX-3 — they're similar in size, but the CX-30 is a little more premium and a little more focused on the folks sitting in the front two seats. My test car was a top-of-the-line Premium trim, with every option box ticked.
With a sticker of $31,370, it had almost everything I could ask for. The full Mazda safety suite, including radar cruise control with full stop, blind spot monitoring, lane keep assist, automatic high beams and windshield wipers, and even adaptive LED headlights that swivel to illuminate curves.
It has heated leather seats up front and a 12-speaker Bose sound system. There's Mazda's excellent chassis and all-wheel drive system, as well as the terrific 2.5-liter four-cylinder engine making 186 horsepower and 186 torques that I've driven in so many other Mazda vehicles.
There's an 8.8-inch touchscreen atop the elegant center stack, including both Apple CarPlay and Android Auto support. There's an annoying Mazda infotainment control knob down between the passengers, and the excellent Mazda steering wheel in front of the driver. But all of the touchpoints feel solidly premium. This is a really nice car, and you don't feel like the designers cheaped out anywhere. The Mazda CX-30 punches above its weight.
It looks elegant and refined. The exterior has the same gorgeous design that the rest of the Mazda lineup sports and it looks particularly sharp in the Polymetal Gray Metallic that my test car was equipped with. It sits back on its haunches a little bit, like a greyhound ready to rip around the track.
Fuel economy is acceptable at 25/32/27 city/highway/combined. It won't win any commuter awards with those numbers, but it's reasonable for the competition.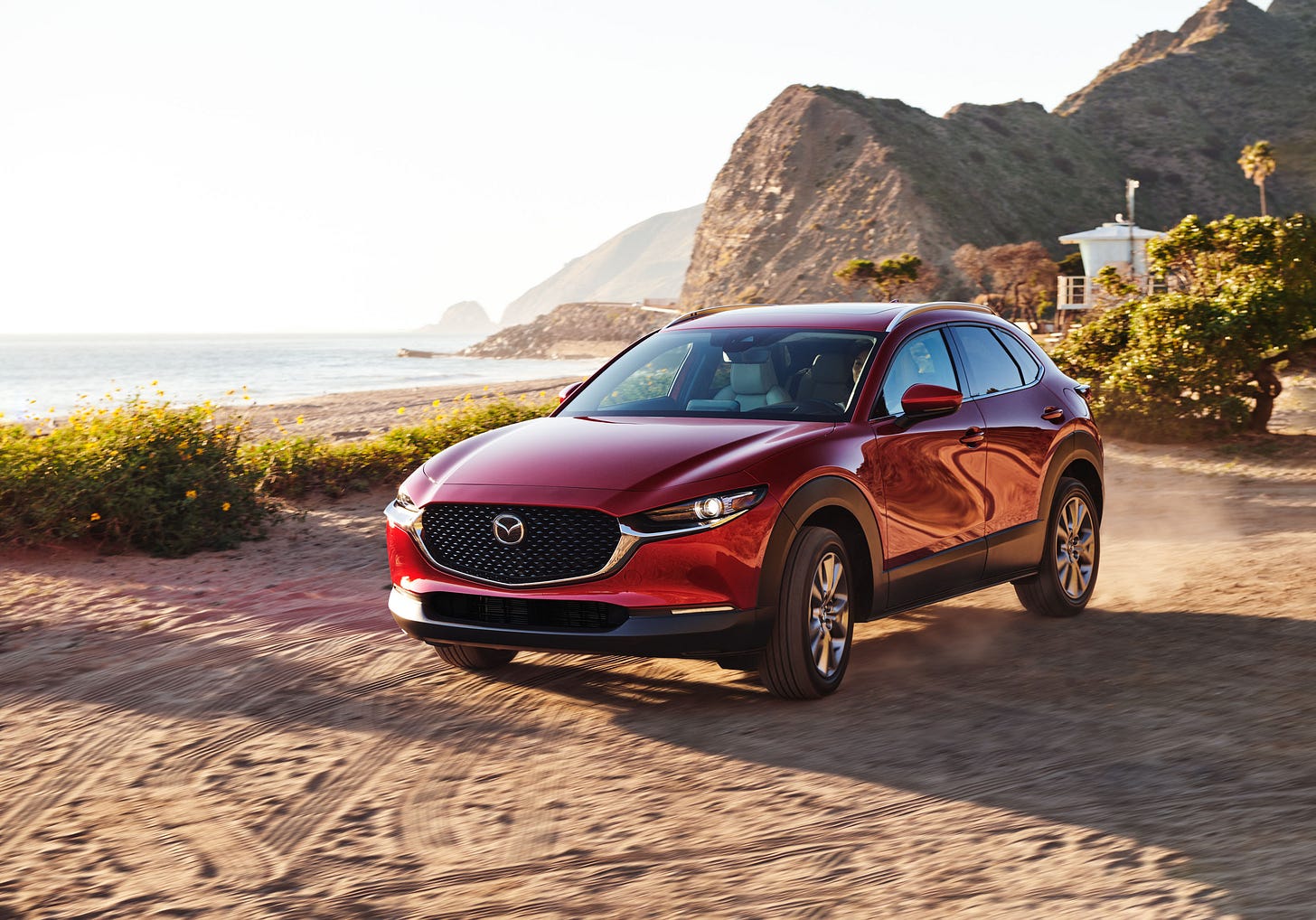 The CX-30 covers a wide range of price points. It starts around $22,000 and runs up to the $31,000 Premium that I wanted, so there's going to be a CX-30 for you, regardless of your price range. And, perhaps, there's one for Mom, too.
I don't know if I'll convince her on the Mazda, though. Hyundai and Kia both offer 10-year / 100,000-mile powertrain warranties, while the Mazda sports 5-year / 60,000-mile coverage. But the Mazda is definitely the classier option. And what mom isn't all about class?
So, there you go, Mom. I told you I'd help you pick out a car. The Mazda CX-30. Enjoy.