Discover more from PRNDL by Jordan Golson
Irreverent, opinionated, entertaining car reviews and tech writing, right in your inbox.
Over 1,000 subscribers
2020 Lexus RC 350 Review
Excitement and thrill from a Lexus? Sign me up.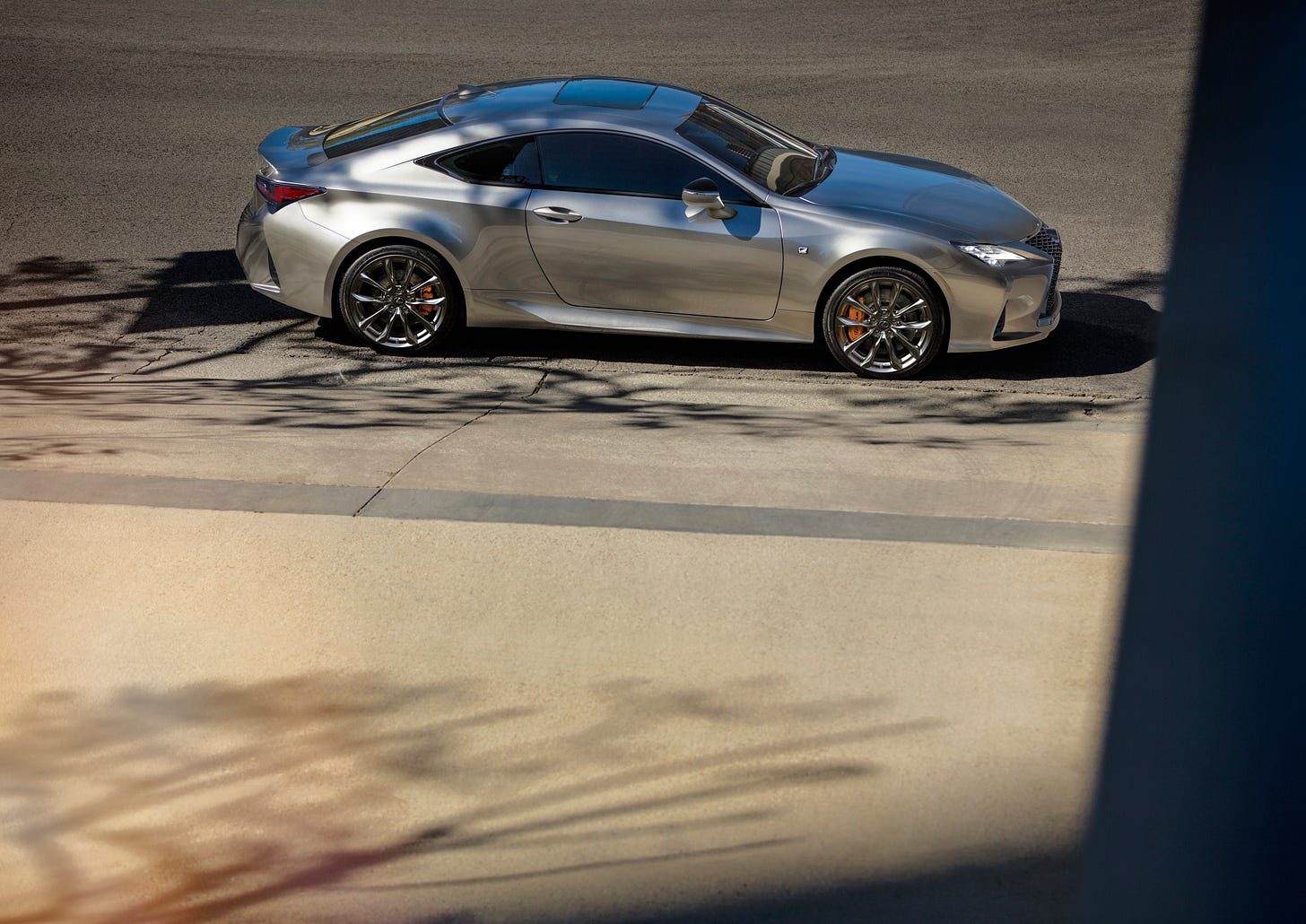 BOSTON — Every automaker, whether through millions of dollars in marketing spend, through design, or simply through the type of people who buy their cars, has an image.
Ferrari is for folks who are passionate about racing heritage, soul and emotion. McLaren is for people who are enamored with technical wizardry and an uncompromising attention to detail and precision. Lamborghini is for... people who like scissor doors and showing off. 
Stereotypes can be a bit unfair, but there is often more than a bit of truth underlying the basic premise. That's why it's easy to think of Lexus as the boring, reliable luxury car brand — because it is.
You know what you're going to get when you walk into a Lexus dealership. Impeccable reliability, terrific engines, exceptional comfort, and not a lot of thrills. A Lexus is like a fancy Toyota, right? A way to get from point A to point B quickly and easily in something beige, bland, and boring.
Not so fast. 
The Lexus RC 350 F-Sport, my test car for this week, would like to have a word about this particular stereotype. My first clue was when I opened the door and my optic nerves were assaulted with brilliant yellow accents on the seats. Think of the most yellow thing you can imagine, then make that a bit more yellow, and that's what this color was.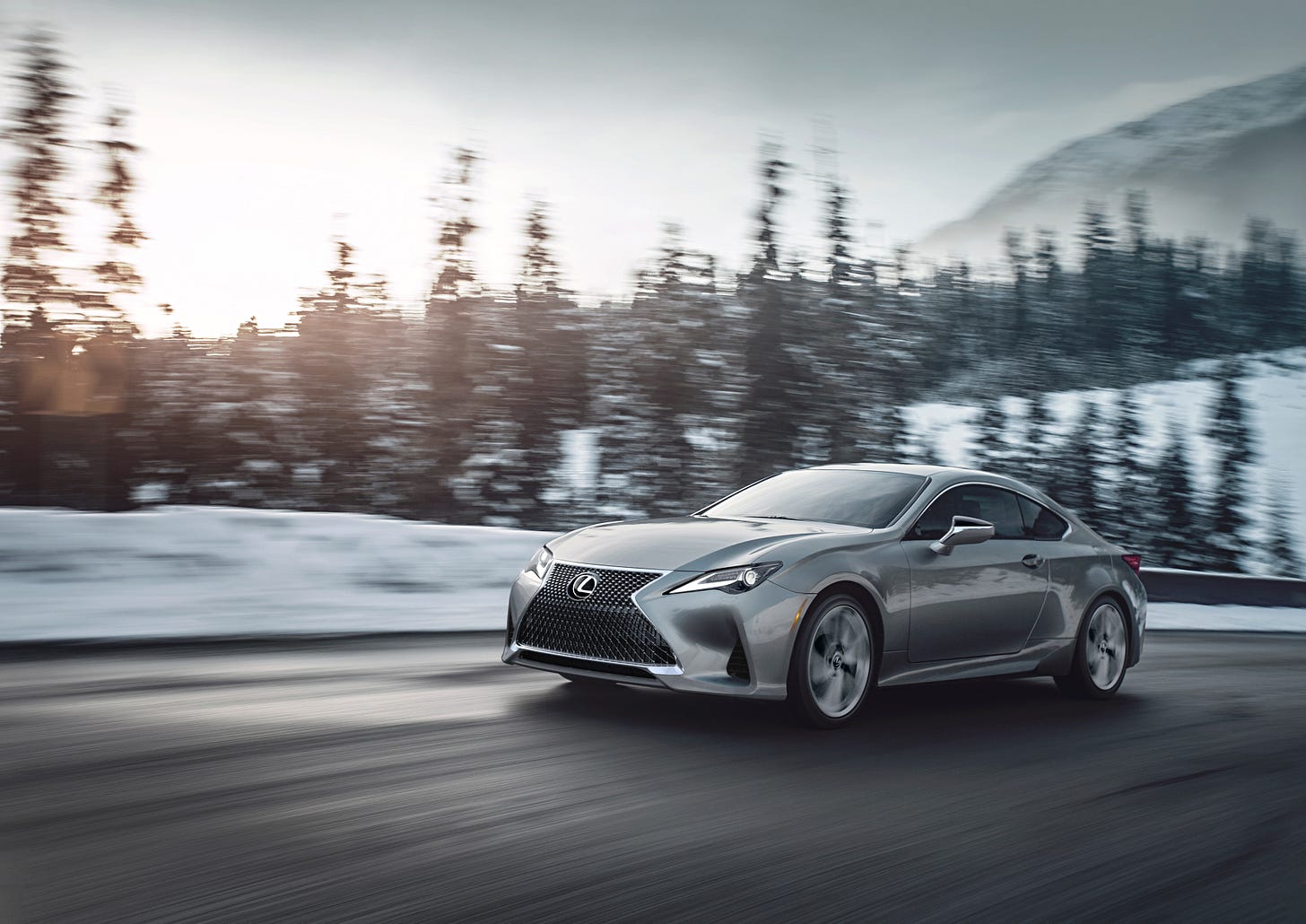 But it was subtle. It wasn't overwhelming. It was like walking into your grandmother's sitting room and seeing a Moooi Horse Lamp standing there — something so out of place, but yet so perfect, that you can't help but smile.
(The Horse Lamp is a life-size black horse statue with a lamp sticking out of its head. You might have run into it at the British Airways First Class Lounge at Heathrow. It's bonkers and wonderful and costs as much as a decent used car.)
Back to the car. The Lexus RC is a grand tourer, with 2+2 seating and, naturally, the rear seats are totally and utterly useless except for maybe holding an overnight bag. My test unit was the RC 350 AWD F-Sport, meaning it sported a larger engine (3.5-liter V6 making 311 horsepower and 280 lb-ft of torque) and all-wheel drive. Rear-driven variants are available if you don't anticipate needing the extra traction. 
It's not particularly fast, going from zero-to-60 mph in six seconds, but it's also not particularly slow either. It's also extraordinarily heavy, tipping the scales at nearly two tons. Yet even with the bulk, it handles superbly on the road. The engine (and I love Lexus engines) is always responsive and it makes a lovely purr when you wind it out. But again, it's subtle. It doesn't shout or bark like some other sports cars might.
The suspension is firm but not intolerable. The seats are supportive but still comfortable. The exterior is sporty but not shouty. It's still a Lexus after all.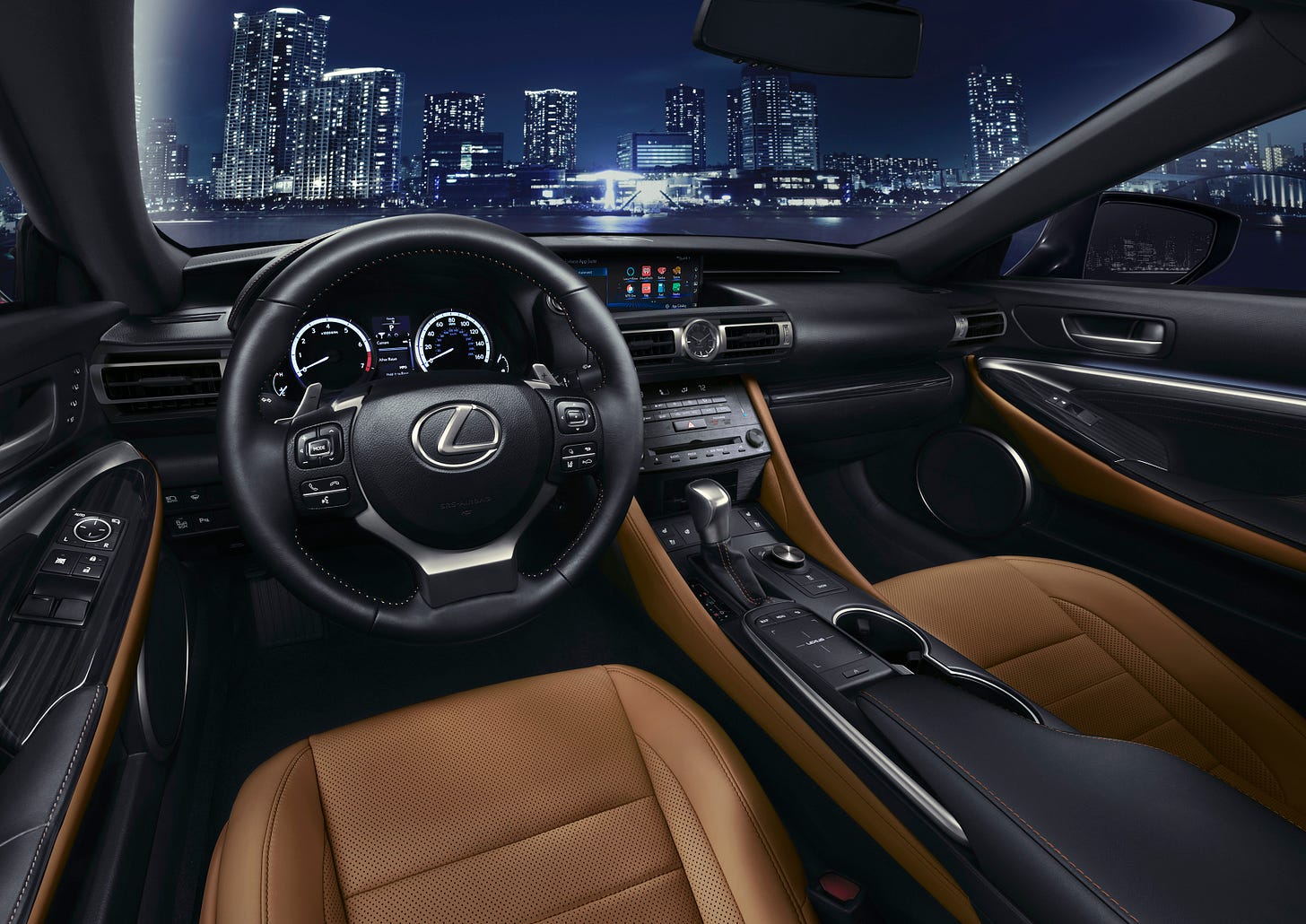 The large center infotainment screen sits high above everything else, easy to see, but far out of reach. There's no touchscreen here which means you're forced to use the awful trackpad. Newer Lexus models are adopting touchscreens, which is good, but this RC is a bit too old for that. No matter. You have CarPlay (which is even featured in the press shots for the car, suggesting Lexus might know how bad its infotainment system is), and that's fine. There's no good place to put your phone, however.
Then there's the weirdest thing of all: there's a large hump on the floor of the driver's side, inconveniently placed right where your right leg should be. It's only on the all-wheel-drive variant, thanks to the placement of the transmission and the front drive shaft. But why would it be in the worst place possible for the driver?
And then, of course, I remembered that Lexus is a Japanese company and the Japanese drive on the right. The hump was out of the way if the driver is on the right side of the car. But here it was, giving me a place to rest my calf in the US-spec car. At first I was annoyed, but the hump grew on me. Much like the yellow accents all over the interior.
This car had a bit of personality after all. It was a boring, beige luxury car. It had a bit of flair. Sure, the RC 350 is a Lexus — but don't fall for the stereotypes. There's more than a bit of excitement to be found in this beast.