Discover more from PRNDL by Jordan Golson
Irreverent, opinionated, entertaining car reviews and tech writing, right in your inbox.
Over 1,000 subscribers
2020 Lexus LX 570 Review
Impressive excess
BOSTON — There's a lot of talk about inequality in America: the haves and the have-nots; millionaires and billionaires; CEOs and trust fund kids; the one-percent of the one-percent.
But Americans are an aspirational group of temporarily embarrassed millionaires, as the apocryphal quote from Steinbeck goes. That's why we tolerate — or even embrace — wealthy excess. Massive houses, private jets and luxury yachts are de rigueur on reality television and the nouveau riche are here to splash it all on Instagram or wherever.
This was all in my head the moment I slid behind the wheel of the massive, and massively expensive, Lexus LX 570. My test unit weighed in at $100,260 and three tons. It is the largest Lexus SUV and is a masterpiece of consumption and excess, with a 5.7-liter V8 gulping down massive quantities of premium fuel to churn out 383 horsepower and 403 lb-ft of torque. That's with EPA estimated fuel economy numbers of 12/16/14 city/highway/combined. Gulp.
Here's a cocktail party trivia question. The manual for the Lexus LX comes in three languages. With everything I've explained thus far about this Lexus land yacht, what languages did Lexus print its manuals in? To put it another way, what three languages would buyers of a massive, expensive SUV speak?
Russian, Arabic, and English.
The LX is the Lexus version of the Toyota Land Cruiser, which means it's extraordinarily capable off-road. Locking differentials, high and low range four-wheel drive options, crawl control, hill descent control, and on and on. There are so many buttons, there's absolutely no place to put your phone, which is a trend on older Lexus SUVs it seems.
The infotainment is old and doesn't even offer Apple CarPlay or Android Auto. It's inefficient. It's massive. It's expensive. So why would you buy it?
When you compare it to the competition, it's a hard sell, to be honest. $100,000 is a lot of money, and you can buy a lot of Range Rover or a Mercedes GLS for that kind of cheese. But Lexus has still sold more than 4,000 of them in the first 11 months of 2019, so it's not like they're not moving.
And when I actually drive the LX 570, I see why. The engine, terrible fuel economy aside, is a fantastic piece of hardware. It's smooth and quiet, and propels the truck from 0-60 in 7.3 seconds, which is incredibly quick for something this large. It has endless torque and the eight-speed transmission is nearly invisible, with smooth shifts.
It was fearless in an early-December New England snowstorm, which is likely the worst sort of conditions that most LX drivers will face, though the Land Cruiser-roots mean it's capable of far more than that. The heated seats (front and back) are hot and comfortable, and the air-ride suspension can be adjusted to a squishy and soft comfort mode all the way to a firm-ish Sport+. The LX will even squat down by a few inches when you park so it's easier to get in and out.
You feel taken care of in this truck. It envelops you in a cushion of safety and, perhaps unsurprisingly, it's popular as an armored vehicle too, if the outside world is particularly threatening or you're just a bit paranoid.
Driving it, I feel like a Russian oligarch. I should have a flashing blue light on the top and a siren so I can go around traffic jams. OUT OF THE WAY, PLEBS.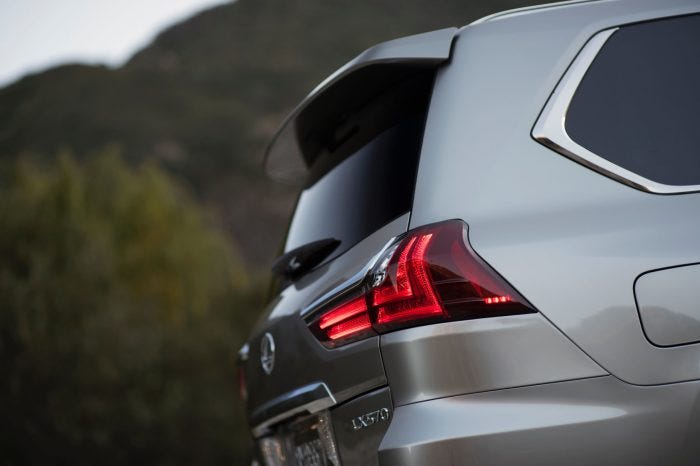 I picked up my mother for Thanksgiving and later took some friends out to the movies. Everyone was impressed. That's what this car is. It's an impress-mobile. You spend a lot of money—you get a lot of size and capability and size and leather. You can go anywhere. Do anything. Conquer any obstacle.
And then there's the refrigerator in the center console, because of course you need that too. There's a terrific feature called Climate Concierge, which every car should have, that automatically turns on the heated or cooled seats for you depending on the temperature. There's a little Lexus logo that appears on the ground from the puddle lamps when you unlock it at night. There's a fantastic Mark Levinson sound system, and a heads-up display and... it just goes on and on.
Yes, it's old and thirsty. But the Lexus LX 570 has presence. And can you put a price on that?