Discover more from PRNDL by Jordan Golson
Irreverent, opinionated, entertaining car reviews and tech writing, right in your inbox.
Over 1,000 subscribers
2020 Lexus LC 500 Review
A luxurious cocoon for these tumultuous times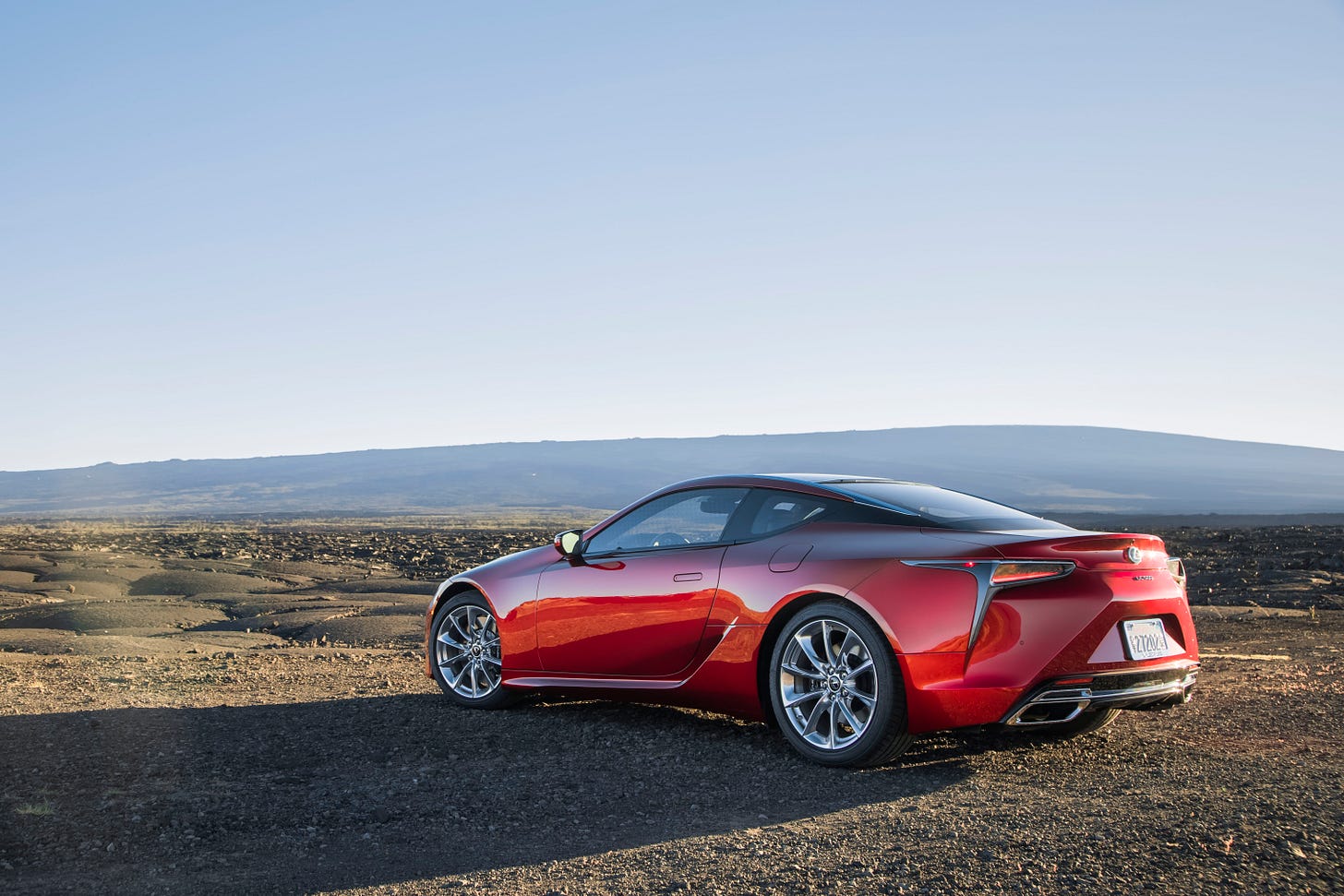 BOSTON — 2020 continues to be a complicated year. Whether it's hurricanes or Coronavirus or kids home from school or your spouse working from home, we all need an escape from time to time.
I like to just get in my car and drive for a few hours, enjoying the scenery and heading off to nowhere in particular. Perhaps a favorite far-off lobster joint in Maine or the Green Mountains of Vermont. Or, as I did with my Lexus LC 500 test car this week, to JFK airport in New York City.
OK, the airport isn't exactly the most fun place to go at the best of times, but it did give me four hours behind the wheel of one of my favorite highway cruisers of all time: the Lexus LC 500.
When this car was unveiled at the 2016 Detroit Auto Show, my jaw dropped. It's a stunning piece of design that keeps entirely too much of the concept car on which it's based — and that's a good thing. Most cars going from concept to reality lose the stuff that makes them special. Not so with the LC.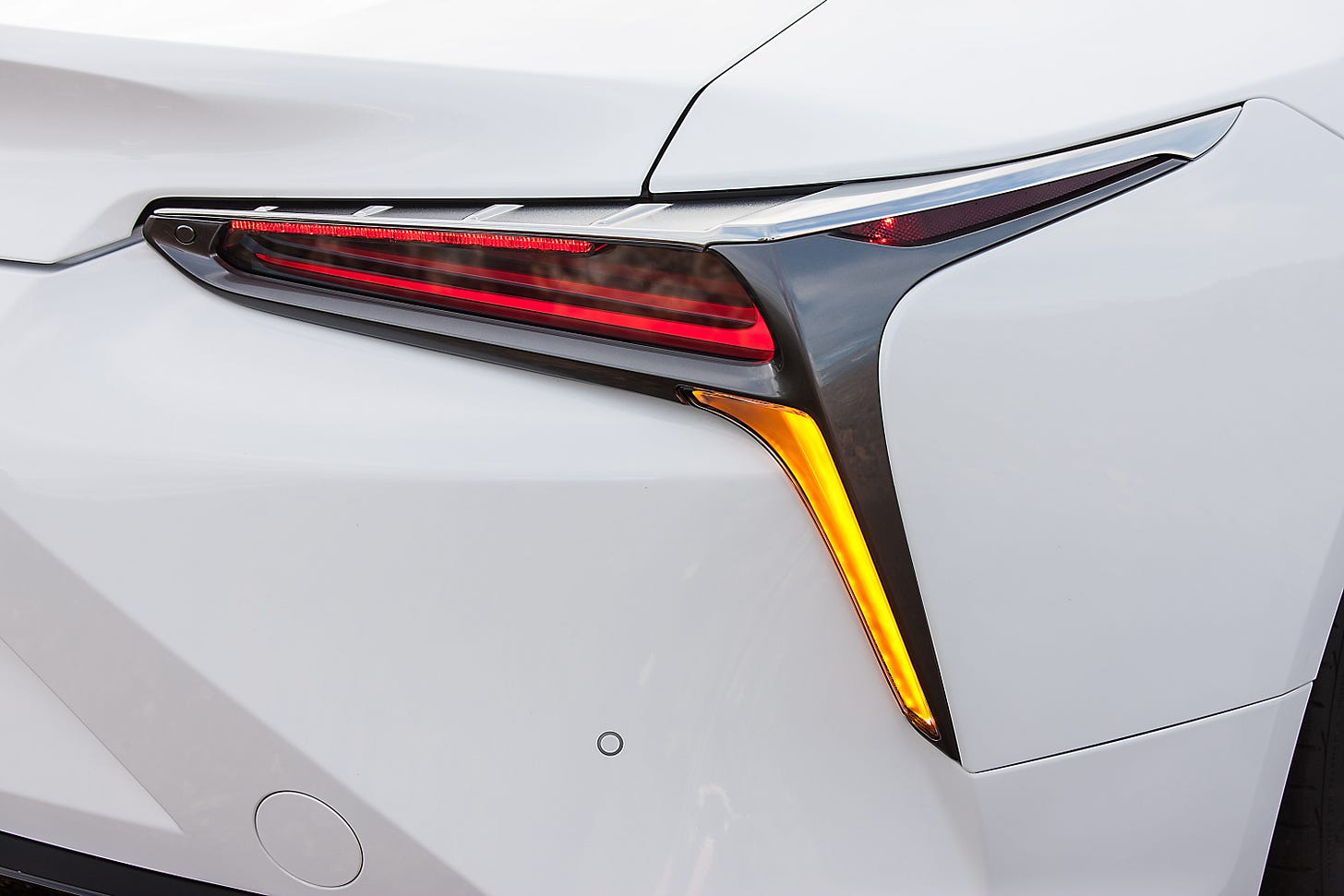 The taillights are outrageous, with severe angles and razor-sharp LED light packages. The 21-inch forged alloy wheels on my tester were mind-boggling massive. And that color — my test car was dropped off in Flare Yellow, which is yellower than the yellowest thing ever in the best possible way.
Walk up to the LC and you know there's something special here. The rear end has pleasing Ashley Graham-esque proportions, complete with a trunk that can easily haul all your golf bags or a full road-trip's worth of luggage. The self-presenting door handles pop out when you unlock the doors with the key, or with a slight push on the front of the handle and then lock the car again and recede if you push on the rear. Elegant.
The elegance continues inside, with some of the most pleasing leather and stitching you'll find this side of a Rolls-Royce. On the lengthy options list on my test car was the $5,960 Performance Package that includes, among other things, Alcantara sport seats with 8-way power adjust, a wonderful-to-stroke Alcantara headliner, and a carbon fiber roof. That last bit means there's no sunroof, but no matter. The car itself is bright enough.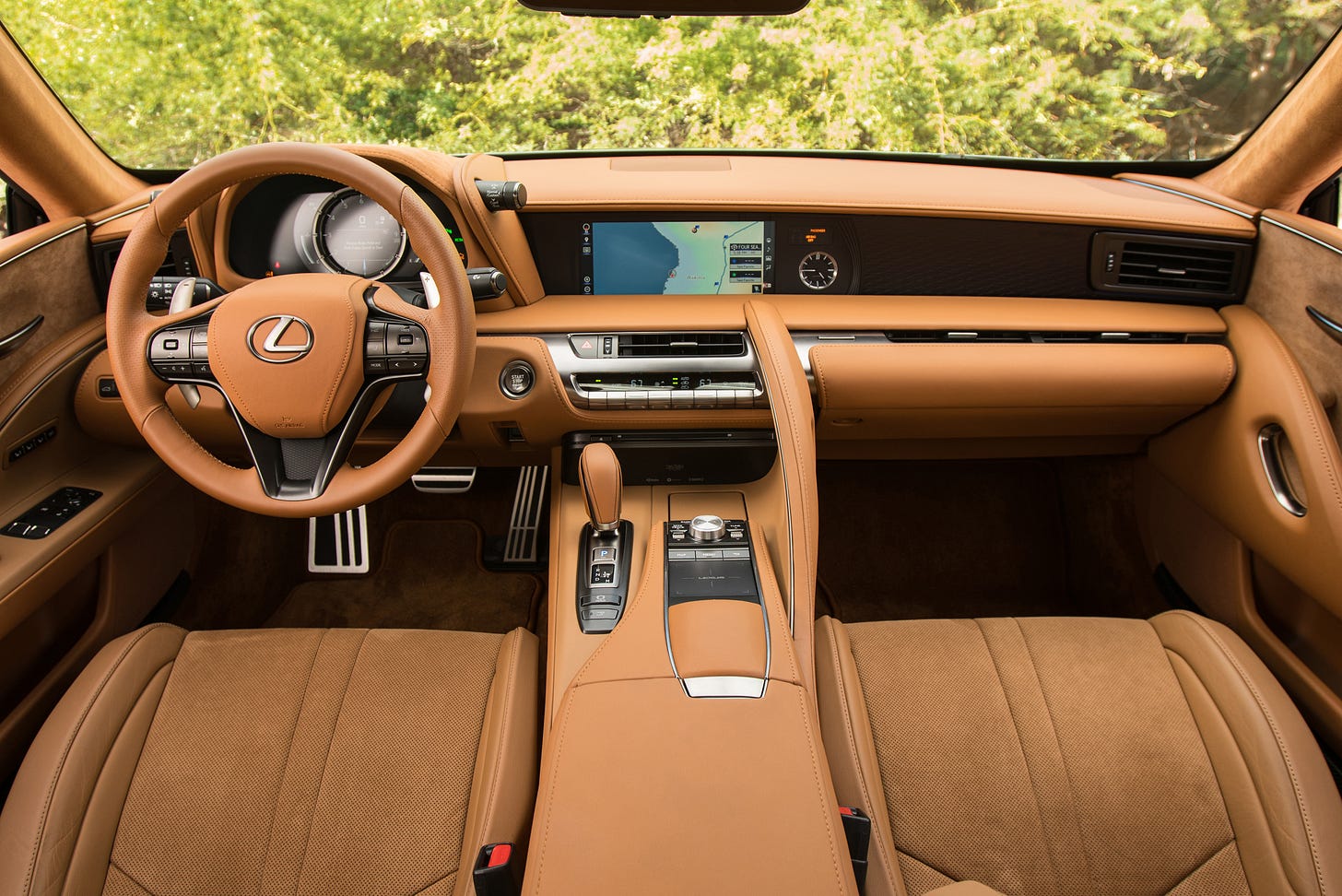 The performance package also includes active rear steering, which means the rear wheels can turn slightly and make this car drive much smaller than it is. The LC is massive, but it doesn't feel that way thanks to this particular feature. It's a must have, for me.
The engine is worth additional praise, too. I've always been a fan of Lexus' amazing engines and this is no different. The LC 500 has a 5.0-liter naturally aspirated V8 making an easy 471 horsepower. This car wants to run and run, and the slightest touch on the throttle at highway speeds will have you cruising well over 90 mph before you can say "Sorry, Officer."
In fact, the car is happiest between 85 and 90 mph, and I found it a bit hard to keep the speeds down. Perhaps that's what the adaptive cruise control is for. On every highway drive I did, I was a little nervous about the police simply because of the Flare Yellow paint job that screams HELLO SPORTS CAR HERE PLEASE PULL ME OVER.
The ten-speed automatic transmission is nearly invisible, except when you stomp on the gas at a green light and hear the quiet V8 rumble turn into an insistent roar as you move up the rev range. Too many Lexus vehicles are quiet and reserved, but the LC will — if you hammer it hard enough — reward you with one of the best engine notes around.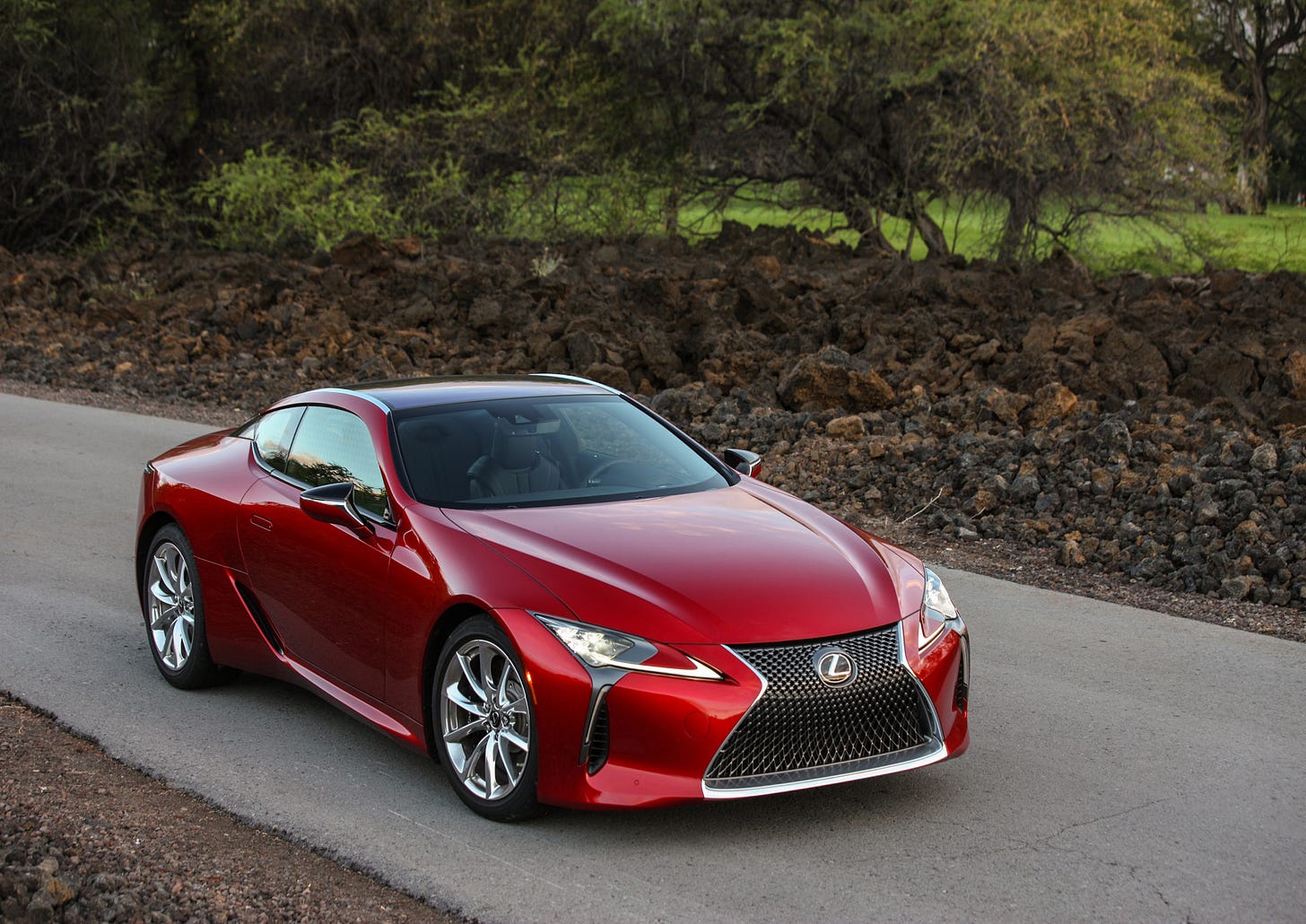 All this soft-touch Alcantara and carbon fiber and engine noise doesn't come cheap, of course. My tester started at $92,950 and rose to $106,440 with all the options fitted, but, between the amazing look (which got constant thumbs up from folks all week long), the endless power from the big V8, the surprisingly competent handling from the rear-wheel steering, and the lovely interior (except the crap trackpad to control the infotainment), it's worth every penny.
You can't put a price on sanity and privacy and the smile that a roaring V8 puts on your face. This car provides all of it. So, ok, maybe you can put a price on those things.
$106,000.