Discover more from PRNDL by Jordan Golson
Irreverent, opinionated, entertaining car reviews and tech writing, right in your inbox.
Over 1,000 subscribers
2020 Hyundai Kona Review
A clever subcompact crossover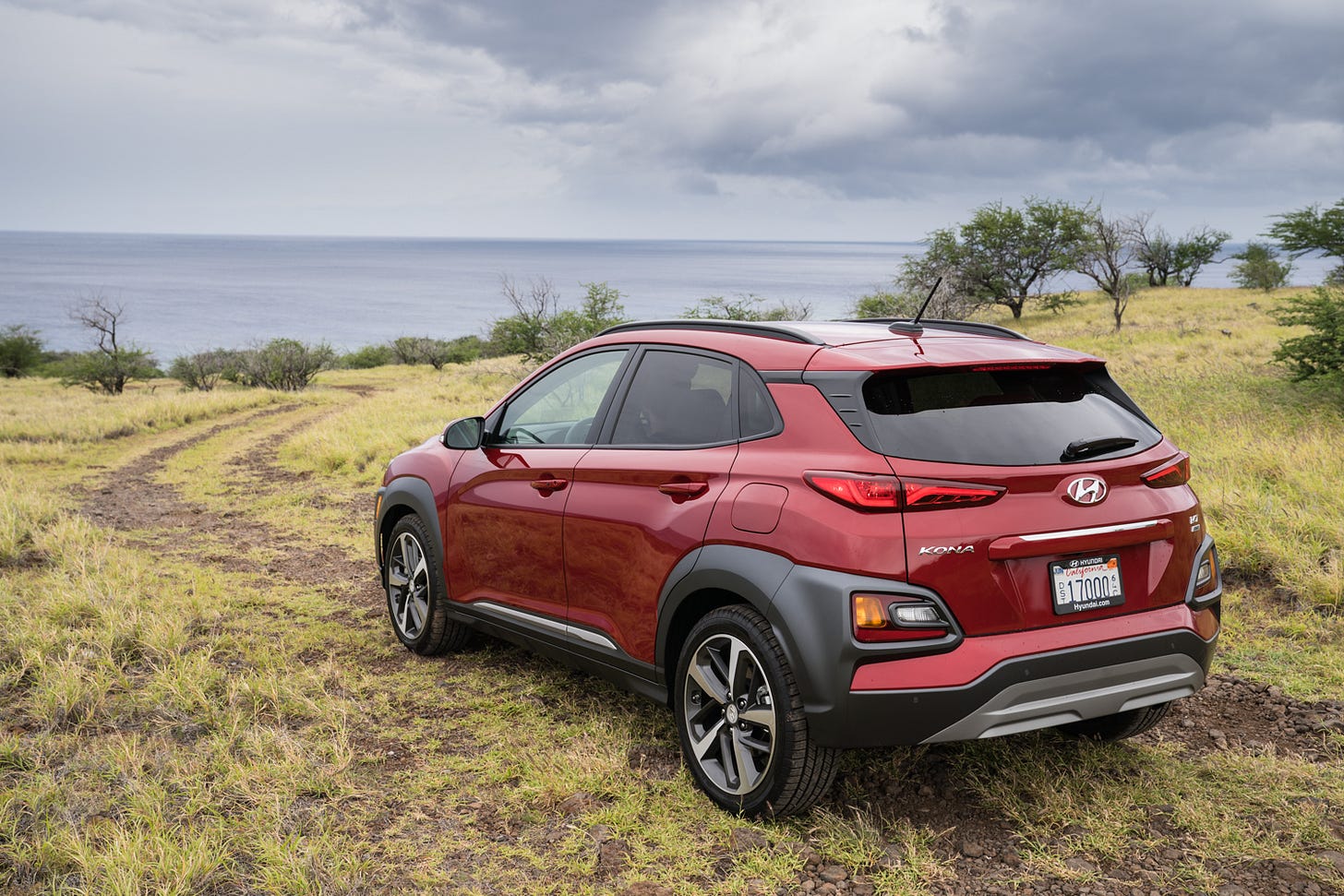 BOSTON — Lockdown sucks. Of course, I work from home, so this hasn't been quite the change in routine for me that it has been for some folks. And, as the months have gone on, quarantine isn't quite as onerous as it was back in April, but there still isn't a whole lot to do.
This means that testing cars is a bit more complicated than usual. Sure, I'll do the occasional road trip and a weekly Costco run – and perhaps a visit to my Mom's new house to make sure she hasn't gone bananas from being stuck at home for months on end.
But I do have a six-times-a-week habit of driving to the gym to go swimming. This isn't a long drive — about five minutes each way, to be honest — but it lets me test the essentials of a vehicle repeatedly:
How easy is getting in and out? Where does my phone go? Where does my water bottle go? How easy is it go get my workout playlist going? How easy is it to park?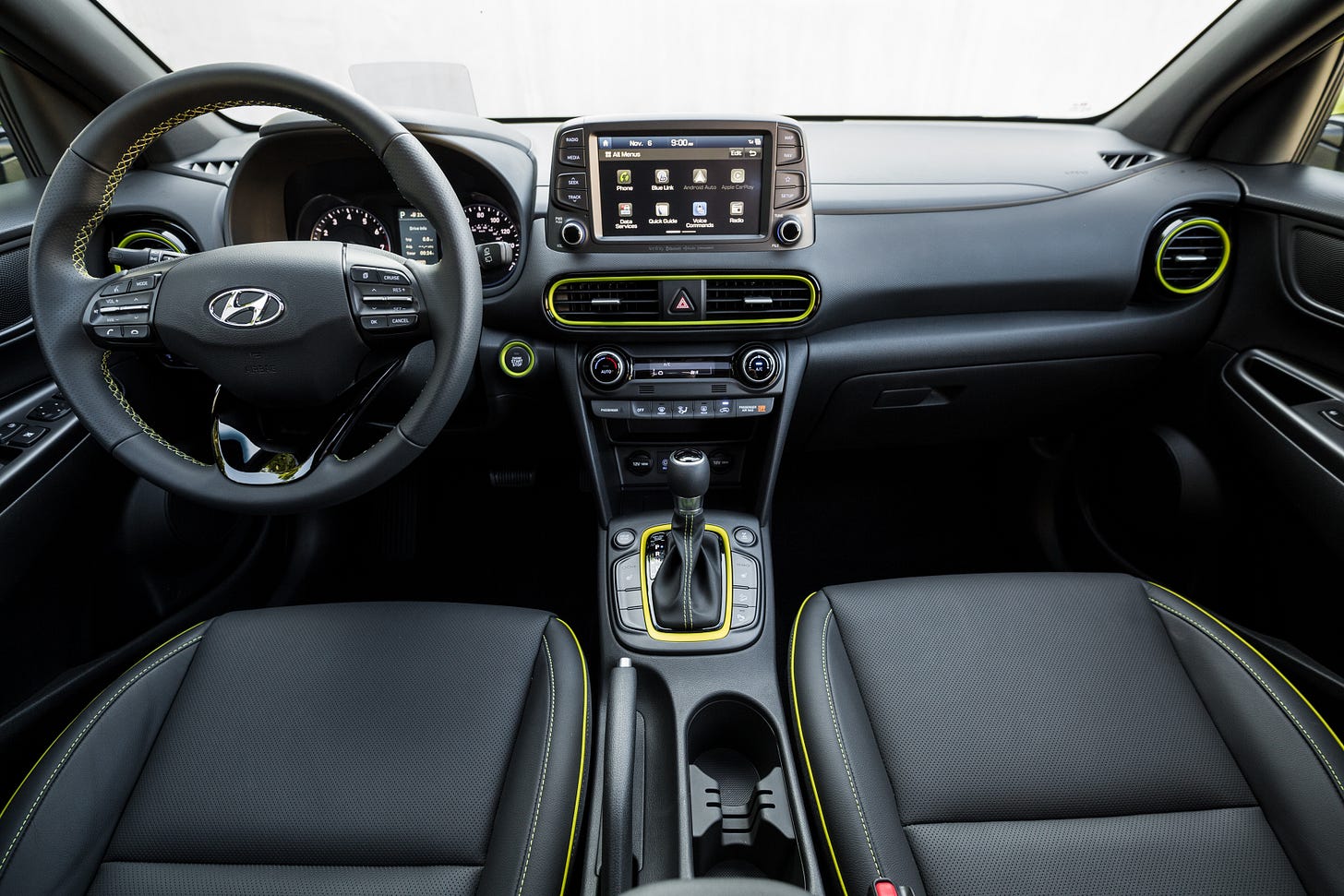 Sure, they aren't deep dives into horsepower numbers and the all-wheel drive system, but going to the gym is something that a lot of people do a lot of the time. Sometimes I'll stop at the grocery store on the way home, which is another thing that people use their cars for.
My test car this week, the 2020 Hyundai Kona, was excellent at all these tasks. The Kona — Hyundai's subcompact crossover — reminds me more than a little bit of the excellent Kia Seltos that I reviewed a few weeks ago when I took it to Yosemite.
They don't share a platform, but they do share a lot of DNA, including engines. My Kona, a top-of-the-line Ultimate trim model, priced out at $28,980 including a 1.6-liter turbocharged four-cylinder engine making a peppy 175 horsepower and 195 lb-ft of torque. Even better, it doesn't expect premium fuel.
EPA-estimated fuel economy clocks at 28/32/30 city/highway/combined, which isn't great, especially since I had the front-wheel drive setup which has the better fuel economy. 
But forget all that. The engine is great and the seven-speed dual clutch transmission is as well — but it's all the tech that makes me happy.
Automatic headlights, rain-sensing windshield wipers, adaptive cruise control, Hyundai's excellent lane-keeping assist technology that isn't always found in cars that cost twice as much, a heads-up display and a big, beautiful 8-inch touchscreen on top of the dash.
It's standard Hyundai fare in here, with automatic climate control, easy-to-understand buttons, a standard PRND shift knob (which isn't always the case in Hyundai's vehicles, heated seats, and a terrific stereo.
Even more important (I noticed this during my pool runs), there's great storage in front of the shift knob for your phone and various other things, and nice cupholders behind for your morning coffee. It's a bit smaller than the Seltos, with a sharper rear deck line. That's bad for your rear-seat passengers, but if you don't have any of those, it looks a bit better, in exchange.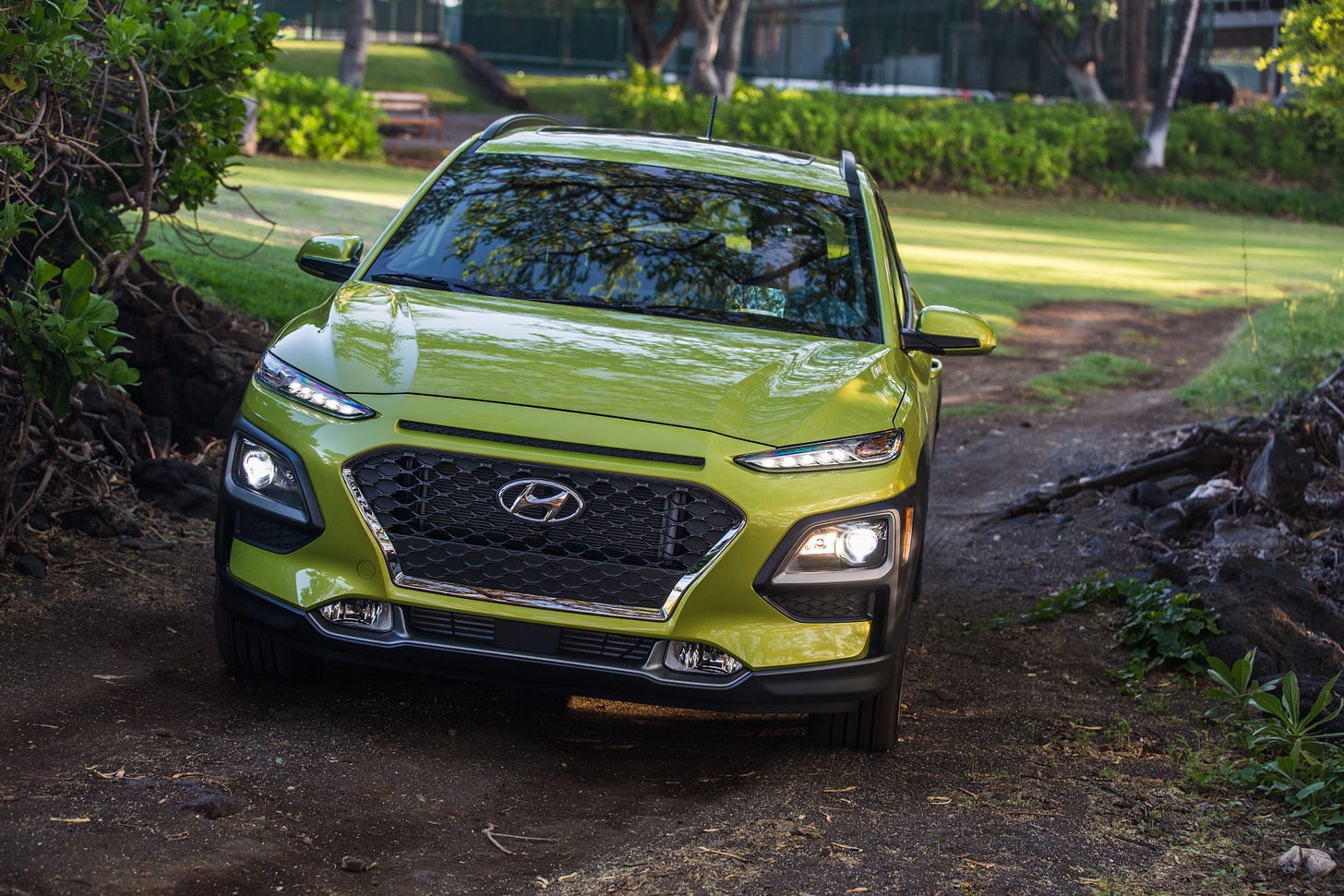 I love the front, with the LED headlights and daytime running lights. It looks sharp, and angular, and modern. It looks better, inside and out, than most of the competition. My test car came in Pulse Red, which was pretty brash, but it looks particularly excellent in both Surf Blue and Thunder Gray.
I seem to be reviewing a lot of subcompact SUVs these days. That's not surprising, since they're one of the most popular segments, and every car company wants a piece of the action. Toyota, Mazda, Hyundai, Kia — they all want to sell you a subcompact SUV for between $25,000 and $30,000.
Some strike my fancy a little more than others. I might have a feature here or there that I like (like Hyundai's lane-keeping assist that I keep talking about), and longer warranties (like Hyundai's 10-year powertrain warranty and 5-year bumper-to-bumper warranty) might draw particular attention if you're planning to keep the car for a long time.
But we are living in a golden age of automobiles right now. I haven't driven a really "bad" car in years. You can head to a dealership, plunk down your cash, and drive away in something that'll keep you happy for years. If only we were so spoiled with every other choice we have to make over the next few months.