Discover more from PRNDL by Jordan Golson
Irreverent, opinionated, entertaining car reviews and tech writing, right in your inbox.
Over 1,000 subscribers
2020 Honda Passport Review
A capable SUV, but I have some concerns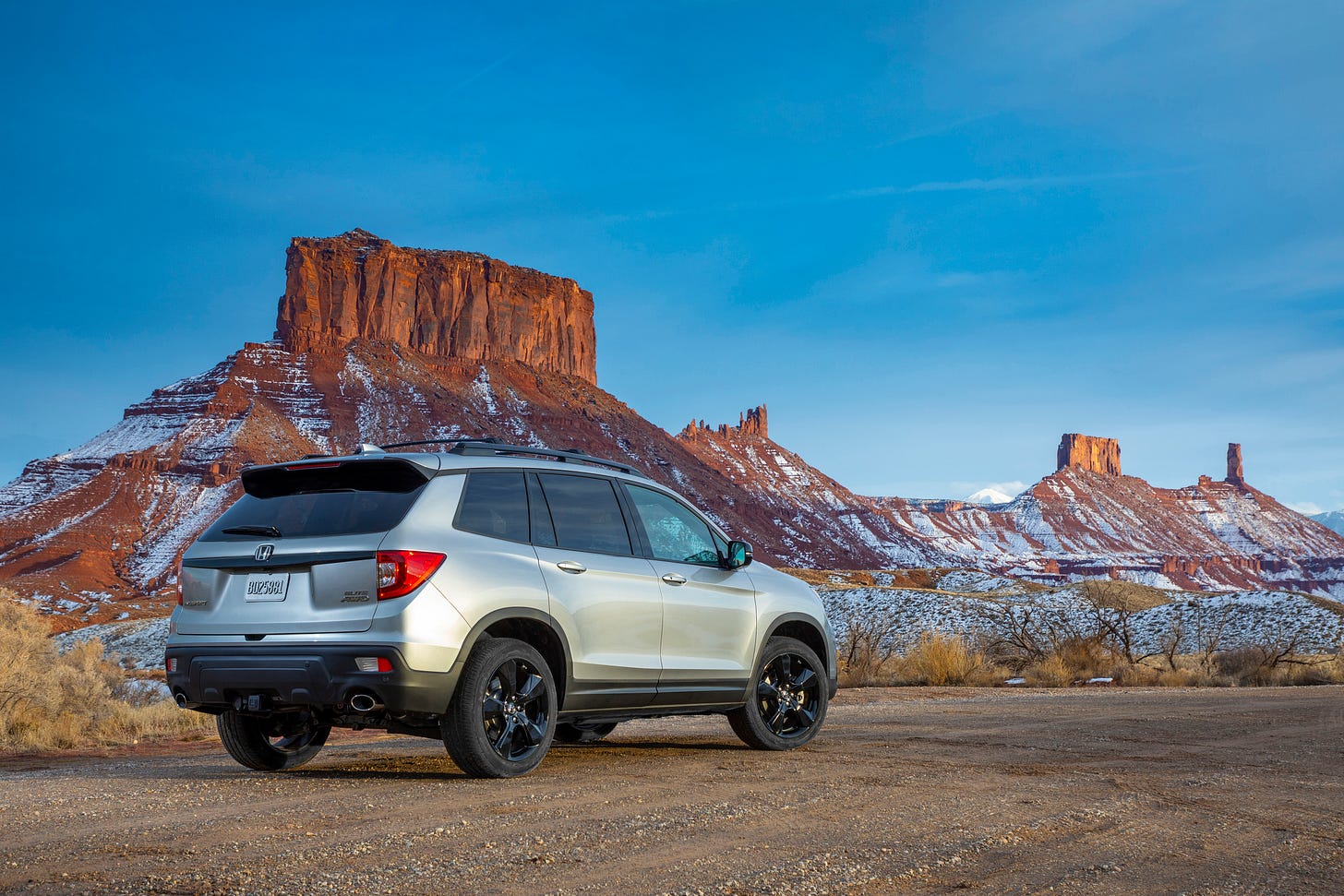 BOSTON — I get to drive a different car every week. Though my neighbors might think I'm a drug dealer, I'm just a car journalist, testing a wide array of vehicles — from the economical to the luxurious, the svelte to the monstrous — so I can bring you a weekly column examining the pluses and minuses in the hope that it might help you make a better automotive purchasing decision or at least entertain you for a few minutes.
I've driven hundreds of vehicles in my half-decade of being a motoring journalist, but the Honda Passport was only the second Honda I've ever driven. It just sort of worked out that way. So, it was nice to get behind the wheel of the new Passport, Honda's two-row midsize SUV, for a lengthy test drive.
And I really like the Passport. It's a touch smaller than Honda's three-row Pilot, the venerable and long-running mall-crawler SUV. It's well laid out inside, with large, friendly buttons to control everything. It's all very simple and straightforward.
There's a big red start/stop button. There are large buttons to change into Drive or Park or Reverse. There are large cupholders, including the most usable door-cupholder I've seen. There's a big Honda logo in the middle of the steering wheel, and a big bin between the seats to store stuff in.
There's a big windshield to look out of and large windows to roll up and down. There's a surprisingly small sunroof and a small mirror that pops down from the console in the ceiling to let you look at the kids in the back seat.
The center infotainment screen large and responsive and a magnet for fingerprints, and also a touch too far to the right, away from the driver. The climate controls are easy to use and laid out well, except for the temperature controls should be knobs and not up/down buttons.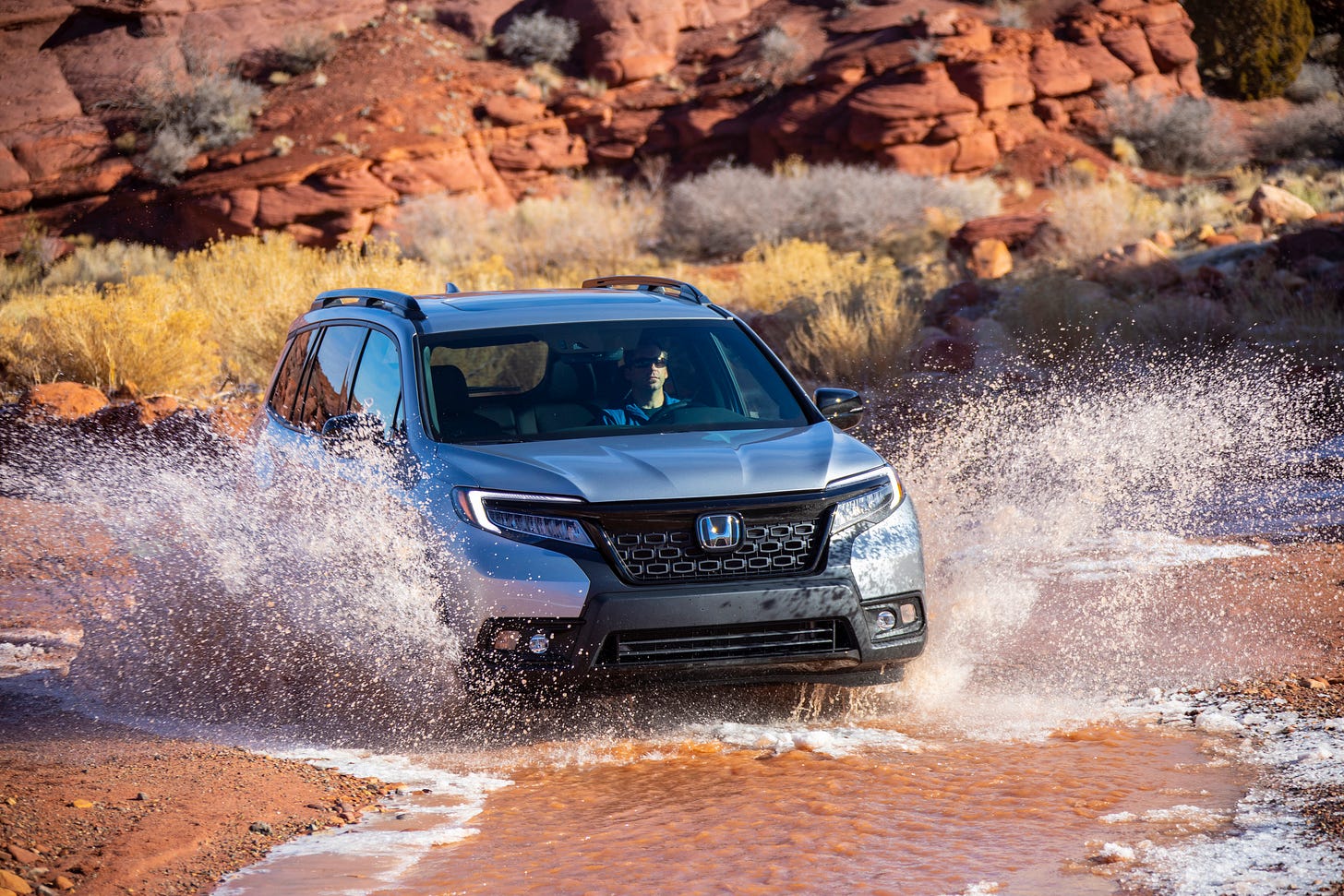 The black rims looked excellent on my $44,900 Passport AWD Elite test car, especially against the Obsidian Blue Pearl color scheme and the trunk is incredibly spacious.
And then there's the Honda Sensing system, which includes radar cruise control, an active lane keep assist system, road departure mitigation and more.
And it reminds me of a sixteen-year-old driver who isn't quite used to driving yet. The adaptive cruise system gets on and off the throttle far too often. If a car in front of you is going slower than your chosen speed (like when you're in traffic), the car gets on and off the throttle constantly. I can't figure out why — I can't tell if it's trying to apply the throttle and brake at the same time or if it's trying to stay at a specific distance from the car in front or what. It's unnerving.
If you're going below your set speed and the car in front of you gets out of the way, the system takes too long to begin accelerating. Conversely, if a car moves in front of you, it takes too long to begin braking, and then when it does, it brakes unnecessarily aggressively. So it's not just that the car is being conservative — it responds too slowly to changes in traffic conditions.
Then there's the lane departure alert system. Most cars beep at you or vibrate the seat or vibrate the steering wheel to notify you that you're departing your lane. The Honda Passport wobbles the steering wheel — it doesn't vibrate it, it actually turns the wheel minutely back-and-forth to warn you that you're leaving your lane.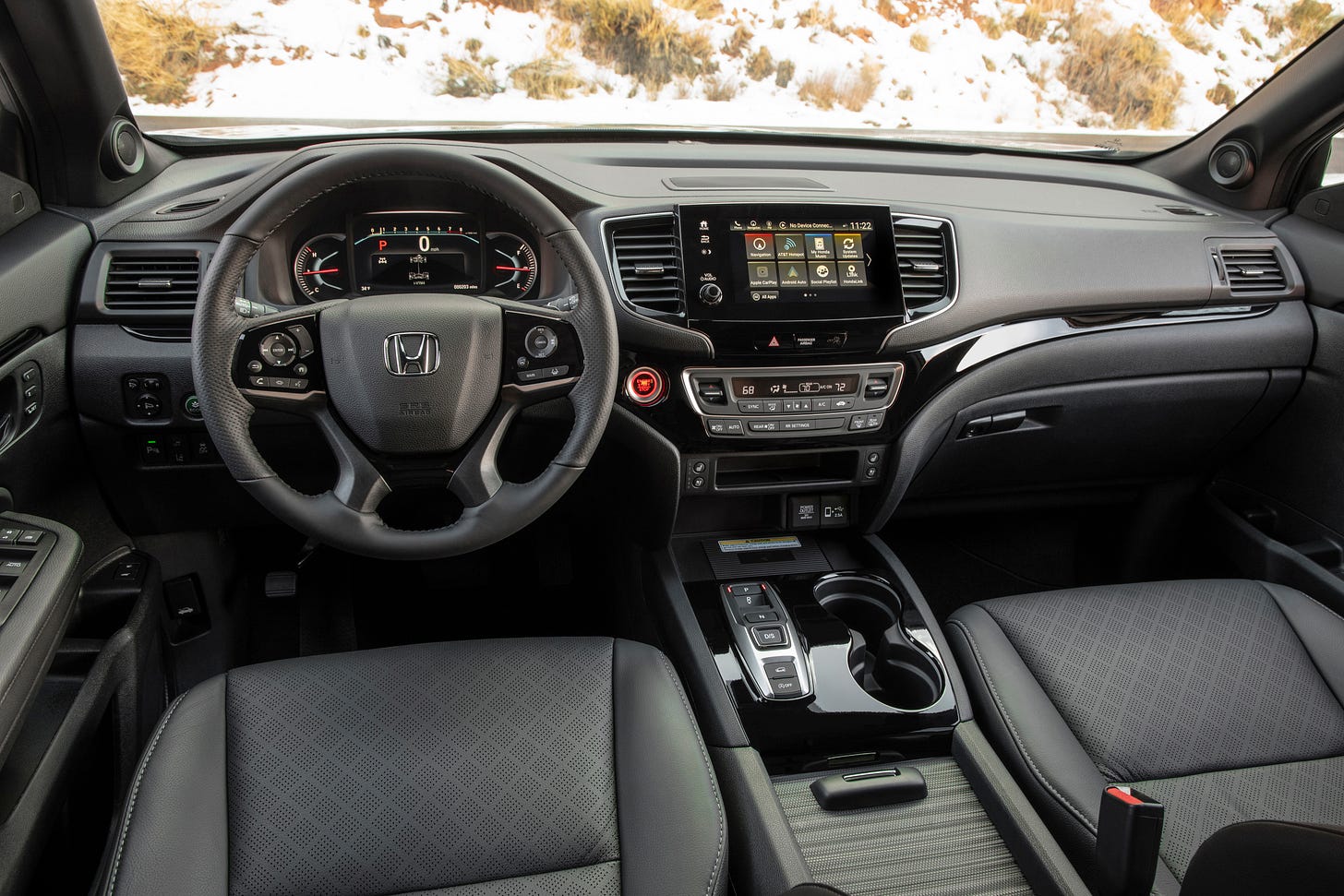 I find fault with a system that uses the steering input device itself to tell you that you need to pay more attention to what's going on. Alerting me that I'm leaving my lane? That's great. Doing so by wobbling the wheel that I need to use to remedy the situation? That's weird and I don't like it.
It's particularly frustrating because everything else about the car is really good. The engine and the transmission and the handling and the seating position and cargo space and on and on are all praiseworthy. But the driver assist system is wonky at best. 
That all said, I am a pedantic car journalist whose job it is to nitpick about these things — but if you're in the market for a Honda Passport, I'd make sure to try before you buy, especially if you plan to use this car in traffic. 
It's so close to greatness, but I wouldn't stamp this Passport just yet.