Discover more from PRNDL by Jordan Golson
Irreverent, opinionated, entertaining car reviews and tech writing, right in your inbox.
Over 1,000 subscribers
2020 GMC Sierra 2500HD AT4 Review
Off-road and towing prowess unite
JACKSON, Wyoming. — Everything seems a little bigger in this part of the country. Endless blue skies, snow-capped peaks that apocryphally named after a bit of female anatomy, and wide-open spaces filled with cattle. Then, of course, there are the pickup trucks.
August is RV season in this part of Wyoming, and the two-lane highways in and out of Jackson are clogged with pickups hauling campers and trailers and tourists gawking at the scenery, not to mention the locals with flatbed trucks who just want to get some work done.
This is truck country, which is why GMC brought a host of journalists out to Jackson Hole to test the new 2020 GMC Sierra HD — the company's heavy duty pickup that comes in 3/4 ton and one-ton variants — in its natural environs.
The focus is towing, with the Sierra HD (properly equipped) able to pull an astounding 35,500 pounds, up from just 23,300 pounds in the prior generation. Every dually model with a diesel engine can tow more than 30,000 pounds, so it's likely that — no matter the spec — you can find a Sierra HD that'll work for whatever you have planned. It's also worth noting that to legally tow that much, you need a CDL. And that most semi-trucks in the US top out at 80,000 pounds, so we're closing in on half-that with personal vehicles now. Lunacy.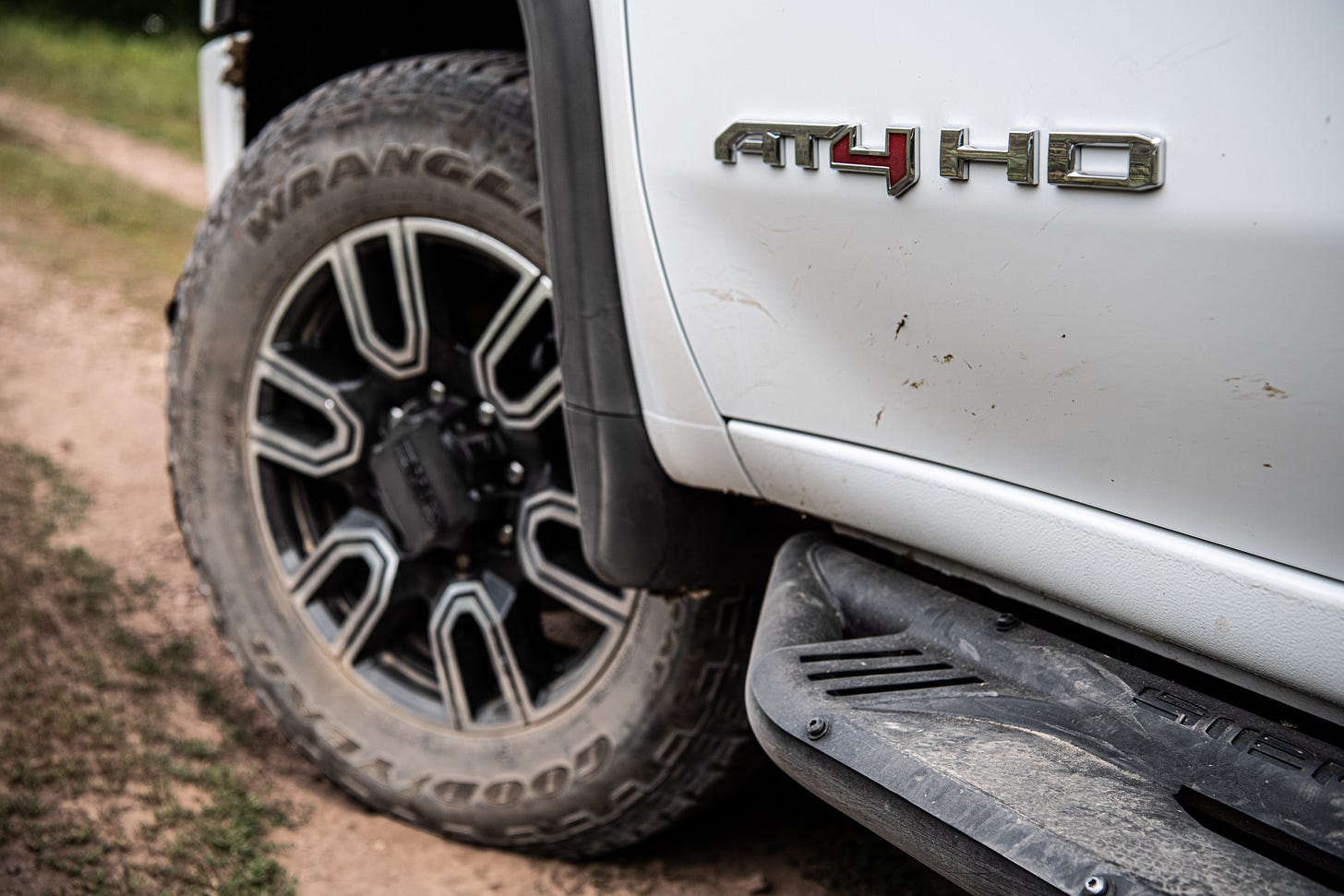 We towed a 14,000-pound camper with a dually Sierra HD 3500; we towed a 9,000-pound trailer with another, smaller pickup truck hidden inside; we towed a maxed out, 35,000-pound trailer filled with dozens of tailgates of competitor trucks; and we even towed a tiny house that turned out to be the bar at our end-of-trip dinner, complete with local Wyoming whiskey.
Curiously, GMC took specific aim at RAM's off-road focused Power Wagon, noting that the Sierra HD AT4 — an off-road trim with a two-inch lift and hefty, off-road capable tires from the factory — has double the payload (3,615 pounds) and 74 percent more towing (18,500 pounds) than the Power Wagon, which also doesn't come in a diesel because of where the factory-installed winch is located. A fellow journalist wondered who would be towing more than 10,000 pounds with their off-road truck, which I didn't have a great answer for, but at least truck buyers have choice.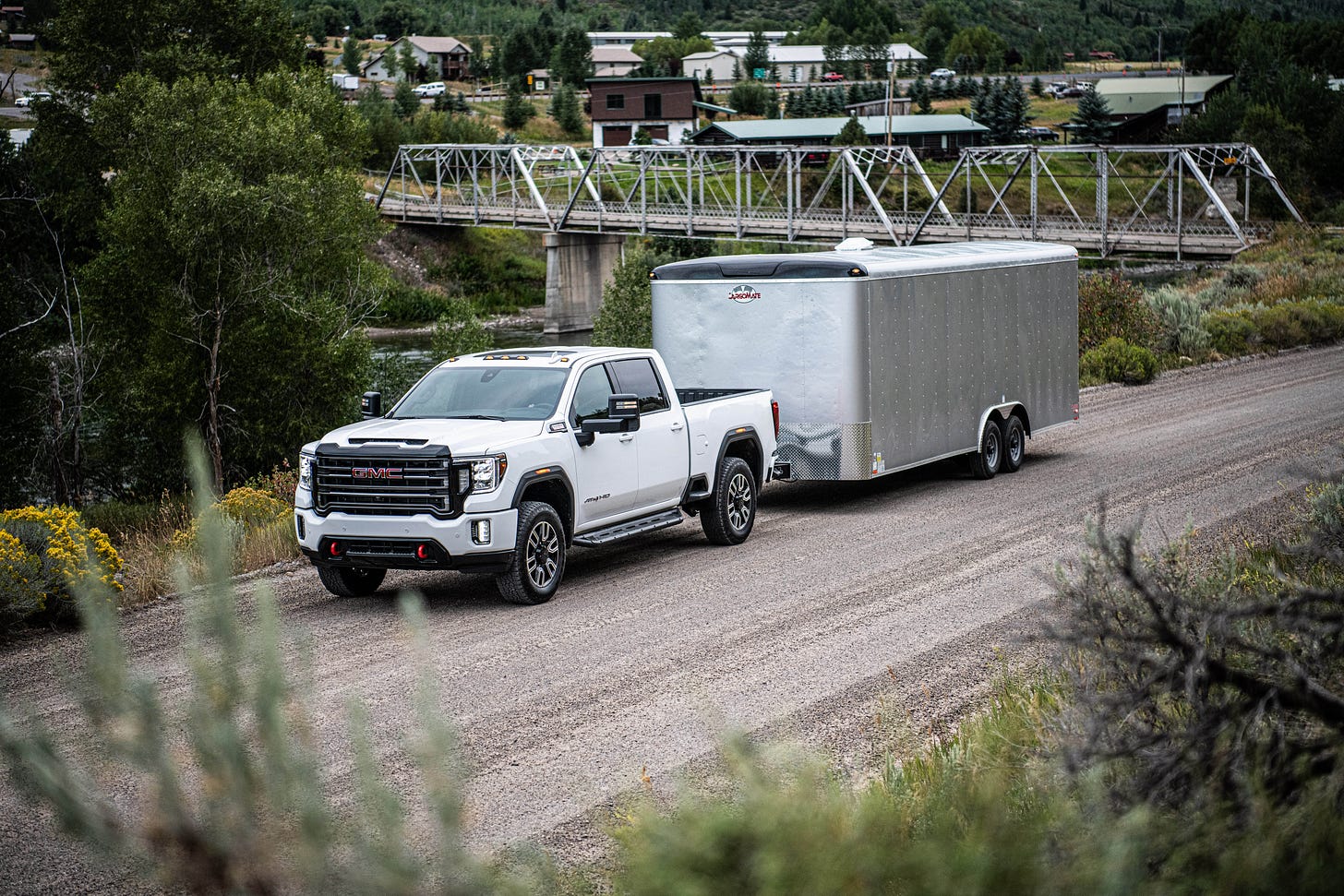 And choice we have in abundance. Like with every truck these days, you have trim levels and options for days. Do you want the off-road AT4 or the luxury-focused Denali? Single rear wheel or dual? Diesel or gasoline? Oh, and then there's the fifteen different camera views available to help you navigate the world around you.
This is no parlor trick, either. This truck is huge, and when you attach a thirty-foot camper to it, it's huger still. As such, the cameras are incredibly useful. There are cameras all over the Sierra HD, in front, on the wing mirrors, above the bed, and in the tailgate. Then you can install two more — one on the back of your trailer, and another inside it to keep an eye on your payload from inside the cab.
Slap that camera on the rear of the trailer and you get a double feature: a back up camera that should keep you from accidentally reversing into anything, as well as a ridiculously cool "Transparent Trailer" camera view. It uses augmented reality to combine a camera view from above the truck bed with the view from behind the trailer.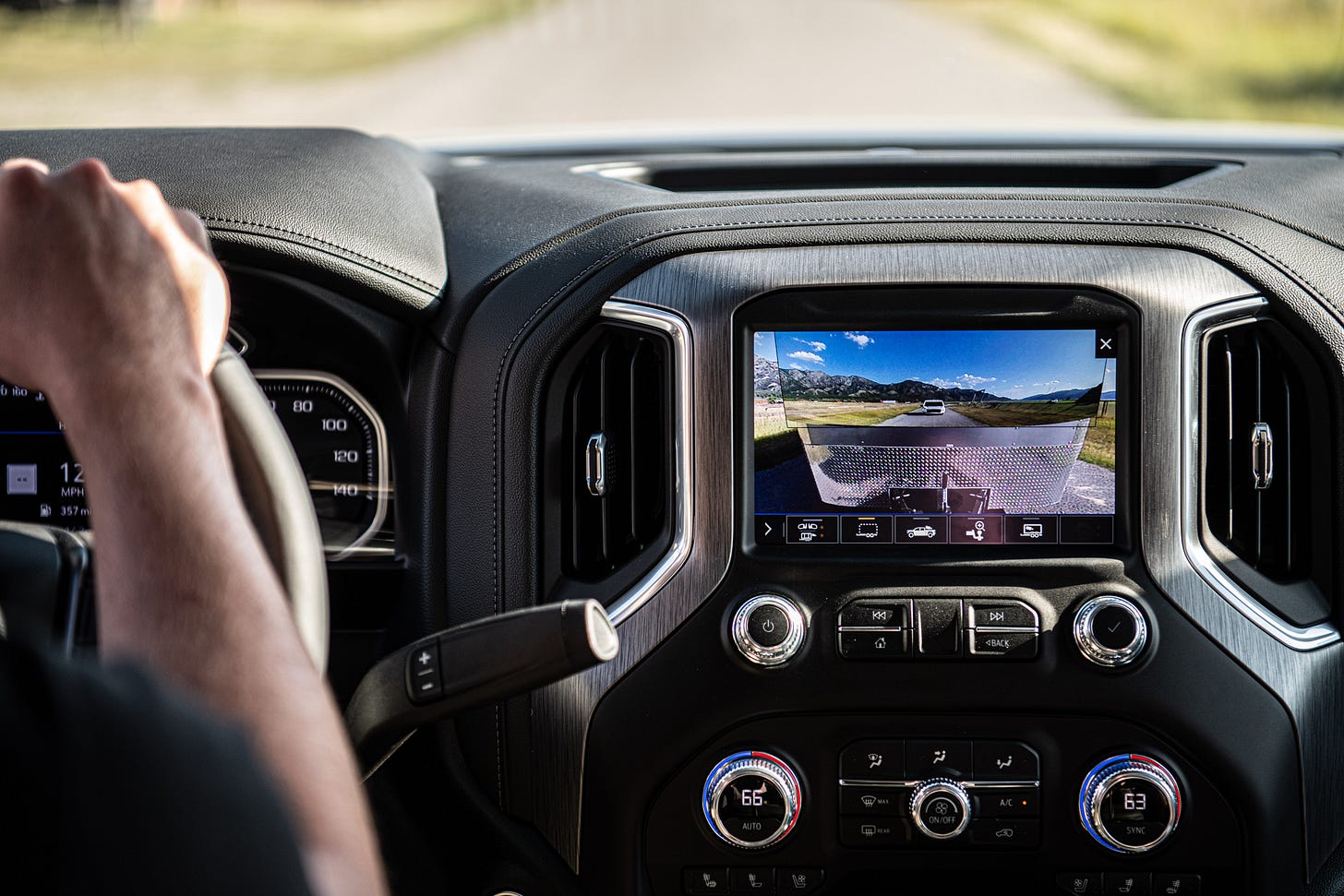 It literally gives you a camera view where you can see through the trailer behind you. It's revolutionary and, if you tow a lot, is an honest-to-god game changer. It's one of those things that must be seen to be believed. Between that and the MultiPro tailgate that I raved about last year, this truck is a towing and hauling masterpiece.
There's also a feature that automatically engages the parking brake when you've backed up to a trailer. The idea is to keep the truck from moving those couple of inches against the transmission when you've carefully aligned the ball with the hitch. Between that and all the cameras (including several focused on getting that ball aligned with the hitch), you might call it the marriage saver as anyone who has tried to tow with a spouse can attest.
Last year, I said GMC was leading in the great American truck race. It's still true, but now the trucks can tow a lot more.