Discover more from PRNDL by Jordan Golson
Irreverent, opinionated, entertaining car reviews and tech writing, right in your inbox.
Over 1,000 subscribers
2020 Chevy Silverado 2500HD Review
Camera-ready and capable
PHILADELPHIA — It wasn't until southern Connecticut that it occurred to me that driving a massive Chevy pickup might not be the best way to get from Boston to Philly. It wasn't anything to do with the truck — a brand new 2020 Chevrolet Silverado 2500 HD — per se, but with the torrential, unceasing downpour.
It's supposed to be about six hours from Beantown to the City of Brotherly Love, but it took me and my co-driver — North State Journal publisher Neal Robbins — more than eight hours to make the trek.
Much of that is my fault, though. We left later than planned, putting us in New York around rush hour. And I made a foolish error, ignoring Google's terrific Waze navigation app because it wanted to take us the (very) long way because I thought I knew better. I did not know better.
And then there was the rain. Water fell from the sky from the time we left Boston until we arrived in Philadelphia for the 120th Army-Navy Game, and then continued for another 24 hours after that. It finally stopped about halfway through the game, which was just about perfect. We even saw some blue skies in between cheesesteaks and Navy touchdowns.
This is theoretically a review of the truck, but I have to say something about the Army-Navy Game. I don't know if you've ever been to a Philadelphia Eagles game at Lincoln Financial field, but it's a rough crowd. Fights are common, and police and stadium security are busy. Not so much at this game. Sure, the Secret Service was screening everyone who entered the stadium because President Trump was in attendance, but the crowd was unceasingly polite.
Whether in line for the restrooms or for beers or security, the fans were polite and pleasant and represented West Point and the Naval Academy with pride. It was the nicest atmosphere I'd experienced at a sporting event, especially between rivals, and it's worth calling out. If you've never been, it's a bucket-list sporting event for sure.
But back to the Silverado. First, it's huge. Ours was a 2500 LTZ Crew Cab in an understated but elegant Northsky Blue Metallic that was sort of was the color of a pair of jeans. It weighed in at $72,770 after the option to fit the $9,890 6.6-liter Duramax Turbo Diesel, the $7,805 LTZ Premium Package that fitted two columns worth of stuff on the window-sticker, and $1,080 for the Z71 off-road package. The LED roof lights were $55, which seems like a pretty solid deal.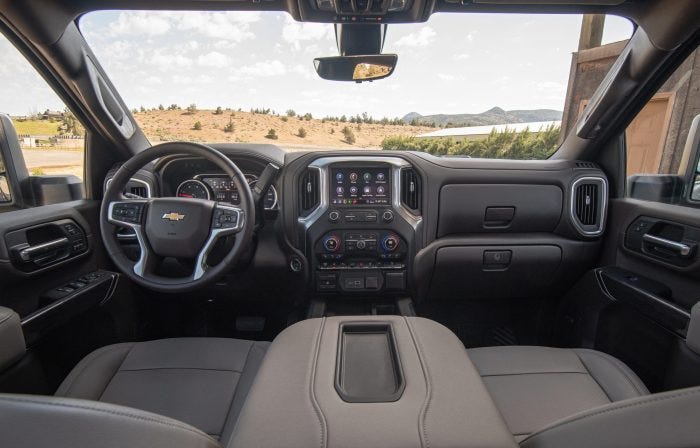 Our truck was pretty loaded, which was excellent for a long road trip. But it's the center infotainment screen that deserves special recognition. It's the latest from GM, and the screen is sharp, responsive and worth every penny. Sure, the map is fast and CarPlay looks great, but it's the litany of cameras on-board that really makes it shine.
If you're unaware, heavy-duty pickups are incredibly large. Driving the Silverado 2500 around the narrow, cobblestone-lined streets Boston's Beacon Hill or Harvard Square was a major test of my spatial reasoning abilities. But the Silverado includes cameras to help with the task. There are more than a half-dozen different cameras located around the truck, giving a ton of different viewing options.
Most useful is the top-down 360-degree view, which helped for parking, as well as a zoomed-in view of the front tires. It shows which way they're pointing and exactly how close you are to the curb, which helps parallel parking tremendously. I had an easier time parking that gigantic truck than I do my normal car, which only has a backup camera.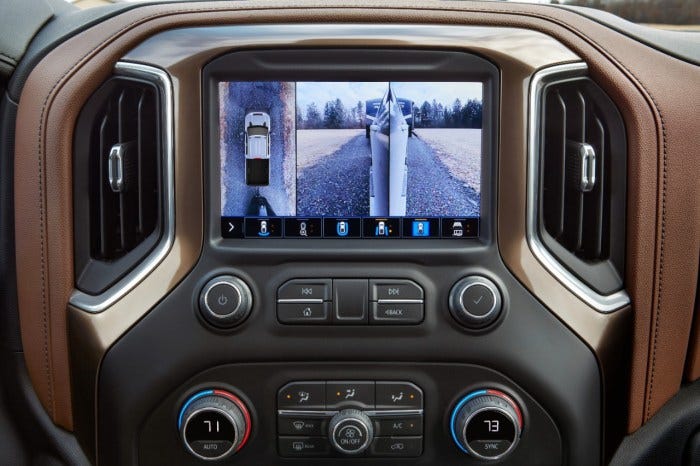 It is a truly stunning piece of engineering and is worth every penny. GM calls it HD Surround Vision, and I can't say enough good things about it. I'm a confident driver since I do this for a living, but I'm all about tech that makes my life easier and those cameras do it.
There's other tech too, including a wireless charging pad that is a perfect spot to store your phone, safety stuff like automatic emergency braking, auto high beam, blind spot monitoring, and lights in the bed of the truck.
The interior is a bit spartan when compared to the competition at Ford and RAM, but it's functional and effective. I just wish it had a little more luxury at nearly $73,000.
But it got us to the game and back again, with an impressive 18.9 mpg of fuel economy on the way. And getting out and doing stuff is the real reason to buy trucks. Go Army, Beat Navy.