Discover more from PRNDL by Jordan Golson
Irreverent, opinionated, entertaining car reviews and tech writing, right in your inbox.
Over 1,000 subscribers
2020 Chevrolet Silverado 1500 Custom Trail Boss Review
With a two-inch lift and a 6.2-liter V8, this off-roader is boss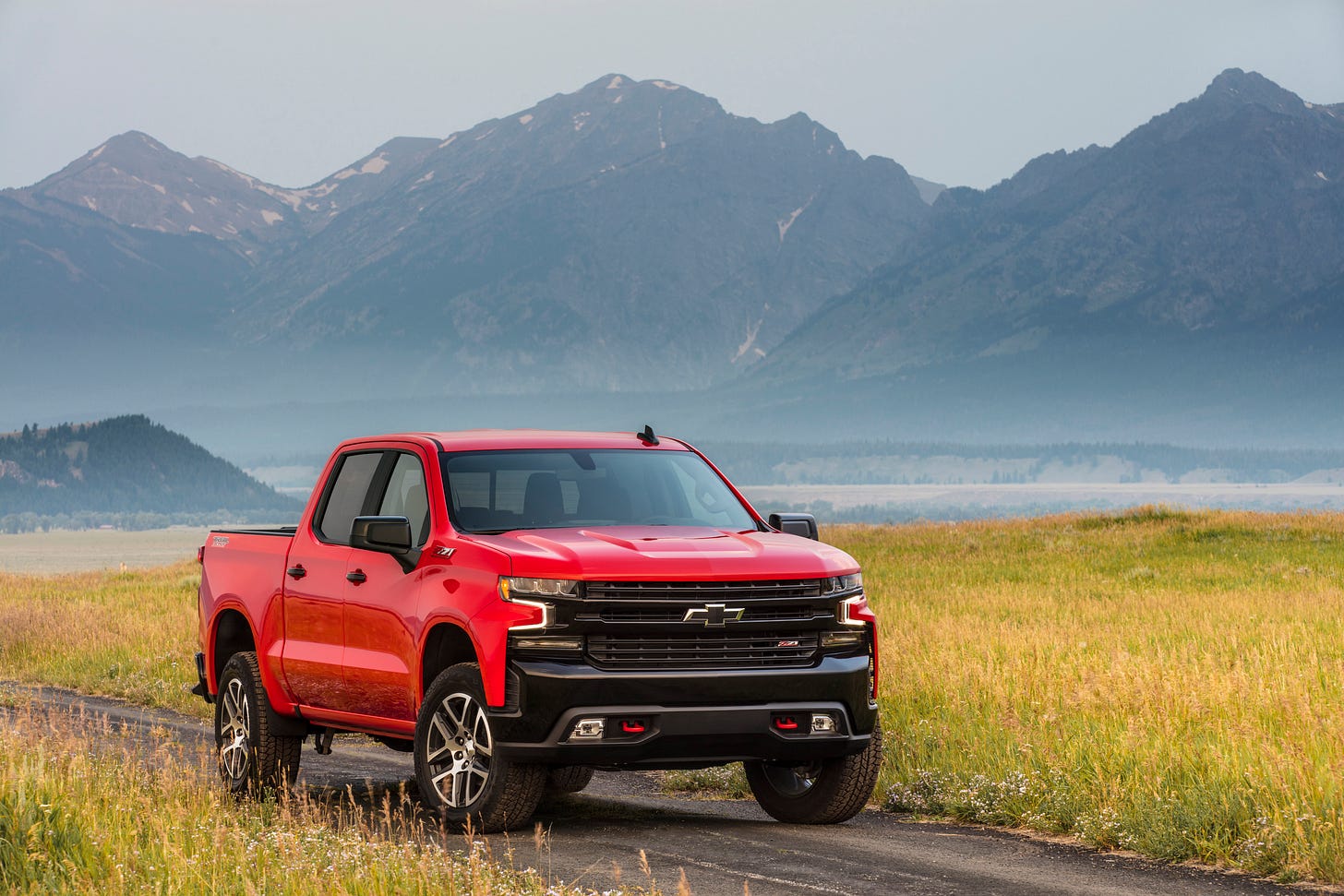 SAN DIEGO — Pickup trucks are wildly useful things. Whether you want to move furniture or drywall or a lot of bottled water, it's far easier to load that sort of stuff into a pickup truck than basically every other form of transportation.
If you want to tow something like a boat or a horse trailer or a camper, it's even more essential (though many SUVs can do an admirable job towing stuff these days, a truck is preferable).
If you don't own a truck, it is essential to have a Friend-With-A-Truck. This is, in some ways, far preferable because then you get a built-in helper with whatever it is you need doing — and having a helper is super useful for all truck-related tasks. My friend Bryan used to be my Friend-With-A-Truck but then he moved across the country because he wanted to live in the mountains of Colorado. That's understandable, I guess, but now I don't have a truck I can borrow whenever I need one.
Maybe I should buy a 2020 Chevy Silverado 1500 Custom Trail Boss because it's reasonably priced and includes all the stuff you need on a truck without all the stuff that makes a modern pickup truck wildly overpriced.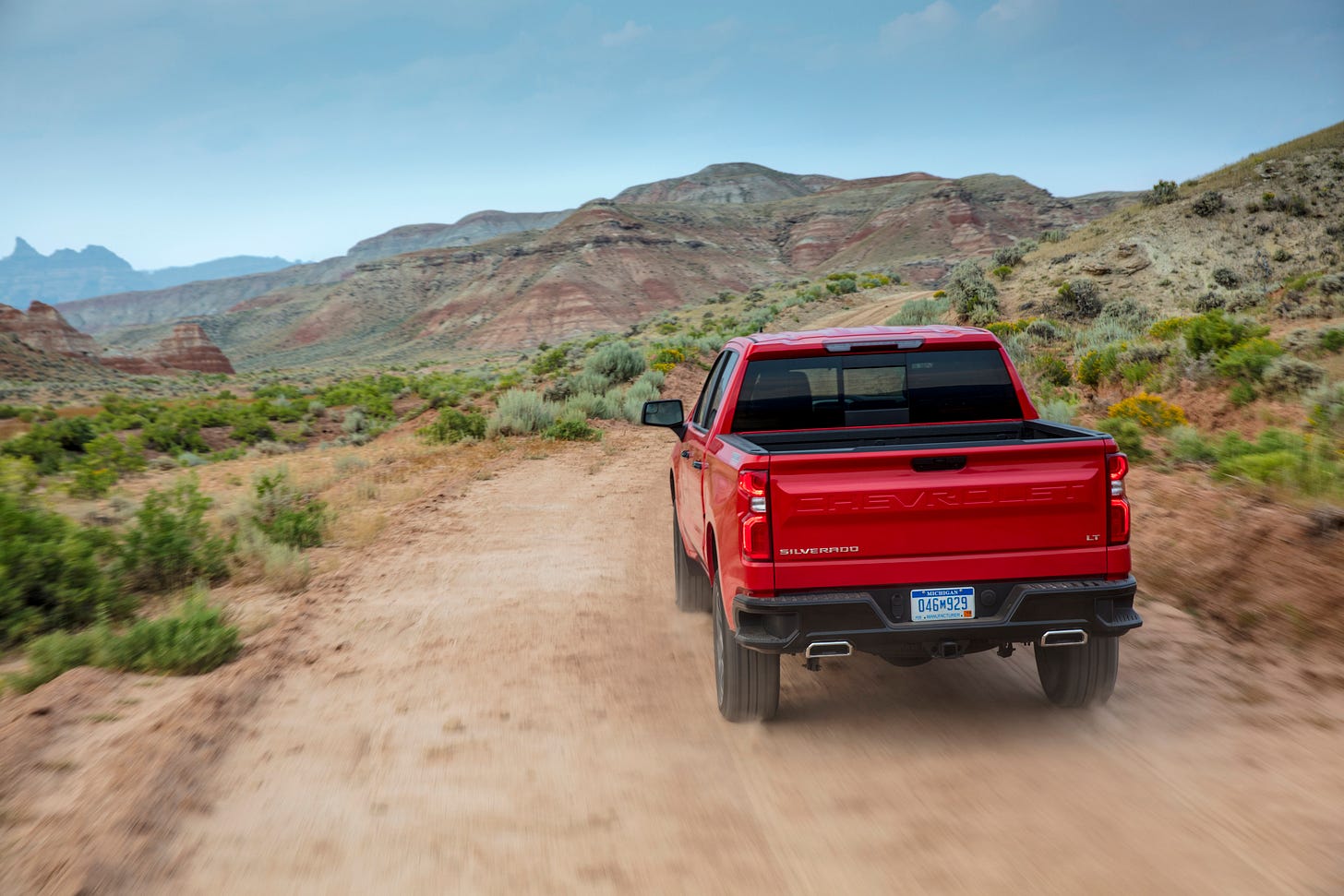 The 2020 Chevy Silverado 1500 comes in a mind-bending eight different trim levels, but it may be that the Custom Trail Boss is the best of the bunch. My test unit weighed in at a (relatively) svelte $44,510 which, believe it or not, is what passes for affordable in today's half-ton truck segment. It had only four options fitted: a $2,495 upcharge for the 6.2-liter "Ecotec3" V8 engine with 10-speed transmission (up from a puny 4.3-liter V6 with a 6-speed), a $545 spray-in bedliner, a $275 infotainment package (SiriusXM radio, OnStar, and 4G LTE Wi-Fi), and $100 for single-zone semi-automatic air conditioning. I have no idea what you get for air conditioning if you don't spend the $100.
You get lots of other cool stuff for your $44,510 though, including great truck-stuff like a five-foot bed, a cloth 40/20/40 folding bench seat up front, a rear cloth 60/40 folding bench seat in back, a 7-inch touchscreen that includes Bluetooth and Apple CarPlay and Android Auto, a (single) USB port, and red front recovery hooks which Look Good.
Actually, a lot of this truck is about Looking Good. It's where a lot of your money is going, at the expense of fancy luxury stuff that you don't really need. There's an awesome two-inch lift kit and gorgeous 18-inch high-gloss black aluminum wheels, along with skid plates, an auto-locking rear-differential, and off-road ready tires.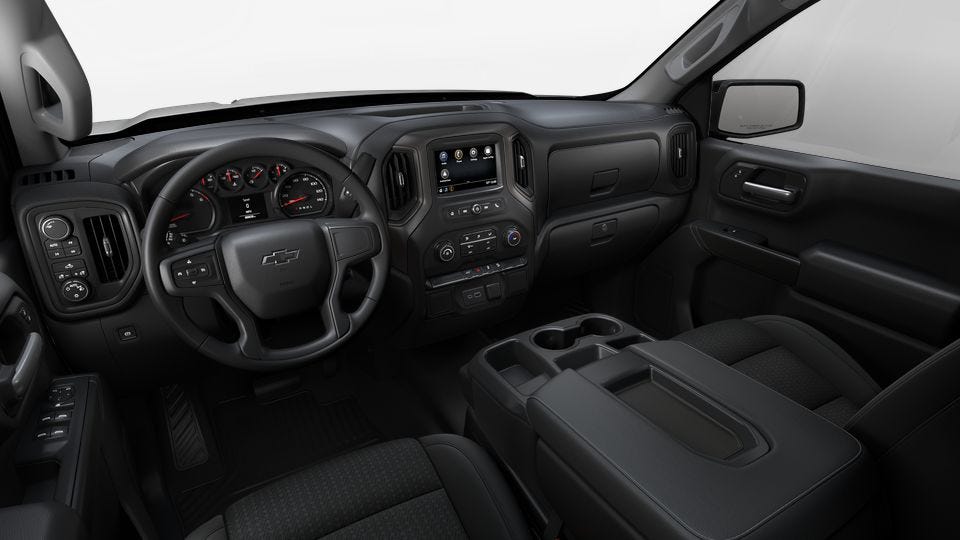 This truck actually looks awesome, and I got numerous compliments on it during my week driving around SoCal. The lift combined with the blacked out grille and black wheels is deeply attractive, and my Red Hot paint job meant it was easy to find in a crowded parking lot. The chrome exhaust tips fitted to the black plastic bumper just worked, somehow.
Climbing inside wasn't the easiest thing to do, so side-steps would be nice, but you don't really need them if you're young and athletic (or middle-aged and able to use the well-placed A-pillar grab handles). Inside, it's spartan compared to some of the $80,000 luxotrucks I've driven, but it has everything you actually need in day-to-day life: cruise control; place to insert a key and turn it to make the engine go; cupholders; air conditioning; two glove boxes.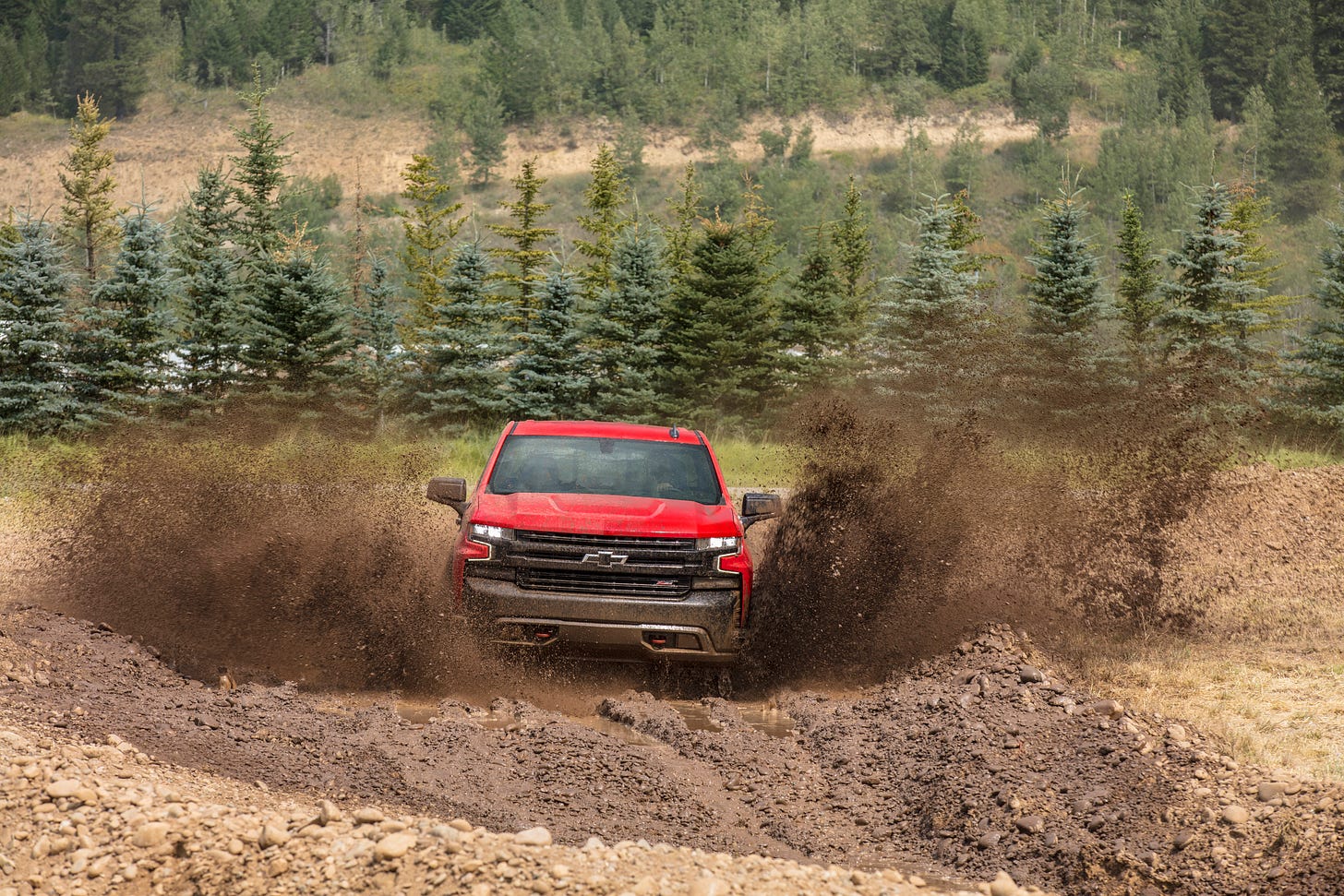 Most importantly, it has a bed in which to put things and a spacious rear seating area which can store more things if you fold the seats up. Hauling things is why you buy a truck, after all — the other luxury stuff is just fluff — and the Custom Trail Boss does it with aplomb, with great looks and a great price.
You do suffer a bit on fuel economy... a 6.2-liter V8 will do that, no matter how much cylinder-deactivation wizardry GM stuffs under the hood. With an EPA-rated 14/18/15 city/highway/combined, it's not the worst fuel economy I've had this year, but if you spend a lot of time in stop-and-go traffic you'll spend a lot of time at the gas station. I just hope your friends do you a solid and fill it up before they return it.
Editor's note: Eagle-eyed readers may notice that these handout photos are of the Chevrolet Silverado Trail Boss, not the Custom Trail Boss. Chevy only had pictures of the Custom Trail Boss in Silver, and the red looks SO much better so I chose to use those.
---
Some of my other pickup truck reviews:
---
Other reviews of the 2020 Chevrolet Silverado 1500: