Discover more from PRNDL by Jordan Golson
Irreverent, opinionated, entertaining car reviews and tech writing, right in your inbox.
Over 1,000 subscribers
2019 Volvo S60 Review
The new S60 really annoyed me, but it's not what you think
SANTA MONICA, California — I drove the new 2019 Volvo S60 the other day and it really annoyed me. Let me explain.
The new S60 sedan, along with its near-twin, the V60 wagon, is the final vehicle in the decade-long reinvention of Volvo. Ford sold the Swedish carmaker to Chinese auto conglomerate Geely 2010, and the Volvo team was promptly given billions of dollars to reinvent itself — without meddling from the parent company.
By starting from scratch and designing a brand-new chassis, a totally new powertrain, and planning everything for the future, Volvo has released some amazing new cars and seen record growth as a result. Without exception, I have liked everything they've done since the current-generation Volvo XC90 SUV was released in 2015, including this new S60.
It is built upon the same Scalable Product Architecture platform and the same clever turbo- and supercharged engines that debuted in the XC90. The design has been tweaked a bit from the larger SUV sibling, but it's unmistakably a Volvo.
It has Thor's Hammer headlamps and a sporty, taught exterior and a stunning, cleanly Scandinavian interior that is easy on the eyes. It has some of the most comfortable seats you'll find in an automobile, a standard panoramic sunroof, a giant center touchscreen that's easy to use and faster than prior Volvos, an exquisite steering wheel, and I could go on and on.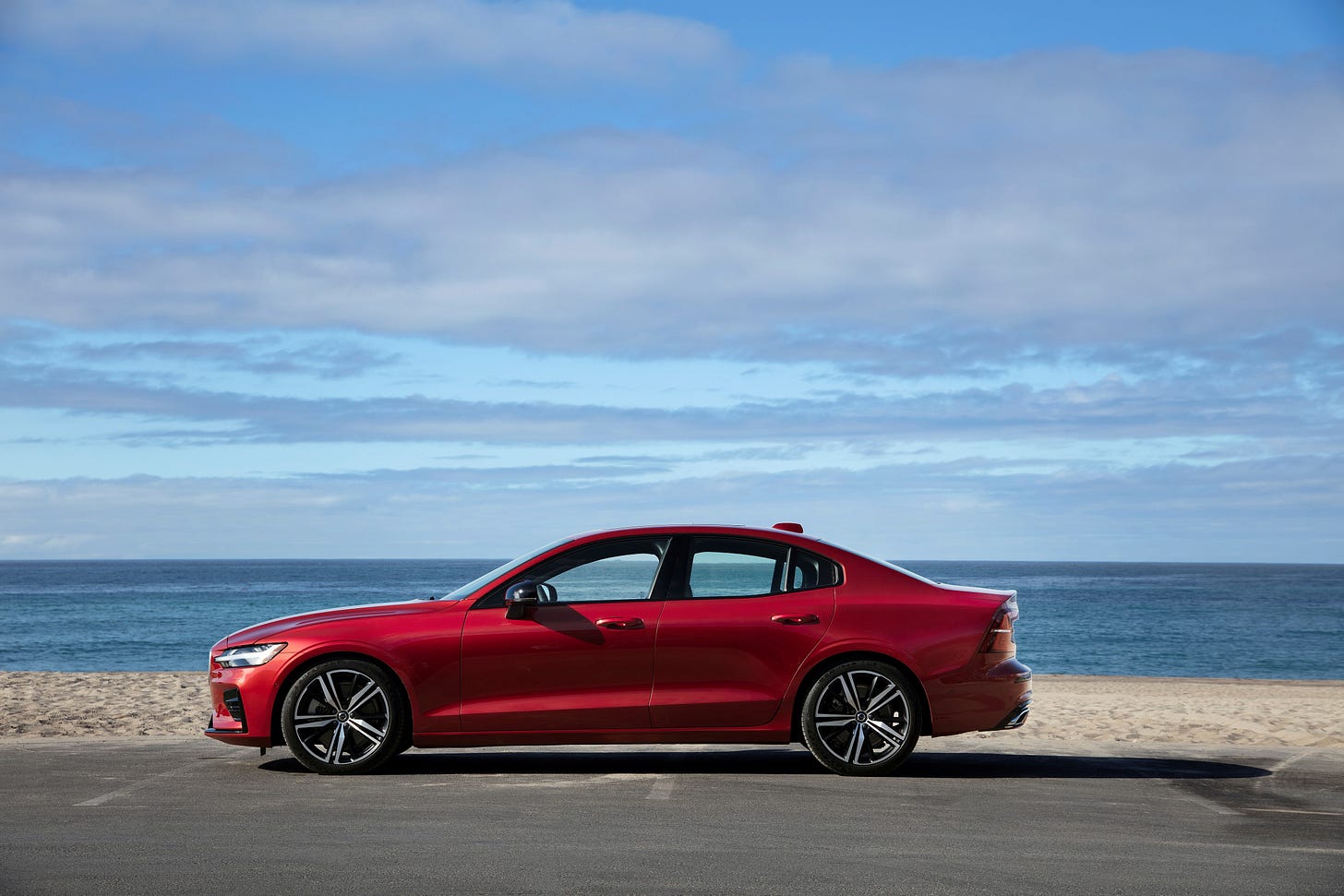 Best of all? It's built in America, in a brand-new factory outside of Charleston, South Carolina. The first Volvo to be built in America, the Charleston facility will be the only one building the S60 — and that means South Carolina-built Volvos will be on boats to China before you know it.
There are three engine options, all based on a two-liter, four-cylinder engine. Don't worry about the tiny engine, though — they all have plenty of power thanks to some Swedish engineering wizardry.
The base T5, starting at $35,800, is a turbocharged FWD variant that makes 250 horsepower and 258 pound-feet of torque. Bump up to the T6 for $40,300 and you gain all-wheel drive and the engine is now turbo- and supercharged, moving to 316 horsepower and 295 lb-ft.
At the top of the heap is the T8 "twin engine" plug-in hybrid for $55,400 (and eligible for electric vehicle tax credits) that combines the T6 engine driving the front wheels with an electric motor driving the rear, for an AWD, 400 horsepower and 472 lb-ft experience that lets you stay greener while giving a little more oomph.
Volvo safety tech abounds, with the City Safety system able to automatically brake to avoid potential collisions with large animals and pedestrians, in addition to vehicles. It can even automatically brake to reduce the severity of oncoming collisions.
Pilot Assist is available, which (while not an autonomous driving system by any means) helps the driver with steering, acceleration and braking. It's not a hands-off system, but it does make driving your morning commute a lot less stressful.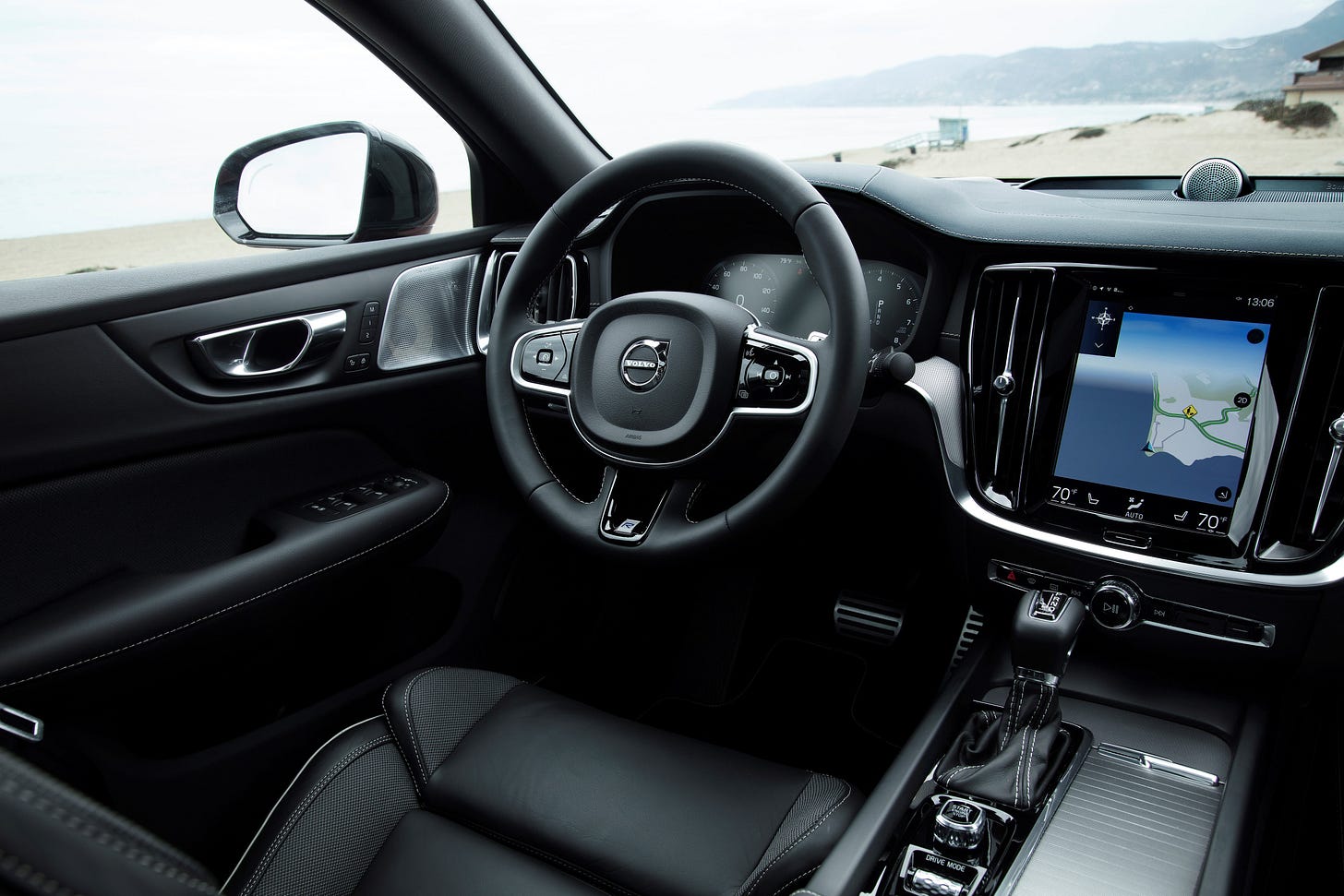 One of the most interesting aspects of the S60 is the new Care by Volvo ownership service. It's a no down payment subscription service that combines the car, maintenance, tires, and insurance into one monthly payment — with a 15,000 yearly mile allotment. The car can be traded in for a new model after a year or kept for 24 months total.
A S60 T6 AWD Momentum starts at $775 per month, with the R-Design trim level starting at $850. The cars are available through traditional purchase or lease programs, but the subscription service is an interesting twist on the purchase model and demand has far exceeded Volvo's expectations.
Now I just spent 600 words telling you about how wonderful the S60 is, but I'm still annoyed by it. It's not because the front opening feels a little too tight or because the rear lights just look a little fiddly.
I'm annoyed because I own a 2016 V60 wagon and the new 2019 S60 is so good that I'm finding it difficult not to pull the trigger on one for myself.