Discover more from PRNDL by Jordan Golson
Irreverent, opinionated, entertaining car reviews and tech writing, right in your inbox.
Over 1,000 subscribers
2019 RAM 1500 Review
So much truck, so little time
BOSTON — The race to be the first $100,000 pickup is going strong, though it's unclear whether any of the truck makers actually wants to win it. Ford, RAM, Chevy and GMC are all inching ever closer and, though there seems to be an endless appetite for pricey wares amongst luxury truck buyers, we're not quite to the $100K mark yet.
Though full-size trucks start around $28,000 for a bare-bones unit, the average is right around $40,000 according to Kelley Blue Book. The RAM 1500 Big Horn Crew Cab that I tested was decidedly more expensive, with an all-in sticker price of $57,335.
With that in mind, I climbed (literally, it's quite a tall truck) behind the wheel and was immediately overwhelmed by the number of USB ports this thing has. It might not be your first thought when climbing into a new pickup, but golly this thing has a lot of places to plug in your gadgets.
There are four in the front console, two USB-A and two USB-C for newer devices. Then there's the same setup for rear-seat passengers. Then there are two more 110-volt power outlets (like you'd find in your house) to plug in laptops, lights, blenders and who knows what else, and even an old-fashioned 12-volt cigarette lighter adapter (though no actual cigarette lighter).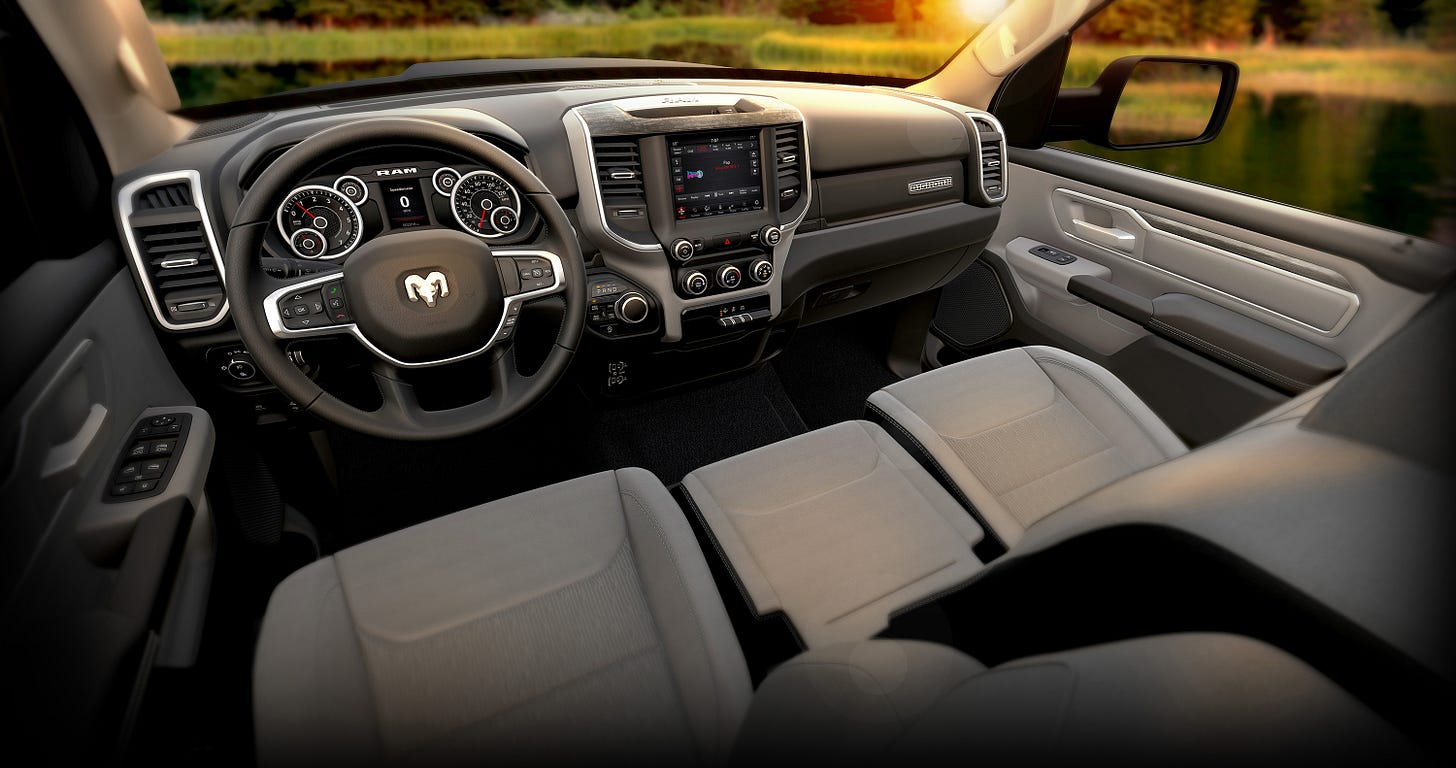 There are cupholders everywhere, even in the doors, along with cavernous storage in the center console. In the back, the seats fold up and away so you have the entire floor to load stuff into, and then there are secret definitely-not-for-smuggling compartments hidden beneath the floor mats. There are two glove compartments.
And I'm only halfway done with places to put stuff because then there's the entire truck bed. And 8,200 pounds of maximum towing (as spec'd, north of 11,000 pounds available). So, OK. There are a lot of places for stuff, which is terrific for a pickup that's going to be used as everything from a mobile office to a soccer team transportation vehicle.
With a proverbial truckload of creature comforts like heated seats, CarPlay and Android Auto from an 8.4-inch touchscreen (a giant 12-inch iPad-esque unit is available, though you annoyingly lose actual knobs for the temperature settings), power-adjustable pedals, a remote-start system, and a frankly enormous panoramic sunroof (a $1,495 option that's worth every penny), you'll enjoy your time in the RAM — if you option it up with toys. This one is only halfway optioned, too.
Our unit had four-corner air suspension ($1,795), which made the ride smooth-ish — it's good for a truck, but if you're used to a sedan or crossover, it'll leave something to be desired. It also allowed the truck to be lowered for easier ingress and egress, though we couldn't figure out how to do that automatically. And, if it did, I don't know that I'd want the thing raising and lowering every time I turned it off. Ten years of that will do a number on your air bags.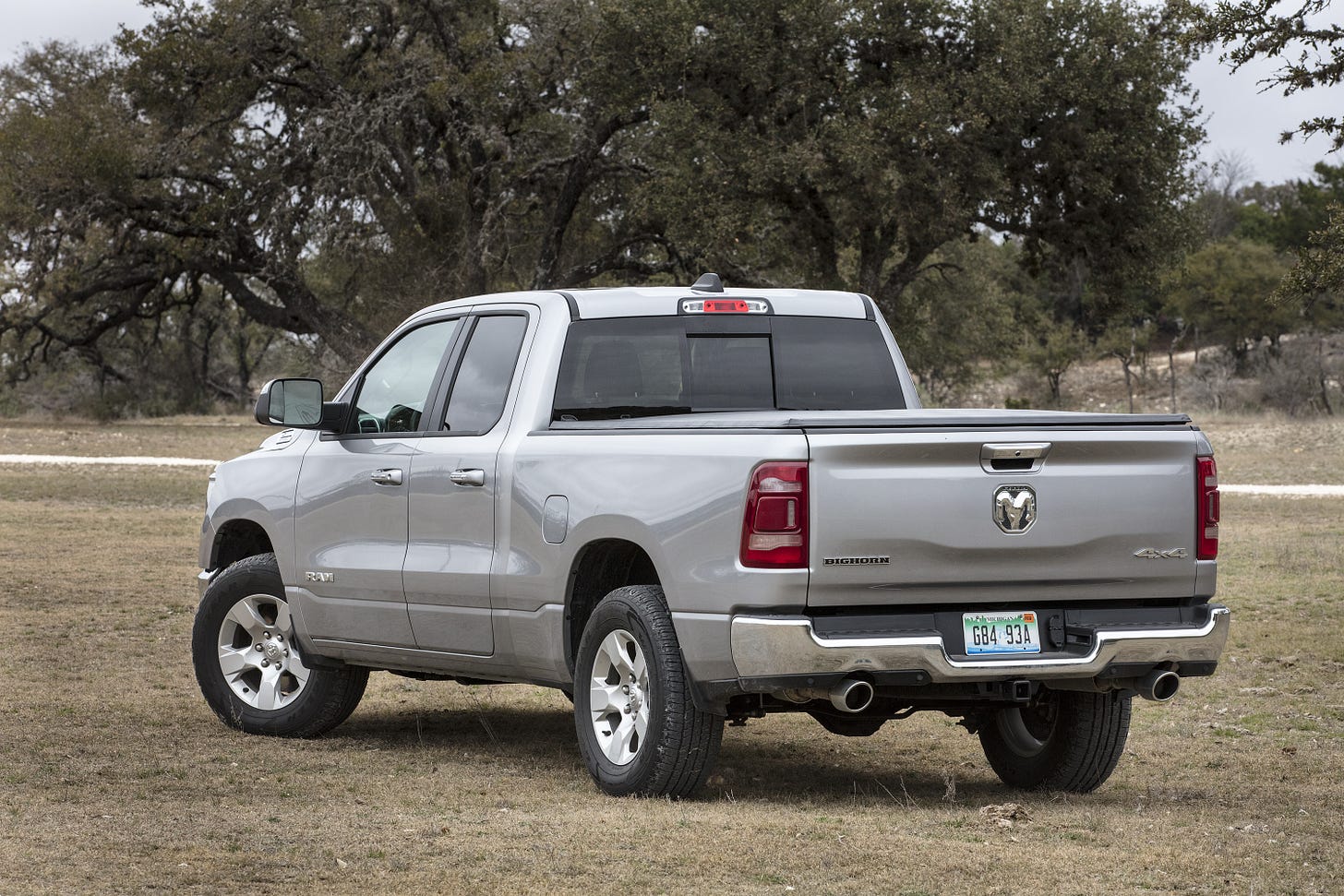 Though a full safety suite with adaptive cruise control and automatic emergency braking is available, it's not standard. Ours has blind-spot monitoring with backup cross-path detection ($595), but the fancier safety options are elsewhere. This is disappointing, given Ford offers all that standard in the F-150. But it's better than Chevy and GMC which, very disappointingly, don't offer full automatic emergency braking in its newest generation trucks.
Ours had a 5.7-liter HEMI V8 good for 395 horsepower and 410 lb-ft of torque. We didn't tow anything, but I have no doubt that this would handle most full-size towing tasks with aplomb. There are a few different engine options, including a mild-hybrid option for the V8 that adds an extra 130 pound-feet of torque for a best-in-class 12,750 pounds of total towing. There's also the Pentastar 3.6L V6 that also has the mild-hybrid version, as well as an EcoDiesel V6 that's returning to the lineup later in the year.
EPA-rated fuel economy is 15/21 city and highway on the 4x4 V8. RAM's 8-speed automatic transmission is terrific.
Whether you're looking for the top-of-the-line city-themed Limited or the Laramie Longhorn (Western-themed), or the off-road ready Rebel, or the workhorse Tradesman — and that's not even all the trim levels — the RAM 1500 is a serious challenger to the Ford F-150's longstanding pickup truck Iron Throne.