Discover more from PRNDL by Jordan Golson
Irreverent, opinionated, entertaining car reviews and tech writing, right in your inbox.
Over 1,000 subscribers
2019 Mazda6 Review
A simple sports sedan
BOSTON — Last week, I had a business lunch at Legal Sea Foods, a popular chain of restaurant in Boston. It was my lunch partner's first trip to the city and we wanted to get her the authentic New England experience.
Legal is, of course, focused heavily on seafood. But this particular outlet had a bit of a concept menu and it was huge. There were lobster pizzas and pastas, BBQ pulled pork tacos and all manner of trendy new things. And then, down near the bottom, was a list of classics. The good stuff, like fish and chips, fried clams and — my choice — the venerable New England lobster roll.
I'm sure all those fancy new dishes are delicious, but sometimes you're in the mood for a classic. I drove to lunch in an endangered classic — the sedan. Mazda only makes two sedans, the Mazda3 (which is better as a hatchback) and the larger Mazda6 sports sedan. I like the Mazda6. It's spacious and comfortable and feels like something European and much pricier.
With carmakers increasingly focused on crossovers and SUVs — that's where the buyers are, after all — there's little incentive to keep selling sedans. Crossovers offer much of the benefits of a larger vehicle, increasingly without much of the fuel economy drawbacks thanks to advances in engine technology and lighter advanced materials. In fact, it's been more than 10 years since cars outsold SUVs, pickups and minivans. Those larger vehicles snagged some 70 percent of the market last year.
Ford and Chevy are basically out of the car business at this point, except for some sporty two-doored cars like the Mustang. But foreign makers, like Mazda, are happy to compete in the sedan market. And thank goodness they are.
The Mazda6 is fun. Far more fun than any crossover I've driven recently. The exhaust makes a nice noise. There's a great bin to put my phone in front of the gear shift. The interior is luxurious and sharp and feels like something Audi might have built — only for $10,000 less.
My test unit, a top-of-the-line Mazda6 Signature trim, weighs in at $36,815 — coincidentally (or not) about the exact same price as the average new car sold in America.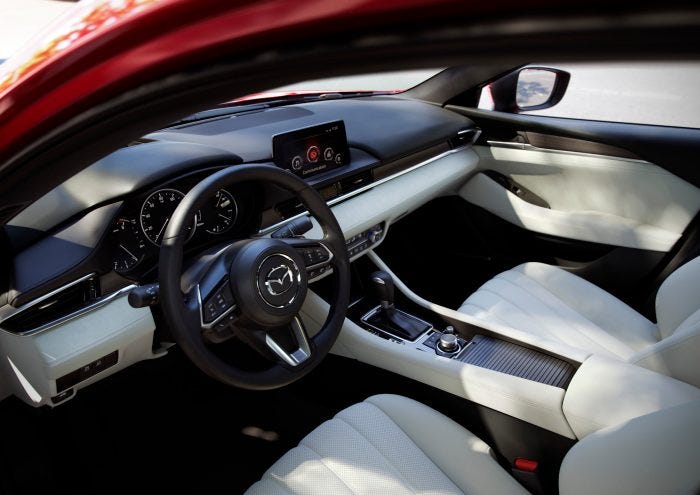 It's not terribly different inside from the Mazda CX-5 crossover that I loved a few months ago. The easy-to-use climate control knobs are here, as is the sporty steering wheel and the annoying infotainment screen. The knob and button setup, aped from luxury brands like BMW, is still mildly annoying but it gets the job done. And I've learned something about Mazda's entertainment screen since my days in the CX-5.
If the car is in Drive, the touchscreen locks you out. You can only use the knob to control things. But slap the shifter into Park and all of a sudden the screen comes to life. I understand the desire to keep everyone safe, but forcing people to use a knob instead of the touchscreen — when every other carmaker lets you use the touchscreen while driving — seems a step too far.
Plaudits are in order for Mazda offering safety features including adaptive cruise, automatic emergency braking with pedestrian detection, auto high beams and windshield standard on all Mazda6 models, even on the entry level that starts $10,000 less than my tester.
Then there are lux features that only come on the higher trims, including a heads-up display, fancy materials on the interior, ventilated front seats and heated seats front and back. The HUD even recognizes stop signs and speed limit signs, which is good for situational awareness.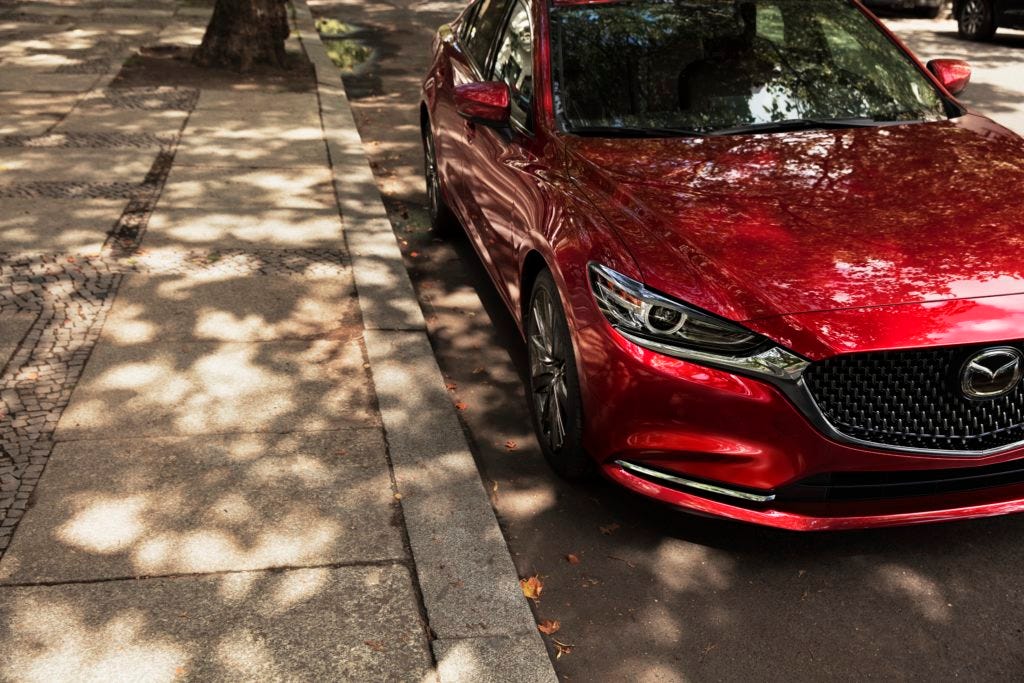 There is a Bose sound system, a 360-degree camera, auto-folding side mirrors, and all sorts of new tech. There's standard Apple CarPlay and Android Auto. And, perhaps most notably, the Mazda 6 looks absolutely terrific.
This is the car to buy if you want to impress the neighbors (and your business lunch attendees) without breaking the bank. The Mazda6 is a premium vehicle, but is pounding on the door of luxury — though its price is eminently reasonable.
None of that might matter to you. Perhaps all you care about is what I thought of that lobster roll. That roll is not unlike the Mazda6. Take some simple ingredients, execute them flawlessly, then put it on sale.
The lobster roll was delicious, pure, and exactly what I was looking for. And, if you're in the market for a sedan, that might be what the Mazda6 is for you. Just watch out if it says "Market Price" on the window sticker.