Discover more from PRNDL by Jordan Golson
Irreverent, opinionated, entertaining car reviews and tech writing, right in your inbox.
Over 1,000 subscribers
2019 Cadillac XT4 Review
The Cadillac of crossovers
SEATTLE, Washington — Here's a secret of car journalism: auto reviewers get to travel a lot. Because it's a lot easier (and cheaper) to ship journalists to a car instead of shipping the car to the journalist, we're always jetting off to lovely places with sunny weather. Southern California or Utah or Barcelona or South Africa.
Part of this is logistical. Car companies spend millions on the launch of a car, and bringing in a couple hundred journalists to try it out is just part of the process. But they don't want to hold the press drive somewhere cold or with bad weather (it makes journalists unhappy and makes for bad photos), which is why first drive events don't typically happen in Michigan in December.
But car companies also like to replicate what it's like to actually own the car being tested (or at least what owners might aspire to). This means they'll put us up in fancy hotels that represent "the ownership experience." If you want to stay in the nicest hotel you'll ever visit, become a car journalist and go on a Jaguar press drive. Michelin starred restaurants aren't uncommon, either. It's not a bad gig, all told.
So when it came time to test the brand new Cadillac XT4 — the new compact luxury crossover that Cadillac says is meant to evoke a shrunken Escalade — the company's PR folks brought us to Seattle, filled us with oysters and set us loose on gorgeous, rainy roads on the hills around Puget Sound.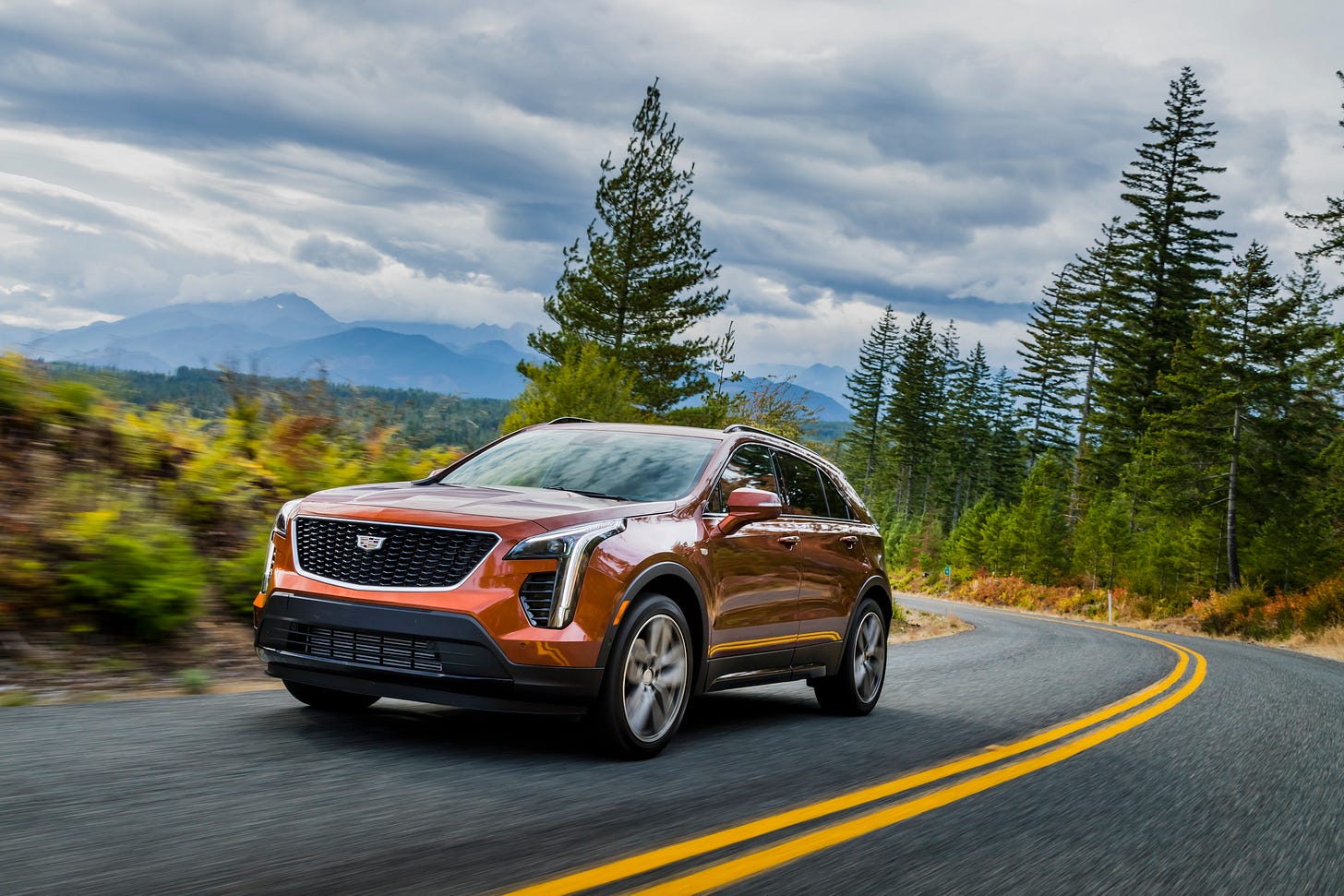 Under the hood is a new 237 horsepower, 2-liter turbocharged engine that makes plenty of power. It won't win any drag races, but why would you want it to? There's fuel-economy wizardry like cylinder deactivation that I was never able to notice (which is good) and a nine-speed automatic transmission. All-wheel drive is an option if it gets a little slippery in your neck of the woods, with a clever twin-clutch system that can disengage the rear drivetrain entirely when it isn't needed to save fuel.
The XT4 debuts a new trim strategy for Cadillac that will eventually make its way across the rest of the line. It splits things into "premium luxury" and "sport" trims, with features and styling unique to each line. The idea is to create two distinct looks within a single car model, and to simplify the ordering process. It's a refreshing change, considering the bewildering number of trim levels that you can find on some vehicles.
The Sport trim has gloss black grille and window trim. The Luxury models have metal accents and aluminum moldings. The effect is subtle but nonetheless gives a very different look to the two versions that buyers will have strong feelings about. You'll like one or the other, I suspect.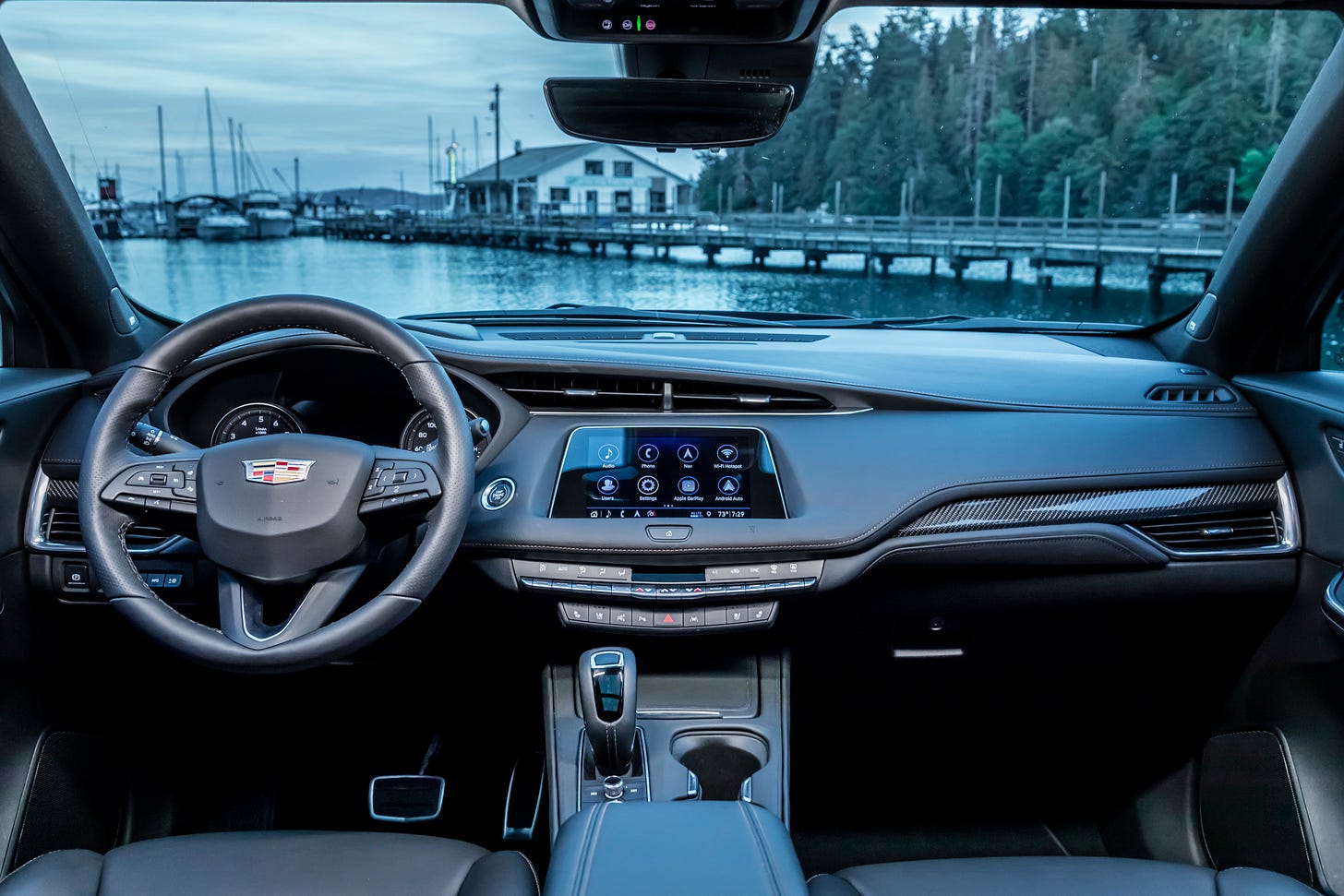 I think Cadillac's design team succeeded in building a small Escalade. Looking at the XT4 in the rear view mirror, it has the right look. It has presence. It's especially sharp from the rear, with distinctive LED taillights. The interior has GM's updated and excellent infotainment system, including an eight-inch touchscreen with OnStar and 4G LTE connectivity through AT&T. It's responsive and easy-to- use, and the navigation in particular deserves praise. Four USB ports and three 12-volt cigarette lighter-style power ports are standard, and high-speed wireless phone charging is available.
The "sport-inspired" seating is very comfortable, with ample support and bolstering. I spent five hours in the car and had very little fatigue once we got back to the Four Seasons.
Pricing starts at $35,790 but rises north of $40,000 once you start loading it with good stuff. My test unit priced out above $50,000, which gets a little tough to swallow given what else you can get in that price range. That's well into Volvo XC60 territory, by far my favorite SUV.
Cadillac is a little late to the compact crossover party. And it faces tough — and plentiful — competition with cars like the BMW X3 and the Acura RDX. The XT4 is largely up to the task. Like the evergreen-lined roads of Western Washington, it's very nice to look at and extremely enjoyable to drive — but I can't help but wonder if there's somewhere I'd rather be.