Discover more from PRNDL by Jordan Golson
Irreverent, opinionated, entertaining car reviews and tech writing, right in your inbox.
Over 1,000 subscribers
2019 Buick Regal GS Review
This is why we can't have nice things
MONTREAL, Canada — I wasn't in the car for five minutes before I was on the phone to the Buick PR guy who loaned it to me. I had two questions. First, how did I turn on the seat massager? I knew it had one, but for the life of me I couldn't figure out how to turn it on. Second, and perhaps more puzzling: why aren't more people buying this car? 
I was behind the wheel of a Buick Regal GS, which is a rebadged, German-built sports sedan that's sold in Europe as an Opel Insignia. If it had four rings on the front, it would sell in spades in the U.S. But adorned as it is with a Buick badge, the Regal Sportback I was driving (and its wagon-sibling the TourX) languish on dealer lots with huge stacks of cash sitting on the hood, waiting for a loving home like an older dog at an animal shelter. 
On paper, the Regal — particularly in the sporty GS trim — is a worthy competitor. It has a terrific 310 horsepower / 282 lb-ft naturally aspirated 3.6-liter V6 and an equally excellent nine-speed transmission. It has all-wheel drive. It has all the expected driver-assist features (thanks to the $1,690 driver confidence package #2) including adaptive cruise, automatic emergency braking with pedestrian braking, a heads-up display, and more. 
There are luxury features too, including ventilated and heated and massaging seats (the control for which is on the outboard edge of the seat, by the way, along with the seat memory controls), supremely comfortable sport seats, decent fuel economy (EPA 19/22/27 city/combined/highway), a heated steering wheel, and a cavernous rear cargo area thanks to the Sportback hatch. 
It has Apple CarPlay and Android Auto and an easy-to-read instrument cluster, a heads-up display, and a 4G LTE Wi-Fi hotspot from AT&T (like all GM vehicles these days). My tester stickered out to $44,110 including a $925 destination charge, but you can expect to knock at least $7,000 off that, if not much, much more depending on how desperate your dealer is to get it off the lot.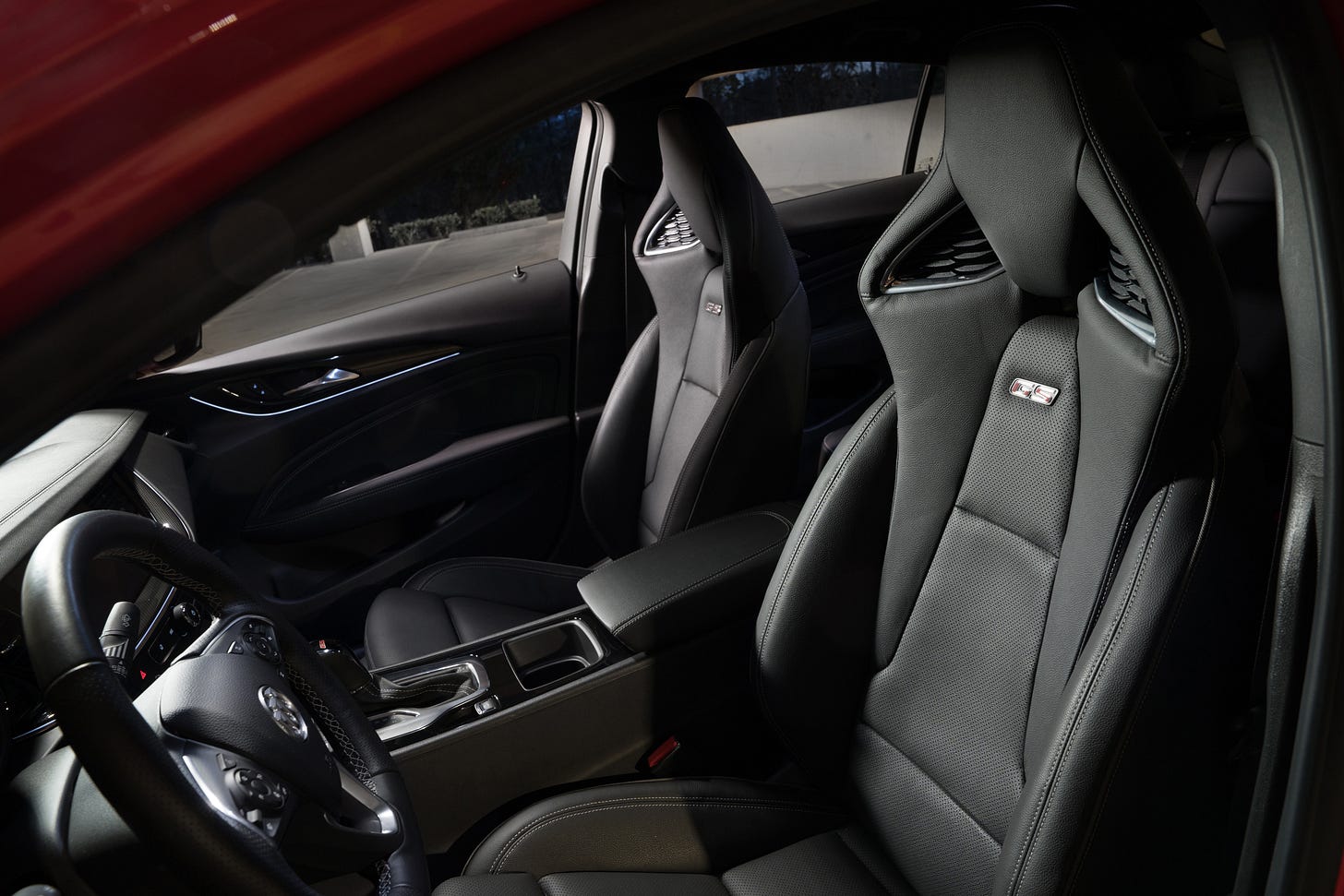 It looks fantastic, particularly in the White Frost Tricoat that my tester was equipped with, and repeatedly garnered questions from folks who saw it. I drove from New York City to Montreal and then back to Boston for a weekend getaway, a road trip of almost 1,000 miles, and it was a wonderfully smooth and comfortable highway cruiser. At the US/Canada border checkpoint, guards in both directions made unprompted and favorable comments about the Buick. The valet at my hotel couldn't stop talking about it. 
It handled well in New York City traffic, soaking up potholes while providing a planted, sporty ride. It ripped up the Merritt Parkway with all the other European luxury sedans that infest Connecticut. And it cruised happily through the mountains of Vermont and across Quebeçois farmland. 
It is, I promise you, a straight-up competitor to the BMW 3 series and Audi A4 and Mercedes C-Class. Only it's far cheaper, because no one wants one. And so we come back to my original question for the Buick PR man, who was similarly stumped. At a loss, only one thing made sense: 
This is why we can't have nice things. 
Ford and GM are basically out of the sedan business entirely. GM sold its Germans, the makers of this fine automobile, to the French. But foreign sedans, whether the European luxury or the Japanese mainstream, continue to sell. Buick remains alive mainly because of China and its hugely popular SUVs. But nonetheless, the wonderful Regal is on sale — for now — at Buick dealers across the country in both Sportback and wagon variants. And, because sales are so weak, massive discounts abound.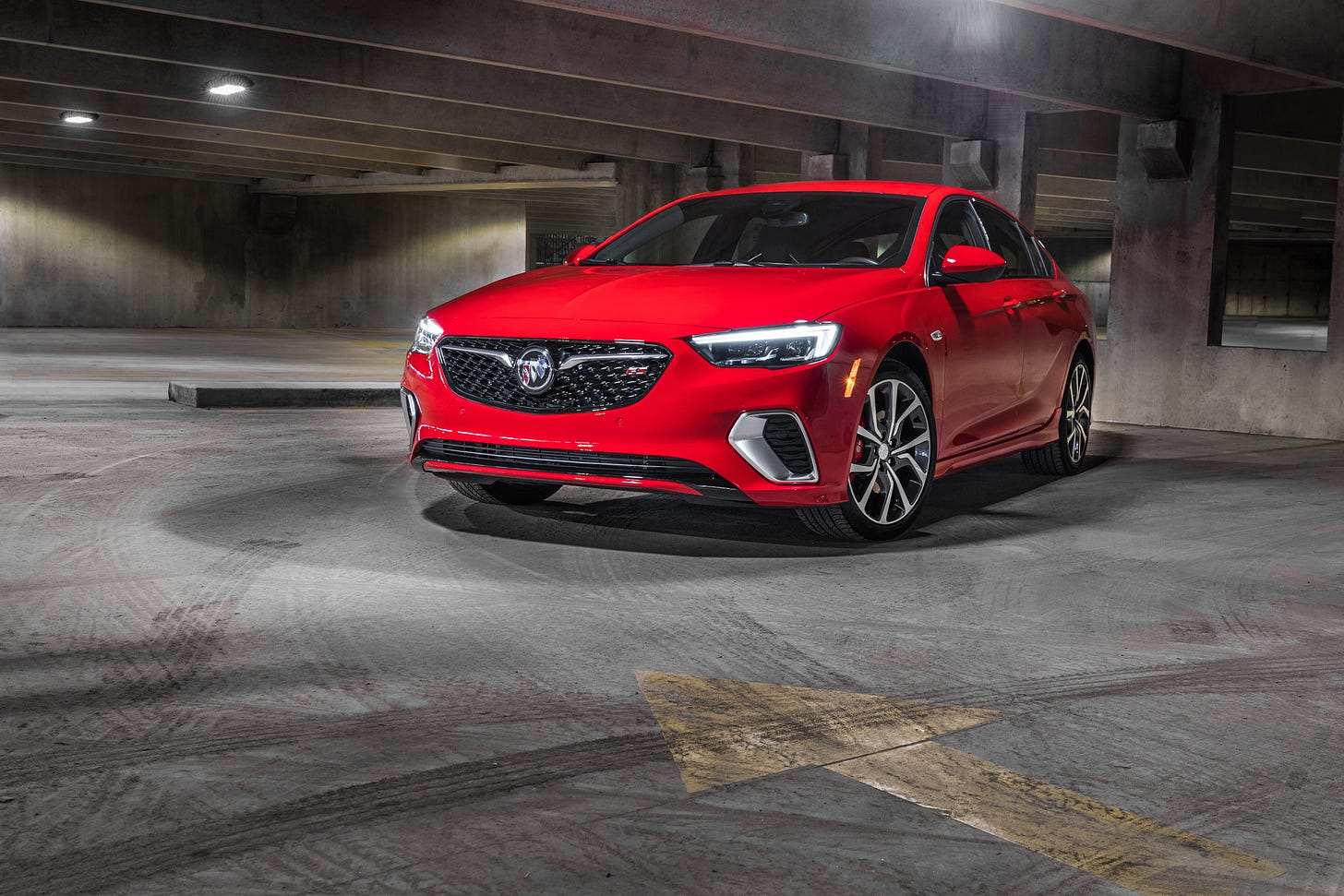 Montreal is the closest we get to a European city here in North America, and that's why I brought the Regal up here. I wanted it to feel at home. Well, that and poutine. 
The Regal will be officially canceled after model year 2020. But, if you can find one on a dealer lot, we have a heavily discounted, glorious European sports sedan on our shores. It's comfortable and affordable and good looking and sporty and safe and spacious. It's everything people say they want in a sedan. 
If you're in the market, go check one out. Like that sweet old pup at the shelter, the Regal wants a home. It wants to be loved. It wants to go to Montreal for the weekend.